When the rumors started trickling out Saturday the Canucks might be poised to trade Cory Schneider, it reflected for many the recognition of a fact many had suspected was true for a while: Vancouver was simply not going to be able to extract anything of real value for Roberto Luongo. That left General Manager Mike Gillis with a few options, none of which were particularly attractive: buyout Luongo and pay him for not playing, but remove the salary cap hit; give him away for nothing (an option which may not have had any takers); or trade Cory Schneider.  With the salary cap decreasing, keeping both goalies for another season was simply not an option.  Gillis chose the third option, which for the franchise was probably the least distasteful, but for the fans it was probably the most objectionable.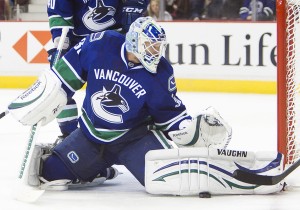 I cannot necessarily fault Gillis for making this move at this point in the process.  The rumors that he turned down better offers from division rivals may or may not be true, and he did manage to pick up an excellent prospect in Bo Horvat.  But it never should have reached the point where Gillis was forced to unload Schneider at a time when every G.M. in the league knew the Canucks were desperate, lowering the potential return significantly.  Gillis made multiple mistakes along the way, resulting in the need to take New Jersey's lowball offer.
Luongo's Monster Contract
In September 2009, Gillis signed Luongo to a 12 year contract extension worth $64 million.  It did not look like a horrible deal to some, since the cap hit was a reasonable $5.33 million per year.  However, the length of the contract and total dollar amount raised eyebrows among many.  Luongo was 30 at the time, so Vancouver was committed to paying him through the age of 42, which for most goalies, is past the life expectancy.  To be fair, Gillis could not foresee exactly what changes were coming in the next collective bargaining agreement, but even in 2009 the writing was on the wall that the current system was not likely to be retained by the owners.  This contract became an albatross for Gillis and Luongo, with the goalie admitting that it "sucks" since it so limited his trade value.  Committing to any player for such a long term is risky at best (ask Tampa Bay and Vincent Lecavalier), especially a goalie (see Rick Dipietro).
Luongo's Demotion
Though Vancouver had significant success during the first few years of Luongo's extension, with the team winning two Presidents' Trophies and making it to game 7 of the Stanley Cup final, things were not all rosy for Luongo.  In 2010, Vancouver lost to Chicago in the conference semifinal, with Luongo sporting a bloated 3.22 goals against average in the playoffs.
The 2011 playoffs were again troublesome for Luongo, after a regular season where Luongo and Schneider captured the Jennings' Trophy as the team with the lowest goals against average.  Luongo was pulled twice against Chicago in the first round of the playoffs, in games where he allowed six and four goals.  He was reinserted after Schneider was injured in game 6, and came on strong in the following series.  But things fell apart in the Finals, where he was pulled twice and gave up 3 goals on 20 shots in Game 7.
The 2012 playoffs represented the end of the line (at least temporarily) for Luongo as Vancouver's starter, when he was replaced after dropping the first two games of the series against the Los Angles Kings.  Schneider was handed the reins for the rest of the playoffs and given a big contract in the off-season, signaling his ascension to the top dog in Vancouver.
The mistake made by Gillis was to demote the man to whom he had committed a 12-year deal and obligate starting goalie dollars to Schneider as well.  Even before the salary cap was reduced, paying two goalies more than $9 million in salary was not sustainable.  Though an argument could be made that Schneider was becoming a better goalie, it was not prudent to take a $5.33 million cap hit for your backup goaltender.
Keeping Two Starters for 2013
The days before and after the lockout were crucial for Vancouver, as they needed to shed themselves of one of their "starting" goalies.  At this point, it would have made some sense to move Schneider.  His value was high, and Vancouver wasn't perceived as of yet to be in such a desperate state.  Again, it was arguable that Schneider was the better goalie, but because of the bind into which Gillis had put himself with Luongo's extended deal, talent and potential needed to be balanced with fiscal realities.
But Gillis was committed to trading Luongo, despite the challenge of moving his contract.  The problem was that Gillis didn't just want to move Luongo and his contract; he wanted to extract a good value in return as well.  But every G.M. in the league felt that it should be one or the other:  either Vancouver could get fair value in return and eat some of the contract, or the new team could take the full value of Luongo's deal and send Vancouver cap relief in return.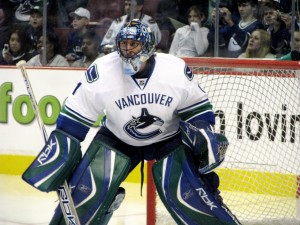 But Gillis wanted both, and no one was willing to oblige, so the lockout delayed season began with both goalies still on the roster.  Schneider struggled at first, and Luongo was strong as a starter when needed.  But eventually Schneider got comfortable in his new role and put together a strong season.  It was expected that Vancouver would move Luongo at the trade deadline, but again, the price Gillis was asking was too high.
Down the stretch, Schneider suffered an injury and Luongo again stepped into the starter's role.  He played well in the first two games of the playoffs, but Vancouver lost both games to San Jose.  Schneider started games three and four, but the results were the same and the Canucks were swept out of the playoffs.
Gillis Forced to Sell Low
After the season ended for Vancouver, Gillis again went about assessing the market for Luongo, who was more than ready to move on to a better situation.  Unfortunately for the Canucks, there were again no takers.  A buyout seemed like a more realistic option, but the rumor was that Canuck's ownership was unwilling to take the hit.  The result was perhaps the most stunning moment of the 2013 NHL draft.
So now Vancouver must mend its fences and move forward with Luongo between the pipes.  Luongo has share only one tweet thus far on his alleged twitter account and has refused interview requests:
— Strombone (@strombone1) July 1, 2013
He did share this slightly ominous quote with TSN's James Duthie:
Roberto Luongo: "I'm shocked! I have to let this sink in and figure out what I'm going to do."

— James Duthie (@tsnjamesduthie) June 30, 2013
Duthie also reports that Canucks Owner Francesco Aquilini is in Florida trying to smooth things over with Luongo.  
In the short term, if Luongo can put this mess behind him, Vancouver should come out OK as Luongo proved last year he is still a top flight goalie.  But Vancouver has lost its best young player and Mike Gillis has certainly lost a lot of credibility, especially among Canucks' fans.  If 2013-14 doesn't result in progress for the franchise, anger among the fans will be the least of Gillis' worries.
Glenn covers the Canucks for The Hockey Writers. Follow me on twitter @glennkuper for opinions about hockey, the Canucks, and Seattle sports.