Over the past several NHL seasons there has been a shift in mask designs from the more traditional, to the more artistic.  Goalies all over the world have been experimenting with different designers and different artistic styles to bring out the most in their masks.  One company has been rising to the surface as the premier mask designer, and they show no signs of stalling out.  Their goalie mask designs are cutting edge, and are turning heads at rinks everywhere.  Chances are you've seen one of their masks at a rink near you.
Head Strong Grafx is behind some of the most creative, and in depth goalie mask designs we have seen in recent past.  They are based out of Owner Jay Livery's home in Belleville, IL (a short trip from downtown St. Louis, MO) and couldn't be happier about their quick upswing.  Recently I was able to catch up with mask designer Marcus Power to learn a little bit more about what makes them tick and how their goalie mask designs come to be, but first I take a look into their history.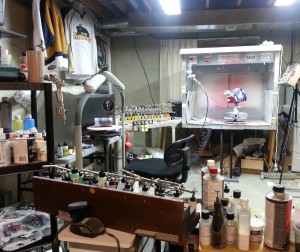 Head Strong Grafx Gets Its Start
The venture Jay and Marc are on now has been decades in the making.  Jay got his mask painting start about 20 years ago as a side gig to his then full time job painting cars and motorcycles (his work was even featured on the Discovery Channel).  Once Jay settled down with his wife he realized he wanted to focus more on goalie mask designs, and less on autos.  He set out on his mission to make masks like the world had never seen, and a few years ago decided to go to an International Hockey Schools summer camp to see if he could drum up some good business.
What he found instead (or in addition rather), was the final piece to the Head Strong Grafx puzzle.  Marc Power was helping staff the camp that his brother ran, and hit it off with Jay immediately.  The two were destined to come together to create visual master pieces for the hockey world to see.  Now that they were a complete artistic team (designer and painter), they were set to change mask designs forever.
Setting Up Shop
Being so close to the St. Louis hockey market and having contacts throughout the hockey world helped Head Strong Grafx get the boost they needed to gain clients big and small.  Once Marc was able to connect them to the St. Louis Blues organization through a personal friend, they really started turning heads.  They gained clients Jaroslav Halak and Brian Elliott, and the rest is history.  The HSG team now works with many different professional and amateur teams and clients alike, and has completed hundreds of goalie mask designs for organizations such as the Calgary Flames, Washington Capitals, St. Louis Blues, Minnesota Wild, and so on.  But what keeps the guys at Head Strong Grafx going, and how do they come up with such cutting edge designs?  The answer lies in their creative thinking, and the need to tell stories through each design.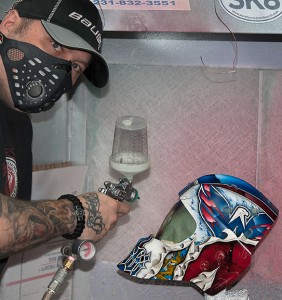 Behind the Mask…Designs, Q & A with Head Strong Grafx
I was able to have a nice question and answer session with mask designer Marc from HSG to gain a little more insight into their amazing world (Jay was able to chime in too)!  Marc's answers are abbreviated MP, and Jay's are JL (I have also included some of their past projects for your viewing pleasure).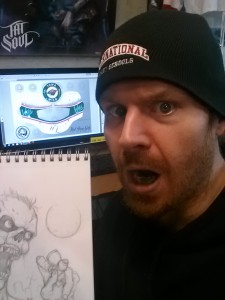 How do you normally come up with the goalie mask designs?
MP: There are many different angles to coming up with an idea for a mask. Some guys know exactly what they want on their mask such as Darcy Kuemper with the Minnesota Wild. He wanted a simple classic design straight to the point. Then there are guys like Karri Ramo that have a certain idea and let me play with it and put my own personal flair into it (see pictures below). That is my favorite kind, because I get to do pretty much what I want design wise and it doesn't feel as though it's a typical run of the mill design that you often see. His mask actually tells a story when you see it.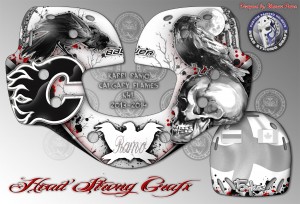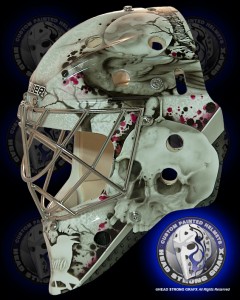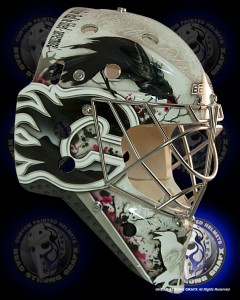 Does a goalie normally have a good idea of what they want on a mask, or do they often want you to design something from scratch?
MP: It's 50/50. Some guys are really ready to get going and have all the ideas,  and some don't really have an idea so they  just let me run with it. I was surprised to find out that some of our first time clients have never had a say in how their design is created.
JL: A lot of clients are also amazed that they get to see a design of their mask as a rendering before I start the paint process.
Are there a lot of ongoing discussions about the mask design with the goalie it's for?
MP: Some clients just want a simple design that can take one to two days to complete, and then some clients really love to get into the design, and see the step-by-step process as it's being done. For example David Leggio of the Hershey Bears loved bringing his ideas to the table. His process lasted about two and a half months before we finally got the design signed off and ready to go.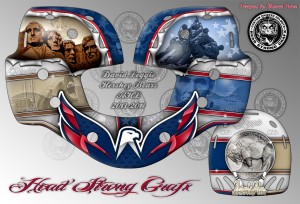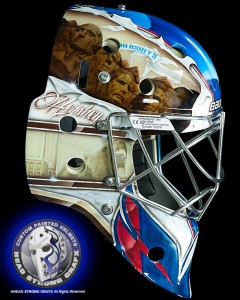 What has been the biggest challenge for you so far?
MP: The most difficult aspect of the business is trying not to come up with designs that look the same as another design I have already done. This is very tricky in some aspects because no matter what you do, a lot of design ideas have been done before. In Karri Ramo's case, it was a good opportunity to change the whole design and get away from the norm.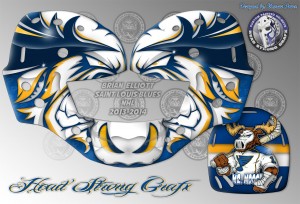 Who has been your favorite client, and why?
Both agreed (See the above picture of Elliott's newest design).
MP: Being a Blues fan and also since he was our first NHL client, I would have to say Brian Elliott. His latest mask was a pleasure to do because it was totally made from scratch and was an original design that just came to me. He wanted to do something with a Moose and make it look old school. The final product is hopefully something that he can continue to use as an identity mask for the remainder of his career.
JL: My favorite goalie to date is Brian Elliott from the St. Louis Blues. he gave us our start in the NHL level and has been such a great guy that we even talk on a personal level now and I'm glad we developed a great friendship.
Where do you go from here?
JL: In March/April we will be relocating to the DC area.  We have worked very hard to get into as many organizations as possible, which has worked well for us. There will be less general public work though, as our teams keep us very busy. If anyone wants a mask painted they can always look at our "book your mask" page on www.headstronggrafx.com and see our availability.
MP:  I would love to design for Braden Holtby and Michael Neuvirth. Those are the only two Washington Capitals goalies that use other painters in their organization. If I had a dream goalie besides the clients we do now I would have to say either Pekka Rinne or Henrik Lundqvist. They have their own signature designs for their masks that I would love to put my flair into and see what we could come up with.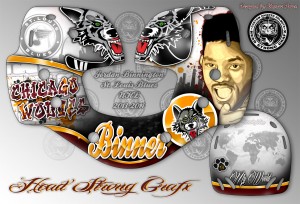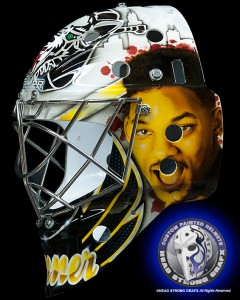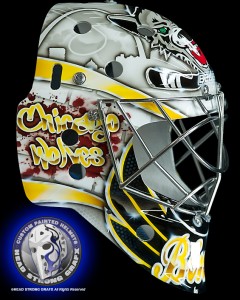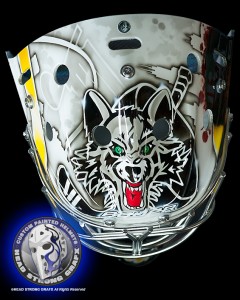 Hopefully this gave a much better insight into how goalie mask designs come to be, and why Head Strong Grafx is the real deal.  Please be sure to check out their website and like/follow them on Facebook (Facebook.com/HSGrafx) and Twitter (@headstronggrafx).
If you like what you've just read, follow me on Twitter: @pep30
Mike has covered the St. Louis Blues and Tampa Bay Lightning in depth for The Hockey Writers since 2013. He is also a contributing writer for KSDK News Channel 5, the St. Louis area NBC affiliate, and has been a credentialed media member of the Blues since 2014. Follow him on Twitter @pep30.