On Monday, the KHL season opened with a match between defending champs SKA St. Petersburg and CSKA Moscow. However, the KHL season not only opened with a game, it also opened with an Olympics Opening Ceremony-esque blender full of hockey and Tron.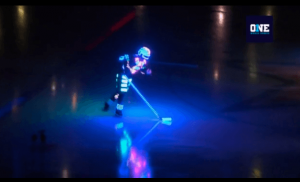 Following an impressive 3D projection on the ice, four neon Christmas trees skated onto the ice to dance and maybe shoot a puck around. It's hard to tell because though they are decked out like extras in
Tron
, it's dark and seems likely that Fox Sports still owns the global rights to any glowing puck. (Excuse me, it's called FoxTrax.)
You can watch the whole ceremony, projections to national anthem, in the video below. The projections start immediately, but it's not until the 2:30 mark that you'll see Skrillex's holiday decorations take to the ice.
On opening night, Alexander Radulov and CSKA Moscow hoisted the Opening Cup, defeating Ilya Kovalchuk's SKA St. Petersburg 4-3 in overtime. Watch highlights from the game below, courtesy of One World Sports, who will be broadcasting KHL games in English all season.
It's back! The @khl returned to LIVE action today as @cska faced off against @hcSKA from the Ice Palace. #ArmyDerby pic.twitter.com/eM42aaMl9e

— ONE World Sports (@ONEWorldSports) August 24, 2015
RELATED: In KHL Role, Fetisov Hopes to Block Transfers to the NHL
Dustin Nelson writes about news and the Minnesota Wild for The Hockey Writers.