DETROIT — Defenceman Mike Green had a goal and two assists and the Detroit Red Wings extended their winning streak to four games with a 6-1 victory over the Arizona Coyotes on Tuesday night.
Andreas Athanasiou added a goal and an assist for the third straight game, and Anthony Mantha, defenceman Dennis Cholowski, Michael Rasmussen and Luke Glendening also scored for Detroit, which has won seven of its last eight to get back to .500 (8-8-2) after a 1-7-2 start. Jimmy Howard made 24 saves.
The six goals are a season best for the Red Wings.
Lawson Crouse scored for Arizona. Darcy Kuemper stopped 12 shots and rookie Hunter Miska made eight saves in his NHL debut.
Detroit charged to a 3-0 in the first period.
RELATED: Will Yzerman Make a Return
Mantha opened the scoring with 9:47 left in the opening period, netting a wrist shot from the left circle off the rush. It was Mantha's sixth goal and third in two games.
Cholowski made it 2-0 2:11 later on a wrist shot from the top of the right circle. Arizona challenged that Kuemper was interfered with by the Red Wings Justin Abdelkader at the edge of the crease, but the goal was upheld. It was Cholowski's third goal.
Rasmussen made it 3-0 with a 5-on-3 power-play goal with 2:38 remaining in the first. While on his knees in the crease, Rasmussen tipped in Dylan Larkin's pass out of the right corner. It was Rasmussen's third goal.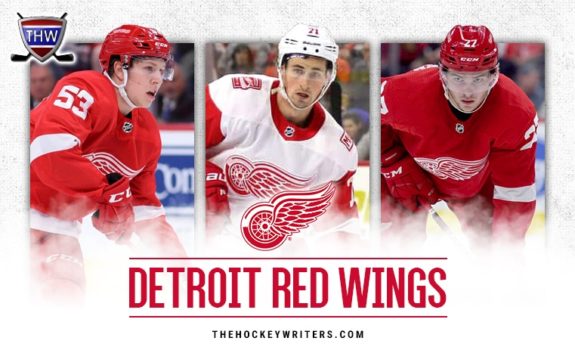 Glendening made it 4-0 with 8:28 left in the second period on a breakaway. It was Glendening's second goal.
Arizona had an apparent goal 1:38 into the second period by Christian Fischer reversed. Detroit challenged that the play was offside going into the Red Wings zone, and replays showed that it was.
Athanasiou scored on a breakaway 1:44 into the third period when he picked up a loose puck in the neutral zone just after he came out of the penalty box. It was Athanasiou's seventh goal.
That goal also sent Kuemper to the bench in favour of Miska.
Green got his first goal of the season 7:10 into the third.
Crouse spoiled Howard's shutout bid with 8:39 left.
NOTES: Arizona D Jakob Chychrun made his season debut. He had not played since having knee surgery after being injuring against the Calgary Flames on April 3. . Detroit was without D Jonathan Ericsson (lower body), F Thomas Vanek (lower body) and C Jacob de la Rose (upper body). . It was the Red Wings annual Hockey Fights Cancer Night to help support cancer awareness.
UP NEXT:
Arizona: Hosts Nashville on Thursday.
Detroit: Visits Ottawa on Thursday.
___
More AP NHL: https://www.apnews.com/NHL and https://www.twitter.com/AP_Sports
Paul Harris, The Associated Press