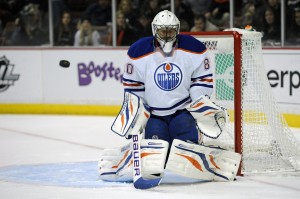 Words spoken by a coach who is out of answers, watching his team start the game well, but end up dropping a 6-0 decision. "How can we do this?" Dallas Eakins asked out loud to the media following Edmonton's loss to the St. Louis Blues. The Blues are a far superior team, there's no questioning that. The Oilers have now dropped six games in a row. They are dead last in the Western Conference, and stuck in 29th place overall in the league. Not unfamiliar territory for a team that has missed the playoffs each of the past seven seasons, the longest drought in the NHL at the moment.
The Oilers have selected first overall the past three years in a row, and judging by the way things have gone they might actually be in the running to pick first again, which is both unprecedented and disastrous at the same time. Last night, Taylor Hall shared his thoughts after the game.
Hall deserves a ton of credit for going on such a lengthy interview following this loss. He was clearly frustrated, and exasperated by the current situation of his team. He answered the questions with poise and showed a lot of maturity. He, just like his coach, doesn't understand why the Oilers are so bad. Well, Taylor, there are a few reasons.
1. Young Players in Key Roles
Every NHL team has young players throughout their lineup. The better teams insulate those young players and allow them to learn on the job without putting too much pressure on them. Sometimes young players are forced into bigger roles because of injury. Sometimes they get those roles as a reward for playing well. There's nothing wrong with young guys in the lineup. The problem with the Oilers is that inexperience litters nearly half their roster, if not more.
Defensemen like Anton Belov and Justin Schultz are playing tough minutes on the blueline because Andrew Ference and Nick Schultz simply can't be considered a top pairing. They are good veterans, but the team doesn't have a real horse on defense to log big minutes and anchor the team. Up front, other than David Perron and Sam Gagner, guys like Hall, Ryan Nugent-Hopkins, Jordan Eberle and Nail Yakupov and expected to carry the mail. Ales Hemsky, Ryan Smyth and Boyd Gordan are the experience in this forward group? Not good enough.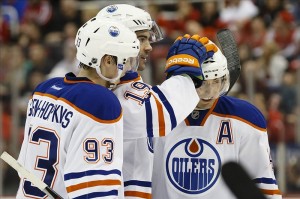 2. Inconsistent Goaltending
Devan Dubnyk has been a disappointment, and Ilya Bryzgalov is fighting rust and injury to get himself back to where he was with the Coyotes many years ago. Bryz may not be the answer, but neither is Dubnyk. Management has not set themselves up well at one of the most important positions in the game. Yes, there are some decent prospects, but there's no Martin Jones in that pipeline (mainly because this team will never play Los Angeles Kings' style defense).
But at this point, only some kind of trade or big free agent signing is going to shore up this position. Yes, perhaps the team could skate by with makeshift goaltending until one of the prospects emerges, but how long will that take? The Oilers made their own bed by going with Dubnyk. No, he isn't a terrible guy but he isn't a number one goalie in this league. Perhaps he could be decent on another team with strong defensive structure but the Oilers aren't that team.
3. What is this Team's Identity?
Dallas Eakins has admitted to making systematic mistakes with this squad. But it's no secret this is not a defense-minded team. They don't have those kinds of players. Did Eakins really believe he could turn these guys into that type of player? Maybe. But it hasn't worked so far. Judging by his most recent comments, the coach is at his whits end.
"I'm pinning this loss on the bone-headed mistakes we make when we have everything going in our favour," said Eakins. "It is like we love misery. It's like 'Oh hold on a second, things are going too well here. Let's have some misery.' I've had enough misery already and we've got some players who have been here for a number of years that have to be done with it". (National Post)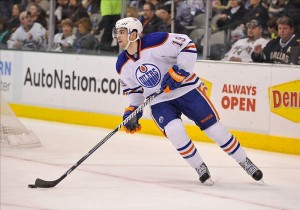 Those are strong words. Now hopefully the players haven't tuned him out yet. Because they have been through so many coaches over the past few seasons, some consistency is desperately needed. What is going to cure the ails of this team? Trading for a veteran defensman? Brian Campbell, Christian Ehrhoff? Naive fans are wishing for Shea Weber (won't happen). It will take more than one player. Firing Kevin Lowe for a culture shift is a move, yes, but will that really make a big difference?
People may have thought the Oilers had already reached rock bottom. If they hadn't before, they certainly have now. They aren't the Buffalo Sabres or Calgary Flames who are tearing things down and starting again. The Oilers have the young pieces needed to rebuild. Are they the right young pieces? Maybe, maybe not. But brace yourselves fans, it may actually have to get worse before it gets better, if that's possible.