When one thinks of the New Jersey Devils, a defence first approach comes to mind.  In addition to hitting opponents crossing the blue line, they've had some who hit the puck pretty hard as well.  After watching rookie Eric Gelinas score his first overtime game winner, it made me think about which Devils' defencemen have carried a big shot.
On that note, here's a list of those big shot blue liners.
10.) Eric Gelinas (2013 – present):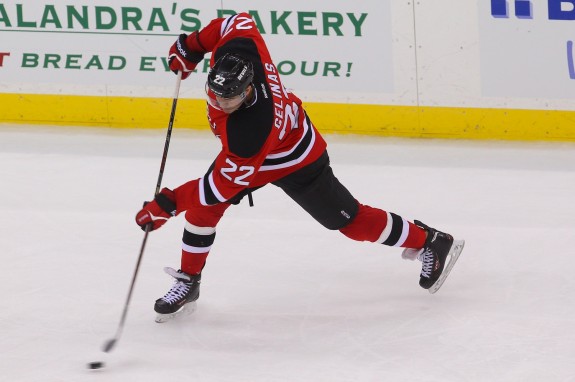 Yes, already Gelinas' shot warrants placement on this list.  Plus, any time when Larry Robinson mentions you in the same sentence with Chris Pronger, you're going to be worthy of a list like this.  Thus far, Gelinas has made the most of his opportunity in his rookie campaign.  Through 28 games, Gelinas leads all New Jersey defencemen in shots and is tied for fourth overall, with 64.  Gelinas has four goals, three of which are power play tallies, including an overtime game-winner at the New York Rangers.  Along with those four goals, Gelinas has eleven assists to his credit.  His offensive legend began with the AHL Albany Devils, back in the 2011-12 season, when he tamed the twine with 16 goals.
9.) Sheldon Souray (1997 – 2000):
One day the Devils hope Damon Severson will be the next Kelowna Rockets defenceman to be firing rockets at the net.  Long before him though, was Souray.  Sure his offensive exploits came mostly with the Montreal Canadiens and Edmonton Oilers but you probably won't find a guy with a harder shot on this list.  When playing for the AHL Albany River Rats, I once saw Souray score on a shot behind the red line.  A big guy with a big drive, Souray has 109 career goals to his credit.
8.) Marek Zidlicky (2012 – present):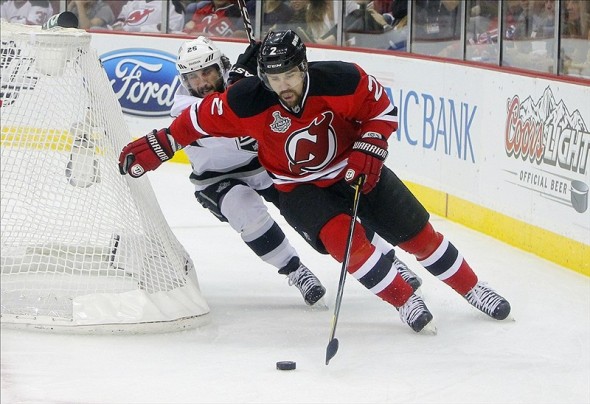 Ever since the glory days, the Devils have been trying to find that puck moving, power play specialist defenceman.  While Zidlicky helped in the Devils run to an Eastern Conference, this season he has really found his comfort zone.  Known as a high risk, high reward style blue liner, Zidlicky looks revived this year.  On the year, Zidlicky is fifth on the team in scoring, posting five goals, 12 assists, and 17 points.  On the power play, Zidlicky boasts a team-leading four markers on the campaign.
7.) Tom Kurvers (1987 – 1990):
On his Devils career, Kurvers recorded 100 points, registered seven power play goals and was a plus 16.  Kurvers' 66 points during the 1988-89 campaign, set a franchise best for a single-season point total by a defenceman and still ranks second overall.  That season, Kurvers potted 16 goals and added 50 helpers.  During the 1987-88 playoffs, Kurvers recorded 15 points in 19 games.
6.) Viacheslav Fetisov (1989 – 1995):
Few players skated and move the puck as gracefully on defence, as Slava Fetisov.  Fetisov broke down the barrier, allowing Russian players to join the NHL.  Ranking tenth in team history in points, Fetisov amassed 130 points in 143 games for New Jersey.  Along with those numbers, Fetisov was a plus 44 with the Devils.
5.) Paul Martin (2003 – 2010):
Martin never became the next Scott Niedermayer with the Devils, even though he looked like he had the potential to mold into that type of player.  Still, though, Martin ranks seventh in club history for points by a defenceman, with 163 in 400 games.  Martin was a plus 55, netted eleven goals on the power play and tallied five game-winning goals for New Jersey.  While maybe not a franchise cornerstone on the blue line, one wonders if he would've been viewed differently if he'd been a Devil during the late 90's.
4.) Bruce Driver (1983 – 1995):
Before Martin Brodeur, three names resonated with the Devils, as longtime mainstays.  Ken Daneyko, John MacLean and Driver.  Playing through a rough stretch before helping hoist a Cup in 1995, Driver was a driving force on the blue line.  Among New Jersey defencemen, Driver still ranks third in club history with 83 goals, 316 assists, 399 points and 1,536 shots.  Driver twice hit double digits in goals in a season and ranks second in club history for defenceman with 33 power play goals.  Driver also scored ten playoff goals in his Devils career.
3.) Brian Rafalski (1999 – 2007):
There are so many adjectives and attributes to describe Rafalski.  There are so many reasons to like Rafalski.  From undrafted and undersized, to a clutch, Cup raising U.S. Olympian and quite possibly a future member of the Hockey Hall of Fame.  Rafalski had speed, a quick shot and a flare for the dramatic.  As defencemen go in Devils franchise history, Rafalski ranks fourth with 44 goals, 19 goals on the power play, 267 assists, and 311 points.  His plus 100 rating put him third on the franchise list for defencemen.  As for the clutch factor, Rafalski tallied 13 game winners for New Jersey, ranking him third in club history for defencemen.  In the playoffs, Rafalski netted 17 goals in his Devils career and helped the team win two Stanley Cups.
2.) Scott Stevens (1991 – 2004):
Long before Stevens left opponents seeing stars, he left opposing goalies seeing flashing red lights.  A member of the Hockey Hall of Fame and currently serving as an assistant coach with New Jersey, Stevens initially brought an offensive acumen with him to the Devils.  During the 1993-94 campaign, Stevens had a monster year.  That year, Stevens set a single-season record for defencemen, in numerous categories that still stand to this day.  Stevens actually led the entire team in scoring that season, posting 18 goals, 60 assists, 78 points, a plus 53 rating and 215 shots.  In his Devils career, which includes three Stanley Cups and a Conn Smythe Trophy, Stevens ranks second for defencemen with 93 goals, including 19 game-winners, 337 assists, and 430 points.  Stevens has a franchise best plus 282 rating and is third with 28 power play goals.  Stevens also has 17 playoff goals in his Devils career.  His number four hangs from the rafters.
1.) Scott Niedermayer (1991 – 2004):
Skating, shooting, smooth was Niedermayer.  A member of the Hockey Hall of Fame, Niedermayer helped the Devils win three Stanley Cups and is the only defenceman in franchise history to capture the James Norris Trophy.  Seven times, Niedermayer totaled a double-digit goal season for the Devils.  Not only does Niedermayer top this list but he also bests the Devils franchise list for most goals (112), assists (364), points (476), power play goals (51), game-winning goals (26) and overtime goals (8).  Like Stevens, Niedermayer also posted 17 playoff goals in his Devils tenure.  Niedermayer's plus 172 rating is second among defencemen in franchise history.  His number 27 hangs from the rafters.