This past weekend, the University of North Dakota Fighting Hawks swept the Western Michigan Broncos in an important two-game conference series. With the Sweep, the Fighting Hawks secured the Penrose Cup outright.
UND will begin the National Collegiate Hockey Conference playoffs as the top seed. This weekend, UND takes on the last-place Colorado College Tigers (6-27-1, 4-19-1 NCHC).
Here are three things that stood out this past weekend.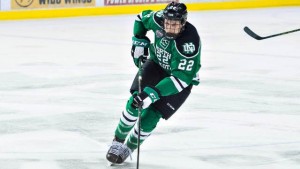 Matt Hrynkiw Wins 10th Game
Entering the 2015-16 season, junior walk-on goalie Matt Hrynkiw wasn't expected to get a lot of playing time. When starting goalie Cam Johnson suffered a lower-body injury against the Bemidji State Beavers, Hrynkiw took the net and went on a terrific run (9-2-1, 2.11 GAA and a .911 save percentage).
Johnson returned from that injury in November and went on a terrific run of his own. Hrynkiw has returned to the backup role. Hrynkiw entered Saturday's game in relief after Johnson gave up three goals on four shots. The junior from Saskatoon, Saskatchewan, stopped 16-of-17 shots and won his 10th game of the season.
Who would've thought the hard working, third-string goalie would get his 10th win of the season? Hyrnkiw didn't have any set number of games that he would play in this season, but he was ready when the call came down.
"It's always a goal to get into the net," Hrynkiw said. "I am not sure if I set a number of games to play. I was just going to ready. I knew an opportunity was coming. I said I was going to be as ready I could be for that opportunity."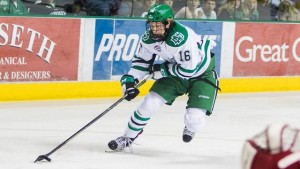 Freshman Class Chipping In
When you look at UND's freshman class, of course, Brock Boeser is the first name that comes to mind. Boeser is one of those special players that doesn't come around very often.
After being quite for most of the first half of the season, some of Boeser's classmates are starting to chip in on the scoresheet on a regular basis.
After Boeser, fellow classmate, freshman defenseman Christian Wolanin has been the most consistent contributor. In 28 games, Wolanin has scored (4g-10a—14pts). After being a scratch in game one against the Broncos, the Rochester, Michigan, native chipped in two assists to help lead UND to a 5-4 win.
After going scoreless in six games, Rhett Gardner picked up (0g-2a—2pts) in Saturday's win against the Broncos.
This past weekend, head coach Brad Berry put freshman forwards Chris Wilkie and Shane Gersich on the fourth line with senior forward Coltyn Sanderson. Almost immediately, that line experienced a great deal of chemistry and Wilkie (2g-2a—4pts) and Gersich (1g-1a—2pts) had a banner weekend.
For most of the season, the CBS Line has been carrying the mail for UND. But after a series of injuries to UND's top players. The other forward lines had no choice but to begin chipping in on the scoresheet and they have. This past weekend, the freshman did their part. For the freshmen not named Boeser, they racked up an impressive points total last weekend (2g-10a—12pts).
NCHC Playoff Field Set
In their three seasons in the NCHC, UND has won the most games in conference play. In 72 games UND has a conference record of 50-19-3 (.715). This season, UND set a record for winning percentage and number of wins.
The NCHC best-of-three series shake out like this: (1 UND vs. 8 C.C., 2 SCSU vs. 7 WMU, 3 DU vs. 6 UNO, 4 UMD vs. 5 MU).
Looking at the matchups, two of the series are identical to last weekend's series. The Denver Pioneers will again entertain the UNO Mavericks, while the homesteading UMD Bulldogs will again play the Miami RedHawks.
The RedHawks are going to be hard pressed to extend their season against the Bulldogs. Since being swept by the Fighting Hawks, the Bulldogs are 4-0 and have outscored the opposition 14-3. UMD sophomore goalie Kasimir Kaskisuo has been red hot. The Vantaa, Finland, native has been stingy in net. Over the six games, Kaskisuo has let in seven goals and stopped 162-of-169 shots and is (4-2-2, 1.16 GAA and a .959 save percentage).