HERSHEY – Even losses can bring out the best in a hockey team. The Hershey Bears (3-4-2-2) fought back from a second period deficit, forcing overtime before they lost in a shootout against the Binghamton Senators (9-4). Sunday night's affair was the Bears third straight game that finished with a shootout, they have points in three straight games.
Hershey Bears forward John Mitchell played in his first game for the Chocolate and White, following a trade from the Anaheim Ducks at the beginning of the season. The lanky forward notched the tying goal in the third period, scoring on the penalty kill with just 3:48 remaining in regulation. He finished the night with four shots on goal and shined on Hershey's penalty kill, which went 6-7 against the Senators' top ranked power play, which entered at 31.3% entering tonight's game.
"He's a great penalty killer," said Hershey Bears coach Mike Haviland of Mitchell. "Sometimes in life when a door opens up you got to kick it in. He kicked it in tonight for sure, he walked through it. He got an opportunity to go in and he definitely made a mark for himself. He made a huge goal to get us that point."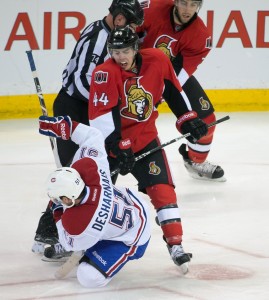 Senators forward Jean-Gabriel Pageau totaled two goals to lead the Binghamton offense, including an assist on Bobby Robinson's third period goal which gave them a 4-2 with over 15 minutes left in regulation. Robinson's goal came on the penalty kill, the Senators seventh shorthanded goal on the season, tops in the league. Binghamton improved to 7-0 when leading after two periods.
The first period exemplified what the Hershey Bears' offense can do when competing. The Bears reached a season high of 23 shots on goal in a period, passing their previous total of 19 against the Norfolk Admirals on November 3rd.
The Bears' power play continued to struggled in the opening frame, going 0-3 in the period, following a 1-9 performance in their 3-2 Saturday night win over the Bridgeport Sound Tigers. However, the Bears man advantage unit (2-7) rebounded following the first period, netting two power play goals over the 20:02 in regulation. Forward Brandon Segal recorded four shots on goal in the opening stanza to lead the Bears and Captain Dane Byers added three shots on net to go with his huge open ice hit and fight with Binghamton forward Corey Cowick.
Bears' newcomer Josh Brittain tallied his first goal for Hershey following his return from injury, firing a shot past Binghamton goalie Andrew Hammond (3-3) to open the scoring. Brittain received the puck in the slot of the offensive zone, developing from a faceoff win by center Peter LeBlanc.
"It was nice to get out of the way, under my belt and get things going," said the relaxed Brittain. "More importantly just a great team effort all weekend, showed a lot of character and resiliency. We're doing a lot of the right things, play the right way. I'm looking to contribute the best that I can every night and do anything to help this team."
Forwards Jeff Taffe and Casey Wellman added power play goals for Hershey. Taffe scored with 1.9 remaining in the second period following a match penalty giving to Senators defenseman Chris Wideman, who slashed John Mitchell at the end of the second period.
"Pretty vicious play," said Haviland. "Haven't seen that in a long time, haven't seen somebody baseball swing somebody like that in a long time. The league will handle that and it will be supplemental discipline, I haven't seen that in a very long time, not like that. That was intent, he knew what he was doing."
"I've never seen that happen in my life," Brittain said. "It was kind of uncalled for. We definitely stayed composed and in situations like that we need to do that, but at the same time I think it sparked our guys to really respond and we did."
The Bears outshot Binghamton 45-26 in the game, but fell to 2-0-0-2 when generating more shots on goal than their opponent.
Hershey hits the road for three games this week, including two games against the Charlotte Checkers and a visit to Wilkes-Barre/Scranton Saturday night to close out their three game road trip.
"It's good to see our team play with emotion. I was really proud of them tonight, we battled back twice and showed some character, showed some passion, fire and emotion and everything we want to see from this team. We got three out of four points this weekend and certainly I thought we played a good enough game to win the hockey game tonight too."
Game Notes
Attendance: 8,218
Bears Injuries: Forward Jamie Johnson and defenseman Julien Brouillette
Hershey Healthy Scratches: Forwards T.J. Syner, Joel Rechlicz, Nicolas Deschamps and defenseman Patrick Wellar
Tomas Kundratek left the game in the second period and will be reevaluated on Monday
Hershey fell to a 49-23-9 all-time record against the Binghamton Senators
The two teams next meet November 23rd at Giant Center in the second of ten contests this season
Hershey Bears Lines
Dane Byers-Jeff Taffe-Casey Wellman
Derek Whitmore-Ryan Stoa-Brandon Segal
Josh Brittain-Peter LeBlanc-Nathan Walker
John Mitchell-Matt Watkins-Garrett Mitchell
Cameron Schilling-Tyson Strachan
Chay Genoway-Connor Carrick
Tomas Kundratek-David Kolomatis
Three Stars
Jean-Gabriel Pageau (two goals, one assist, three shots on goal, plus two)
Andrew Hammond (41 saves on 45 shots, 4 shootout saves)
John Mitchell (goal, four shots on goal, plus one)
You can follow Matthew on twitter @m_speck and email him at mspeck21@yahoo.com with any questions or comments.
Matthew Speck covers the Washington Capitals organization for The Hockey Writers. He provides coverage of both Washington at the NHL level and prospect related content. Matthew also covers local sports for the Lebanon Daily News in Central Pennsylvania. You can email him at mspeck21@yahoo.com with any questions or comments.