The Boston Pride were able to agree to a new contract with an integral part of their roster from the 2015-16 season, co-captain Hilary Knight. The contract, as is the case with all U.S. National Team players, are set to be officially signed sometime this week. The contract will last one-year and will pay Knight $20,000.
Two-time Olympian Hilary Knight (@Hilary_Knight) will join @TheBostonPride this season https://t.co/YqzdfLPscB pic.twitter.com/1oPCBye3X7

— NWHL (@NWHL) July 31, 2016
All National Team players sent out an identical tweet Sunday after the league began announcing the signings. It conflicted with the initial reports because the NWHL had been announcing National Team signings, and while the parties agreed to terms on new deals, none of the National Team players had actually put ink to paper. That's expected to come later this week.
We look forward to signing our contracts this week and helping advance the league to new heights in our second season.

— Hilary Knight (@HilaryKnight) August 1, 2016
Knight led the NWHL in scoring with 15 goals and 33 points in the league's inaugural season. Her scoring didn't stop in the regular season, however, as she was able to score seven goals and nine points in four playoff games. With Knight in tow, the Pride were able to win the first ever Isobel Cup, and they will look to continue their winning ways in the league's second season.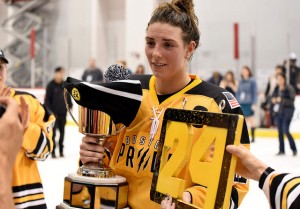 "Hilary is an absolute game changer," said general manager Hayley Moore. "She proved that last season; she rises in the heat of the pressure, and brings energy into the building. Both on and off the ice, Knight pushes boundaries, sets new limits, and inspires those around her. There are lines out the door of young girls who want to see Hilary play, and that's for a good reason."
The former University of Wisconsin-Madison forward finished her collegiate career with an astounding 262 points, as well as setting school records in goals with 143, game-winning goals with 30, power-play goals with 37, and short-handed goals with eight. Her impressive play was enough to help her team earn two NCAA championships in 2008-09, and 2010-11.
One of the best female hockey players in the world, Knight has been a huge part of the U.S. National Team as well. At just 27-years-old, Knight played for the United States in the 2010 and 2014 Olympic Games, winning the silver medal in both years; eight IIHF World Championships, winning gold six times and silver twice; and nine Four Nations Cup tournaments.