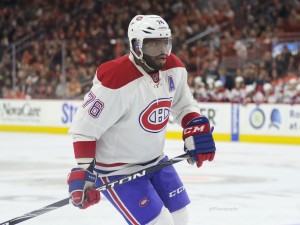 The Montreal Canadiens may have just found their new lightning rod for criticism in captain Max Pacioretty, with the media's old one freshly traded away.
P.K. Subban: We Hardly Knew You
P.K. Subban was always a polarizing figure in Montreal and around the NHL. That hasn't really changed much following the trade, even if he's out of town (but back to host a Just for Laughs comedy festival gala on Monday, August 1) and set to play in a relatively small-market town in the Deep South starting next season.
There's almost no middle ground. Habs fans either hate the trade that brought Shea Weber to town or love it outright, with the justification for the latter sentiment being that Subban was outgrowing the team, becoming too big for his britches and was a general defensive liability better served playing somewhere else.
Those three points can obviously be debated, but the truth is it is indeed better for Montreal that Subban will be playing all the way in the Western Conference. That's due to analytics revealing a much different story than Subban detractors are used to hearing from the media, which, more often than not, amplified his giveaways for all to see, refusing to give proper context to the situation: All top possession-driving defensemen in the league, including the beloved Drew Doughty, give it away… a lot.
While Weber's 39 giveaways (to Subban's league-leading 106) do point to greater defensive awareness, it also points to a greater amount of time without the puck on his stick, stuck in his own zone. That's conveniently glossed over in many positive Habs-centric reviews of the trade.
Max Pacioretty a Logical Fall Guy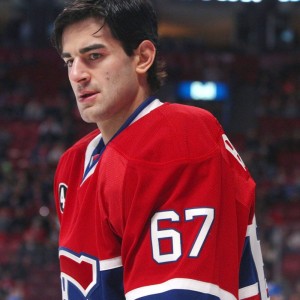 Meanwhile, those that hated it have largely embraced rumors that surfaced long ago as to how Pacioretty and Subban did not get along, making both the Habs captain and head coach Michel Therrien logical fall guys for the deal. General manager Marc Bergevin telling NHL.com things like the following has only added fuel to the fire:
"If [a hypothetical football team] trade[s] a player on a team I like, there must be a reason why they did it and I don't know the reason why. If I know, then I could have an opinion. Otherwise, I'm guessing."
For the record, Bergevin also told Dave Stubbs following the trade: "What is sometimes forgotten, and I strongly believe this, is that we were missing Carey Price, our No. 1 goaltender for pretty much the whole year except for 12 games. That was a big, big blow to our team."
The mere notion that the league's reigning most valuable player being injured all of last year and that injury's resulting impact on one of the largest-market teams in the league was at all forgotten? Yeah, I vaguely recall hearing a little something about that in passing.
Marc Bergevin's Job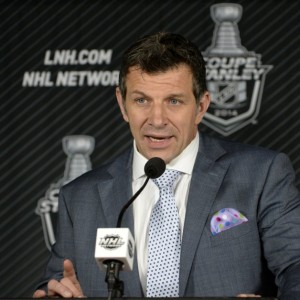 It's almost as if Bergevin just ripped open a hole in the space-time continuum and changed all laws of physics and nature in one fell swoop, all to divert attention away from how, with Price now healthy, the Habs would be vastly improved this coming season no matter what and they almost didn't even need to make a trade at all.
It's akin to Captain Obvious arguing something to the effect of "I strongly believe junk food is bad for you." So, to those who feel Bergevin, who supposedly has his finger on the pulse of all things in the lockerroom, is the beacon of truth and justice following the trade, you may want to reassess that position or at least come to terms fast with the fact that Bergevin isn't exactly the most honest GM in the league with the media (or fans).
He has a job to do and part of it entails making horrible trades look decent (in part to help him keep said job). In sharp contrast to how one can write a thesis as to how much Bergevin is hiding in a singular interview, there just isn't enough information to make a judgment one way or another in regard to how much Pacioretty had to do with Subban getting traded.
Smoke and Mirrors?
Admittedly, where there's smoke there may be fire, and rumors pertaining to a rift between Subban and Pacioretty, particularly, will not go away. Even when Pacioretty comes out and details a friendly phone conversation (not an impersonal text message, as in some reports) between the two immediately following the trade in question, the captain still finds himself subject to doubt on the part of Subban supporters, many of whom feel it's all part of an act. And on the subject of that hypothetical text message Pacioretty sent Subban, who's the supposed source of this information? Logically speaking, neither would disclose that a text was sent between the two at all, especially if it was at all controversial.
Look at it this way, though: As Pacioretty detailed in that interview, he's known Subban for nine years, with them being drafted together in 2007. That's a long time to know someone. If there were deep-seated issues there that couldn't be resolved, it seems unlikely they would have surfaced only recently, with the team having been able to reach the Eastern Conference Final just two years ago.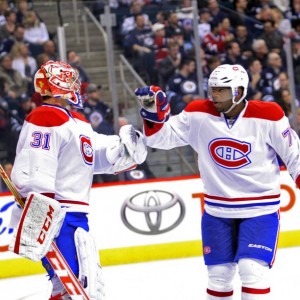 In other words, success to that degree just doesn't come about if two of a given team's top three players are secretly feuding (at least, that's what team management would have you believe following the deal). So, any possible rift had to have materialized within the last few years logically speaking, no? And if that's the case, would it make sense for one of the two presumably good friends at one point in time—with Subban even attending Pacioretty's wedding—throw it all away by having the other traded? What could have been so bad that two professional hockey players couldn't work it out for the sake of the greater good?
Really, are they that petty that Bergevin felt the need to break the pair up?
Or is it all smoke and mirrors instead of smoke and fire? I mean, the other top player in that threesome? It's Price, of course, with whom Subban notoriously triple low-fived after every victory before Therrien banned the celebration. No one can realistically make a convincing case that Price, the single-most important player within this organization and maybe the entire league, didn't like Subban.
Making Sense of It All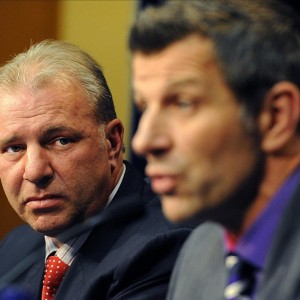 Granted, it wouldn't make sense for Pacioretty to all of a sudden "come clean" and throw Subban under the bus if there actually was anything to come clean about. Class is key, especially if you're the captain. However Subban had every opportunity to do similarly and trash the organization that so easily discarded him. But he couldn't seemingly muster so much as a passive-aggressive jab at the team during his exclusive interview with Sportsnet's Eric Engels after the trade.
The absolute worst thing Subban had to say? How much he enjoyed playing for owner Geoff Molson and the team, leaving out Bergevin and Therrien by name. Perhaps as expected, Subban denied any problems between himself and his ex-teammates. However, if detractors were looking for a smoking gun, even the slightest hint of truth to the theory he was this supervillain built up to be the worst thing to happen to this team since Rejean Houle, they went home disappointed. It was hardly a Marc Bergevin interview, in other words.
It's only natural to want to point fingers after a season like the one Canadiens fans just suffered through, but there is a such thing as misinformation and no hard evidence suggests Pacioretty so much as disliked Subban. Throwing shade at the team's captain and most consistent forward over the last half-decade certainly isn't going to bring him back, so what's the point, if all fans have are a few secondhand reports?
On one hand, you have those unverifiable reports. Maybe just maybe, all the fingers pointed in Pacioretty's direction should be pointed elsewhere, when on the other hand fans are fed utter nonsense time and again directly from Montreal management. Time may never tell how strained (or not) Pacioretty's relationship with Subban was, but it will undeniably show just how bad this trade was.