Facing Off is a weekly column debating five of hockey's hottest topics each and every Monday. From current events like trades and hat tricks to bigger-picture stuff like scandals and expansion — you name it, we're debating it. Albeit, not always with a serious tone. We're keeping this column light, so keep that in mind when reading, and feel free to join in on the fun by leaving a comment. Follow us on Twitter (@FacingOff_THW) and get in on the debate there too.

With a calendar year now under our belts, it's time to add another element to Facing Off.
This fall, prior to the start of the 2016-17 NHL season and perhaps sooner than later, we will be debuting the Facing Off podcast. The audio format will be much the same as here, debating hockey's hottest topics with our regular contributors — Dan Mount, Félix Sicard, Andrew Forbes and Sebastian Hedley-Noble — as well as some new guests.
To avoid overlapping content, the column and podcast will likely run in alternating weeks to start, though some topics will be juicy enough to warrant double-dipping. Time permitting, the goal is to grow the podcast into a separate weekly segment, but it may be more infrequent out of the gate. The potential is also there for special editions featuring personalities from around the hockey world. Exciting times ahead!
In the here and now, hockey news is sparse and Tyson Barrie's arbitration hearing topped this week's headlines as expected. Turns out, Barrie and the Colorado Avalanche struck a 47th-hour deal that'll keep the offensive blueliner in the fold for four more years at a cap hit of $5.5 million annually. That should put an end to the Barrie trade rumours, with this a very team-friendly contract and the player likely to provide good value over the term.
There wasn't much to debate on that front — no real controversy and presumably no hard feelings either, just a fair deal that took longer than usual to get done. We must give a stick tap to Sebastian for nailing it in last week's edition of Facing Off, predicting a long-term contract and getting the salary bang on too. Well played!
This week's guest, Matt Pryor, is making his Facing Off debut as a full participant but his third appearance after previously serving as Third Man In on two occasions — in the April 11 and May 16 editions. It was Matt who actually suggested the Third Man In segment back in November and it proved to be a hit, so we'll be firing that up again for future editions.
Matt does a bang-up job covering both the Dallas Stars and the Florida Panthers for THW, so we're making those teams the focus for this week with topics pertaining to defence, goaltending and free agency.
The Panthers are overhauling their defence this offseason, what do you make of those changes? Better? Worse? Just different?
PRYOR: The Panthers' blue line will look dramatically different this fall, to be sure. Four of the six defensemen who dressed for Florida's season opener last October are gone.
Team captain Willie Mitchell's career is likely over due to concussion-related issues. Erik Gudbranson, widely considered heir to Mitchell's "C," was traded to Vancouver for forward Jared McCann. Dmitry Kulikov, at 25, the longest-tenured Florida defenseman, was dealt to Buffalo for Mark Pysyk, a 24-year-old d-man. Last but certainly not least, Brian Campbell turned down an offer from the Panthers to sign a one-year contract with his former team, the Chicago Blackhawks.
In addition to acquiring Pysyk, newly minted Panthers general manager Tom Rowe shocked the NHL by signing two of this summer's top-three UFA defensemen. Keith Yandle will give the Florida power play a much-needed boost and Jason Demers will help the struggling penalty kill, two of Florida's major weaknesses last season. Perhaps more importantly, both blueliners have strong puck possession numbers at even strength. With the exception of Campbell, the departed defensemen all had poor possession stats.
As Arizona Coyotes GM John Chayka said recently, "Defense isn't about defending. It's about getting the puck in the forwards' hands and getting the puck moving into the offensive zone."
Make no mistake: this is where the entire NHL is headed, albeit at different speeds. Clearly, the Panthers have embraced that philosophy and, with these moves, have done so without sacrificing much size.
The Florida defense corps in 2016-17 will be markedly better than the 2015-16 version, which played a key role in a franchise-record 103-point regular season.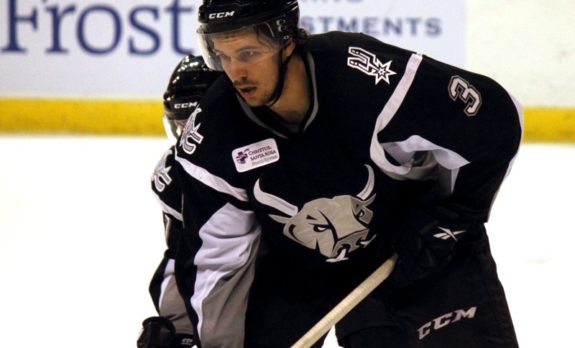 FISHER: This new-look defence definitely has analytical overtones. I'm not sure I like it any more — or less, for that matter — but it'll take some getting used to. The way I see it, Florida essentially swapped Gudbranson, Kulikov and Campbell for Pysyk, Demers and Yandle, with hopes that Alex Petrovic can replace Mitchell's presence.
A full season of Michael Matheson is what could make the biggest difference if he lives up to the hype and promise. I'm a big fan of Matheson — heck, I traded for him in one of my keeper leagues this offseason — so I'm expecting big things from the 22-year-old. I'm also intrigued by 23-year-old Linus Hultstrom, an under-the-radar signing out of Sweden who has some offensive upside as a defender. It's unlikely that Hultstrom will crack the opening-night roster, but he could be a pleasant surprise as the season progresses.
That potential is what gives the 2016-17 version the upper hand, but it was quite the shakeup in general. Surprising coming from a division champion, new GM or not.
I was also a little shocked by the harsh ridiculing of Gudbranson within the online analytics community when that trade went down. I didn't realize his fancy stats and possession numbers were so alarming, nor do I watch a ton of Panthers games, but whenever I've tuned in over the years, Gudbranson has always passed my eye test as a shutdown type. I actually felt the Canucks got him on the cheap, especially when you consider the cost of Adam Larsson — another defence-first, former top-five pick — for the Edmonton Oilers. McCann is no Taylor Hall, but maybe I'm missing something there. I'm looking forward to watching Gudbranson closer in Vancouver, but I do think Florida got a similar player back in Pysyk, so the Panthers should be just fine going forward.
The Stars are shaking things up on the back end too. Do you expect them to add another veteran blueliner or go young? Better? Worse? Just different?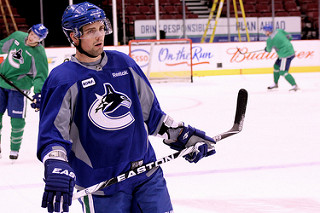 PRYOR: After the Dallas defense was manhandled in the playoffs by the big, physical St. Louis Blues forwards, changes were in order. Gone are Alex Goligoski, Demers and Kris Russell. GM Jim Nill didn't like the idea of having just one defenseman over the age of 24 in the top six (Johnny Oduya), so he signed former Vancouver Canuck Dan Hamhuis.
Beyond the addition of Hamhuis, it's time to give the kids a chance to grow and develop. The Stars are high on Esa Lindell, who spent last season playing top-pair minutes in the AHL and will represent Finland in September's World Cup. I think he'll get an audition with John Klingberg but could end up paired with Stephen Johns, his partner for much of last year. Patrik Nemeth and Jamie Oleksiak should both see more ice time too. Expect Julius Honka to start the season in Cedar Park, but I wouldn't be surprised to see him finish the season in Dallas.
Overall, Dallas' defense will be younger, bigger and stronger than last season. There will be growing pains along the way. In the end, however, the Stars will have a better blue-line corps in 2016-17.
FISHER: Those kids would really have to rise to the occasion for this group to be better. It's possible — I'm really high on Lindell too — but I'd have to say the Stars are worse on the back end as of today. They arguably lost three of their top-four defenders from the playoff roster and only replaced one of them. I don't see this being a case of addition by subtraction. Matt's right about the growing pains, and with the goaltending situation also shaky entering the season, going young could be a recipe for disaster.
Granted, the Stars have plenty of youth to rotate into the lineup should some of them struggle — Mattias Backman, Niklas Hansson and Ludwig Bystrom could be knocking on the door before long too — but it would be comforting to have another veteran to help settle things down. As it stands, Oduya and Hamhuis are Dallas' only defencemen over 30-years-old — truth be told, they are the only everyday defencemen over 25 (sorry, Jordie Benn doesn't count) — and heaven forbid one of them gets hurt.
I get it, Dallas wants healthy competition internally and wants to leave a few spots open for the taking at training camp, but I can't help but think Lindy Ruff would welcome another 30-something with open arms. Otherwise, Ruff will be losing the last of his hair this coming season.
Putting poor Matt on the spot — Panthers or Stars, which defence corps do you prefer? For the coming season? For the future going forward?
PRYOR: "Poor Matt," indeed — that's a tough question! What makes it so tough is that the two blue lines are so similar. The average Dallas d-man is 26.5 years old and has played 291 regular-season NHL games, while Florida averages 25.1 years and 254 games played. Both have some high-end offensive talent. Also, they're both going to play an up-tempo, move-the-puck-and-join-the-rush style going forward.
That said, for the coming season, I have to give Florida's defense corps the advantage. In Yandle and Aaron Ekblad, they have not one but two elite blueliners. Petrovic made great progress in his development last season. Demers is an upgrade over Kulikov. Finally, young Matheson was surprisingly good when paired with Ekblad in the playoffs. Can he can pick up in October where he left off in April? If so, the Panthers' defense will rank among the best in the league . . . provided they stay healthy.
This is where I hedge my bet: If health becomes an issue, then the advantage swings to Dallas. The Stars simply have greater depth on the blue line. When injuries felled Goligoski, Demers and Russell last spring, Johns, Nemeth and Oleksiak stepped up. Should history repeat next season, Honka and Backman will rise to the occasion. At this point, I don't think the Panthers have the same level of talent in the AHL, so they need to avoid the "injury ninja" as much as possible.
Long term, it's harder to say. There are just so many variables: Does Klingberg continue to develop into Erik Karlsson 2.0? Is Ekblad really Duncan Keith 2.0? What's the ceiling for Lindell? For Honka? For Petrovic, Matheson and Ian McCoshen? Ultimately, I think the willingness and ability of each team to develop their young defensemen is key. So far, Florida has shown more patience in that regard than Dallas, and that patience has paid off.
FISHER: Well played Matt, you stickhandled your way out of trouble with that answer. If the Stars' young defencemen play with that kind of poise this season, perhaps they will be ahead of their time and prove me wrong. However, I'm going with the Panthers in the present and it ain't even close. I can take a side here and Florida's blue line is built for success whereas Dallas is set up to fail in my opinion.
I'll take quality over quantity every day of the week, twice on Sunday. The Panthers may not be as deep as the Stars, but I feel like Hultstrom, McCoshen and perhaps even MacKenzie Weegar could fill in if and when injuries strike. Matheson makes my starting-six for Florida, which places Jakub Kindl and/or Steven Kampfer in the press box. That's eight able bodies before any of the kids get the call. That's a good problem to have, both for Dallas and Florida.
The Panthers' go-to guys are just getting going too, so their defence corps should have some serious staying power. It's crazy to think Ekblad is still only 20 years old, and both Pysyk and Petrovic are coming into their own at 24. I don't foresee the Dallas group overtaking Florida any time soon, but I do see the Stars' defence closing the gap once Lindell, Honka and Johns, among others, start to hit their stride. The future is bright for both those blue-lines, there's no disputing that.
Jim Nill is good at getting his man — Tyler Seguin, Jason Spezza . . . Ben Bishop? Is that going to happen? What would it cost, both to acquire Bishop and to lock him up long-term? Or are the Stars going to pick up where they left off with Kari Lehtonen and Antti Niemi? Would that be a bad thing?
PRYOR: Now that Jamie Benn's contract extension is done, the Ben Bishop question is at the forefront of Stars fans' minds. I wrote about it recently, so I'll give you the abbreviated version here.
According to Cap Friendly, the Lightning have just over $6.59 million in cap space. They still have to re-sign the two Nikitas — Kucherov and Nesterov. I can't imagine Kucherov signing for less than $6 million per year, which means Tampa needs to free up some cap space before October. It needs to trade Bishop.
The reason Bishop isn't in Dallas already is likely Tampa's asking price. Moving the goalie will make the Lightning cap compliant this season, but they'll be in an even worse situation next summer, when they only have $2.575 million coming off the books, with big raises for Victor Hedman and Andrei Vasilevskiy kicking in, not to mention Tyler Johnson, Ondrej Palat, Jonathan Drouin and Andrej Sustr in need of new contracts.
Steve Yzerman's a smart man, and he's probably trying to force Dallas to take additional contracts as well. Tampa's cap situation means they can't take much more than prospects and draft picks in return. While the Stars can afford to take on some additional salary, they have to expect a contract extension for Bishop next summer could cost north of $7 million. With Jamie Benn's new $9.5 million deal kicking in next July, cap space will disappear fast in Big D. I don't think Nill wants to paint himself into a corner for Bishop.
Nill has said he's got no problem heading into next season with Lehtonen and Niemi. In poker terms, that's what you'd call a "semi-bluff." He's fine with the two Finns this fall, but really needs an upgrade in net before the playoffs begin next spring. Last season, Lehtonen's save percentage was .906 and Niemi's was .905. The league average was .915. With just league-average goaltending, Dallas moves from playoff team to Cup contender.
The Stars' GM has many options beyond Bishop, however. The Pittsburgh Penguins just won the Stanley Cup with a 22-year-old kid with 13 NHL games under his belt in net, so why not kick the tires on Columbus' Joonas Korpisalo or Boston's Malcolm Subban? Those are just two of several talented, young and relatively inexpensive goalies who could be lost in next summer's expansion draft, so that's an avenue Nill must explore.
FISHER: That all makes a lot of sense and I suspect Matt is on to something here. Certainly, the Stars are in the process of making a pitch for Bishop — they would be crazy not to — but the Vezina candidate won't come cheap despite Tampa's cap crunch and the fact he's a pending UFA next summer. Yzerman isn't going to give away arguably his team's most impactful player for pennies on the dollar. As much as the Lightning need to shed salary, the Stars need a true No. 1 goalie even more. Yzerman knows that and so does Nill, who is absolutely bluffing in his reluctance to admit it.
There is a steep asking price for Bishop and rightfully so. At worst, he's a top-10 goalie. How many top-10 goalies are available right now? I hear crickets. . . . I guess if you still consider Marc-Andre Fleury a top-10 goalie, that makes it two, though Bishop is significantly more valuable right now.
Beyond Bishop and Fleury, who has a no-move clause and needs to be protected for the expansion draft, it is slim pickings and Nill would be rolling the dice on potential between the pipes — much like he already is on the blue-line. That's a dangerous game and I wouldn't necessarily bet on Korpisalo or Subban becoming the next big thing. Jack Campbell, anybody?
If the Stars are going to contend for Cups in the next couple years, they need to get the right guy in their crease. Right now, based on the market, that guy is Bishop, and Yzerman will be sure to remind Nill that the other options pale in comparison. Yzerman didn't budge for the Calgary Flames at the draft and they ended up opting for Brian Elliott, who is nowhere near Bishop's level. Rumour has it, Calgary had a deal in place to acquire Bishop but backed off upon learning of his contract demands — apparently 7 x 7, as in $7 million annually for seven years beyond this season. Making a $49-million commitment to a goaltender — likely with a no-move clause, no less — could scare off Nill too. In saying that, I do believe Bishop would be worth it for Dallas. The Stars are on the cusp and Bishop — along with another veteran defenceman — could put them over the top.
Speaking of which, remember how Matt mentioned the Lightning perhaps forcing the Stars to take additional contracts in a trade for Bishop? Well, what about Braydon Coburn or Jason Garrison? Both experienced blueliners, both 31-years-old and both better than anybody left in free agency. Maybe just maybe Tampa would take back a guy like Oleksiak instead of Lindell, Honka or Johns if it meant also parting with Coburn or Garrison as a salary dump.
It's safe to assume the Stars would be giving up their first-round draft pick in 2017 either way — and probably a young forward like Brett Ritchie too — but if there was a way to get Bishop without giving up any of those top defence prospects, Nill would have to pull the trigger, right? I'm telling you, Matt was on to something there, and that would also explain why Dallas still has a hole on the blue-line.
If you could add one remaining free agent for each team — Panthers and Stars — who would it be and why? Staying within the salary cap, of course.
PRYOR: I'll start with the Stars and exploit the loophole Larry left for me by selecting restricted free agent Valeri Nichushkin. Dallas' defense is overstocked already and I don't see any remaining UFA forwards who could add to last season's NHL-best offense. Once Dallas gets Nichushkin inked to a new contract, they're set everywhere but in net…and none of the remaining UFA goalies will fix that situation.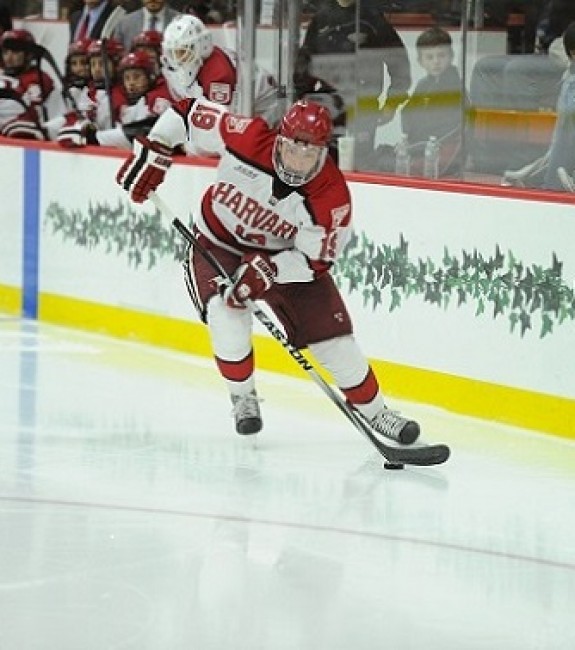 Because I don't want Larry to feel cheated by my previous (and perfectly legal) answer, I'll throw out two names for the Panthers. First, I wouldn't mind if they entered the Jimmy Vesey "sweepstakes." Though Florida is high on Lawson Crouse, there's no guarantee he's ready for the NHL this fall. On the other hand, if Crouse is ready and they add Vesey, the Panthers' lines could look like this:
Huberdeau-Barkov-Jagr
Vesey-Trocheck-Smith
Crouse-Bjugstad-Jokinen
McCann-MacKenzie-Sceviour
Thornton-Marchessault
That lineup wouldn't be bad. Not bad at all.
After indulging in the Vesey fantasy, my significantly more pragmatic Florida free agent addition is rather anti-climactic. If I were Rowe, I'd invite 26-year-old defenseman Conor Allen to training camp. Allen's posted decent numbers in the AHL and plays on the left side, so he could challenge Jakub Kindl for a spot on the Panthers' bottom pair. Even if he doesn't unseat Kindl, Allen would add much-needed defensive depth.
FISHER: Anti-climactic, indeed — a rather dull way to conclude your Facing Off debut, not? I thought Matt would want to go out with a bang by bringing in Raffi Torres and John Scott! Kidding aside, I'll spice things up a little bit for those still reading.
Starting with Dallas, I've been harping on about the need for another veteran defenceman and I'll take this opportunity to beat that drum one last time. Russell is still lingering on the free-agent market and might be the biggest name remaining amongst the blue-liners, but one has to think that deal would have been done by now if he was re-upping with Dallas.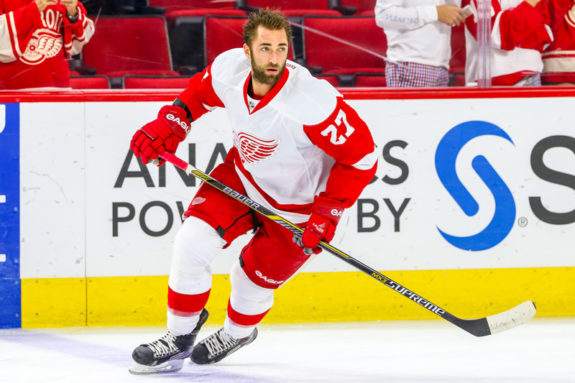 So, overlooking Russell, my guy would be Kyle Quincey. I think he's got some good hockey left in him and I think it could be a good fit both for player and team. At this point in the offseason, Quincey would presumably sign a one-year contract and that would allow Dallas' prospects to marinate a little more in the minors. That extra seasoning and patience would pay off, as Matt alluded to earlier in regards to Florida.
If not Quincey, then any of Dennis Seidenberg, Brad Stuart, Carlo Colaiacovo, Barret Jackman or Christian Ehrhoff could fit the bill. In that order, I feel Nill would be improving his team by at least inviting one or more of those guys to training camp on tryouts.
As for the Panthers, if they're looking for another depth defenceman in Allen's age range, I'd consider Eric Gryba or Matt Bartkowski, both 27, or possibly Mike Weber or Jakub Nakladal, both 28. Their resumes are padded with a bit more experience, but they might have to accept a two-way contract like Allen.
Personally, if I were Rowe, and assuming Vesey wasn't overly interested, I'd look at extending the Jiri Hudler experiment for a full season. Hudler is the most talented forward still available and I think he could catch fire in Florida with a little more time and opportunity. If Alexander Radulov was worth $5.75 million to Montreal on a one-year contract, I'd make the same offer to Hudler without hesitation.
---
Who won this round of Facing Off? Feel free to weigh-in with your opinions in the comments below. We will be checking in periodically to both defend and expand on our initial answers. If you want to see us face-off over a topic, we're open to suggestions as well.