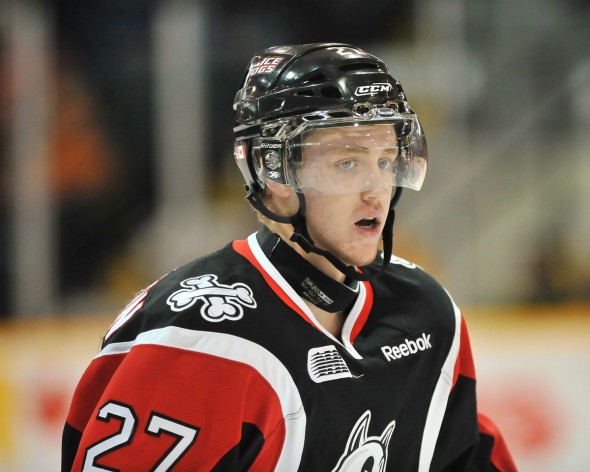 One of the most watched sporting events in Canada, the World Junior Hockey Championships have become a holiday tradition.
This year's tournament may be one of the most watched for a few reasons.
With the NHL lockout still going, at least for the foreseeable future it will give many fans the hockey fix they have been looking for.  The lockout will also provide Canada with a team that could be the best edition Canada has sent since the last lockout and the stacked 2005 team that featured stars Sidney Crosby, Ryan Getzlaf, Corey Perry, Shea Weber and so on.
The most talked about potential edition to the roster is Oilers Ryan Nugent-Hopkins, some of the toughest decisions may come on the defensive side where there is a growing list of candidates trying to push themselves into the conversation.
Locks to make the team would be returnees Ryan Murray of Everett, Niagara's Dougie Hamilton, and London's Scott Harrington.
The biggest question mark right now, is the health of Murray who just went down with a shoulder injury. Reports indicate he has a tear in his labrum and could be out 4-6 months.  Until he has more tests, his status is up in the air, but it is suspected that he may miss the tournament.
If he is unable to go it would be a huge loss, as Murray, the 2nd pick in this year's draft, would certainly be a top pairing defenceman on the team and very likely wearing a letter.
The silver lining, however, is that someone else gets a chance to step up, and there is no shortage of players willing and able.  The next man in line to wear the maple leaf is Kitchener's Ryan Murphy.  Murphy was a surprise cut from last year's team and it would be very unlikely he is not on this year's team, especially with his Rangers coach Steve Spott also the bench boss for Canada.
There are plenty of other deserving candidates from across Canada and it's three junior leagues.
WHL
Murray is the best of the group here, but as mentioned, he may not be a fact come the end of December.
The WHL boasts a number of other 2012 1st round NHL picks vying for a spot.  Players such Moose Jaw's Morgan Rielly (5th), Red Deer's Matt Dumba (7th), Griffin Reinhart of Edmonton(4th) and Portland's Derrick Pouliot(8th) all will be given due consideration.
Rielly is a dynamic offensive force and one of the best skaters among all junior defencemen, he could be a key puck mover for the red and white and see significant powerplay time.  Dumba is also an elite offensive defenceman.  While he may not have the polished, smooth game of Rielly, is is certainly one of the most dynamic. He lead Team Canada in scoring in the U18 tournament and is just as likely to make a big hit in the defensive zone as he is to score a goal.
Pouliot, yet another smooth skating offensive defenceman from the WHL. he may not have the explosive skating ability of the previous two players, but he has excellent on-ice vision and hockey awareness.
Reinhart is a little different type.  An imposing physical player he plays a strong two way game and can play in all situations. He has great positioning and anticipation and could be important for Canada, especially on the penalty kill.
Other defencemen who could get a look from the WHL are the Oil Kings Keegan Lowe and Saskatoon's Duncan Siemens.  Both defensive first type players who play a physical in your face style of game.
OHL
Dougie Hamilton and Scott Harrington return to represent the OHL.  With the potential loss of Murray, that will make Hamilton that much more important.  Arguably Canada's top defenceman regardless of the injury, the Niagara blueliner will log big time minutes for Canada.  Probably in the NHL if not for the lockout, their loss is Canada's gain.  Hamilton will play in all situations and in the top paring.  Harrington will be key in a defensive role, as he's one of the best shutdown defenders in junior hockey.  A good skater, he'll be out against the other team's top line.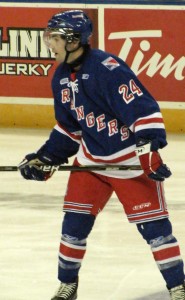 Ryan Murphy has a strong shot at making this year's team.  A surprise to some that he was left off last year's squad, for whatever reason he was just not what Canada was looking for.  What he does bring to the table is great skating and instincts.  He's an offensive dynamo and true powerplay quarterback. With Spott calling the shots this year, it would be a tough decision to leave Murphy off this year.
Other OHL defenceman looking to state their case include Ottawa's Cody Ceci and Peterborough's Slater Koekkoek.  Ceci played in the Canada-Russia Challenge and was just ok. Both log huge minutes for their OHL clubs and play a strong two way play. They are both excellent puckmovers and will need to have strong December's to play their way on to the team.
Yet another group hoping to add their name to the conversation include Stuart Percy (Mississauga), Adam Pelech (Erie), Ryan Sproul (Sault Ste. Marie) and Matt Finn (Guelph).  All bring a steady presence and a strong two way game.  All four are very likely on the outside looking in at this point, but the competition is so tight, with good camp any one of them could jump right into the mix.
QMJHL
There is really only one defenceman from the QMJHL that has a realistic shot at wearing the red and white later this December.  That's Xavier Ouellet, the captain of the Blainville-Boisbriand Armada.  The fourth year veteran is trying to make Canada in his final shot.  He is a good skater and brings great offensive instincts and overall awareness.  His game would translate well to the bigger ice in Russia.  While he's definitely on Canada's radar, he'll have to play well to avoid being part of a numbers game.
WHAT COULD IT LOOK LIKE?
The good and the bad going into December for Canada's coaching staff is the impressive depth they have in terms of junior defencemen.  It will be a talented group regardless of who's on it, but will come from many a tough decision.  It looks as though Murray will be unavailable with his injury, but that will just give another player a chance to step up.  Player stock will certainly rise and fall over the next few weeks, but here's a look at a potential lineup.
Hamilton – Rielly
Ouellet – Harrington
Reinhart – Dumba
Murphy
Morgan Rielly looks like a natural fit to take over Ryan Murray's minutes on the top pairing.  He can skate with anyone and looks primed to have a big tournament.  Hamilton will be Canada's Mr. Everything and log a ton of ice time.
Ouellet and Harrington form a versatile and mobile shut down paring.  Harrington is possibly the best shutdown defender in junior hockey, and Ouellet plays a smart two way game and is an excellent skater who won't get rattled.
Reinhart and Dumba complement each other on the third pairing, Reinhart is smart, responsible and is rarely caught out of position.  Dumba is dynamic, entertaining and likes to take risks.  He always seems to do something special when he puts on the Canada sweater.
Murphy is down as the 7th defenceman but will be a key for Canada.  He'll run their powerplay and be a key cog in the offence.  His 5 on 5 minutes will depend on his play.
A lot can happen between now and then with names sliding up and down the depth charts daily.  It will be entertaining to watch the battles between now and when the team is picked.
For a look at potential Team Canada forwards, check out:  "NHL Lockout Could Provide Impressive Depth Up Front for Canada"