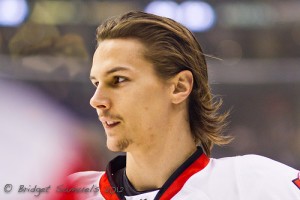 A first round draft choice is a valuable commodity no matter how high or low the pick is. First round draft choices are expected to turn into NHL players but as we all know not everything people expect actually happens. The Ottawa Senators have been around since 1992 and have had 20 drafts now as a franchise.
Of those 20 years Ottawa has made a first round selection every year but one (2010), and 23 first round selections in total including 3 in 2011. The Senators may be remembered most for drafting Alexander Daigle, but here are five 1st round selections from Ottawa that have actually starred for the team:
5.) Alexei Yashin
Alexei Yashin was the Ottawa Senators first ever draft choice 2nd overall in 1992 and though he left alot of fans with a sour taste in their mouth, there is no denying his talents. Yashin became what Daigle was supposed to be, the Senators first true superstar. Yashin was named captain for the 1998-99 season and responded with a career high (and at the time franchise record) 44 goals and 94 points.
His contract disputes and attitude caused management and fans headaches and he sat out the entire 1999-2000 season. Alexei Yashin was a 5 time 30 goal scorer and hit 40 twice in his time with the Senators. By the end of his tenure he had 491 points in 504 games. He may not be popular with the fans but they can thank him for Jason Spezza.
4.) Marian Hossa
Marian Hossa was drafted 12th overall in 1997. He spent just 6 full seasons with the Senators but it was during his time in Ottawa he developed his superb two way play and perfected his timing on the ice. Hossa played a key part in the Senators 2003 run to Eastern Conference Final putting up 16 points in 18 games. Hossa became a fan favorite in Ottawa for his sniping abilities and elite compete level. His final two seasons with the Senators were his best as he became a point a game player.
| | | | | | |
| --- | --- | --- | --- | --- | --- |
| Season | Games Played | Goals | Assists | Points | Team |
| 2002-03 | 80 | 45 | 35 | 80 | Ottawa Senators |
| 2003-04 | 81 | 36 | 46 | 82 | Ottawa Senators |
Hossa produced 390 points in 467 games in Ottawa before he was traded to the Atlanta Thrashers for a guy named Dany Heatley.
3.) Chris Phillips
Chris Phillips was drafted 1st overall by the Ottawa Senators in 1996 and is still with the team to this day. Ever since making the team in 1997 Phillips has been a mainstay on the Ottawa blueline playing 14 seasons with the Senators.  Phillips has become the Senators most reliable stay at home defenceman and is a vital leader in the Sens dressing room.  In 2006-07 he had a career high 26 points and a + 36 also a career high, before helping lead the Senators to the 2007 Stanley Cup Finals. In the 2007 Stanley Cup Playoffs Phillips averaged over 23 minutes of ice time in 20 games. Phillips has played in 1025 games for Ottawa and will continue to shine on the backend.
2.) Erik Karlsson
Karlsson was drafted by Ottawa 15th overall in 2008 and has never looked back. Karlsson put up 26 points in 60 games his rookie season before improving to 45 points in 75 games in 2010-11. Under new Coach Paul MacLean Erik Karlsson learned to become more dependent on the defensive side and broke through offensively, dominating the league putting up 78 points in 81 games and improving from a -30 in 2011 to a +16 in 2012.
In just 3 seasons Karlsson has improved offensively every year and is starting to learn under Coach Paul MacLean to pick his spots better and not get caught up the ice. He has put up 149 points in just 216 games. Following his dominating 2011-12 campaign Erik Karlsson was awarded the Norris Trophy as the NHL's best defenceman.
1.)    Jason Spezza
Jason Spezza was drafted by the Ottawa Senators 2nd overall in 2001, the pick coming from the Alexei Yashin trade (Everyone thank Mike Milbury). Spezza was the most highly touted North American prospect from the draft. Spezza played two seasons in Ottawa learning what it takes to be a top 6 forward in the NHL. The (first) lockout wiped out the whole 2004-05 season but Spezza played in Binghamton and dominated putting up 117 points in 80 games. When the NHL resumed Spezza was a much more confident player and it showed, between 2005-08 Spezza dominated racking up 269 points in just 211 games.
After struggling with injures and the departure of trigger man Dany Heatley,Spezza showed up for the 2011-12 season a completely new player. Spezza demonstrated newfound maturity in his game and limited the defensive lapses he was known for earlier in his career. Spezza put up 84 points in 80 games and was the driving force in leading Ottawa back into the playoffs.  After almost asking for trade Spezza appears happy in Ottawa now and putting up 616 points in 606 games, Senator fans are happy to have him.