written by Marc Lapierre (@MarcLapi)
Chris Chelios headlines the list of 2013 first-year eligible candidates for enshrinement in the Hockey Hall of Fame. It goes without saying that he's a lock to be inducted next November. The U.S.-born blueliner is not only one of the best defenseman of his era but one could even make a case for him as the best non-Canadian defenseman of all-time over Nicklas Lidstrom and Slava Fetisov.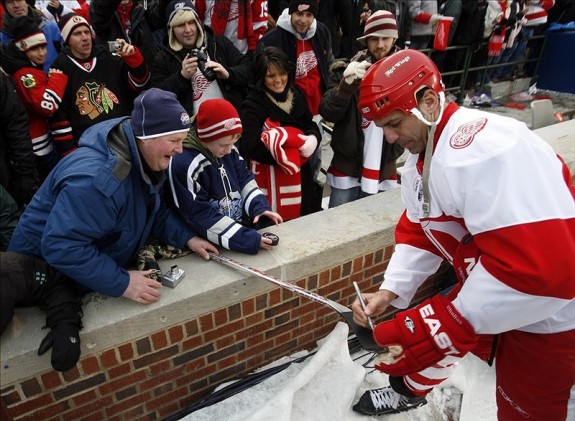 The Complete Package
In an NHL career that spanned an unbelievable 26 seasons, Chelios did absolutely everything on and off the ice in every possible way. For the first half of his illustrious career, the 11-time All-Star was an almost unmatched force of offensive abilities, defensive brilliance, toughness, leadership, and durability. He was also one of the dirtiest players to ever lace up a pair of skates in the NHL. Quite simply, the three-time Norris Trophy winner was the complete package.
Physical Specimen
During his peak from 1989 to 1996, Chelios was an absolute force to be reckoned with on the ice. He did it all. In the second half of his 26-year NHL career, the three-time Stanley Cup champion made the successful transition from being one of the best overall defenseman on the planet in Chicago to being a reliable physical rock in his own zone with the Red Wings.
A fitness guru, Chelios raised the bar with an unmatched work ethic to become an ageless wonder in the NHL, even playing in his mid-forties. In fact, he used to ride a stationary bike in the sauna for 45 minutes or so during the season.
The Hall of Fame

Chelios has to be considered one of the best defenseman of all-time after Bobby Orr, Doug Harvey, Nicklas Lidstrom, Raymond Bourque, Eddie Shore, Denis Potvin, Red Kelly, Larry Robinson and Slava Fetisov. Because of everything he accomplished on the ice, I would rank him over legends such as Paul Coffey, Brad Park, Pierre Pilote, Tim Horton, Al MacInnis, King Clancy, Brian Leetch and Scott Stevens on the all-time defensemen list.
However, if there is one thing that hurts his Hall of Fame case, it's his personality. Chelios is clearly not the most likable person. He's far from it. Besides the fact that he was one of the dirtiest players to ever play the game, he can also be a jerk off the ice. Nevertheless, Chelios is a mortal lock for enshrinement in 2013.