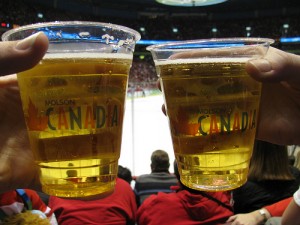 Ok, so we all know that CBA talks are at a stand-still. At a time when we should be buzzing with excitement about training camps and preseason predictions, those in the media have been pulling teeth to find interesting hockey stories which don't involve Gary Bettman standing in a hotel lobby…and the pickings are slim.
Across this great country, men and women and children are beginning to show symptoms of an all-too familiar ailment known simply as Hockey Withdrawal Syndrome, or HWS. The first recorded case of HWS dates all the way back to 1995. And of course, no one will ever forget the great outbreak of '04.
You see, for most people who are true fans of the game, the ability to watch hockey is paramount to their mental health, a cathartic experience through which the stresses and difficulties of daily life are purged by a process of beer drinking and yelling at the television. When this outlet is removed, mental degradation inevitably ensues.
But what few people realize is that simply talking about hockey can help alleviate the symptoms of HWS. In fact, most fans spend significantly more time discussing the game than actually watching it. Some experts even believe that the discussion of hockey is actually more important to a fan's psyche than the physical viewing of hockey games.
Unfortunately, that information does little to help the average HWS sufferer. Without hockey being played, what is there to discuss? Surely fans cannot be expected to spend months on end debating the viability of revenue sharing alternatives.
For millions of us, the prognosis looks bleak…but luckily, I have been able to compile a short list of conversation starters to help get you through this difficult time; a series of interesting starting points upon which you just might be able to start a meaningful, hockey-based conversation with your fellow fans.
It's not much, but it may be enough to get you through September. If you think you may be suffering from HWS, all you have to do is find a friend, take two of these and call me in the morning:
1. Lockout Player Salaries-
During trying times such as these, we often worry about the non-marquee players, the fourth liners who aren't locked into multi-million dollar deals. Sidney Crosby and Zach Parise will be fine without playing hockey this year, but what about the grinders? How much does a low-end NHL player earn during a lockout?
Well, during the 04/05 lockout, the NHLPA provided a monthly stipend of up to $10,000 per month to each player. The current players' union also held 8.5% of players' salaries from the '11/12 season in escrow for just such an occasion.
So let's take a conservative estimate of an $8,000 PA stipend and multiply it by 12 months. Then we'll add in 8.5% of the league's minimum salary.
(8,000 x 12) + (525,000 x 8.5%) =     $140,625.00 per year
I doubt very much that anyone who played NHL hockey on a full-time basis last season will be starving at any point this winter.
2. Les Quebecois de Montreal?-
Now that the Parti Québécois has returned to power in the province of Quebec, the separatist agenda will surely be pushed to the forefront once again. With the Nordiques long-gone this time around, what affect will the political landscape have on hockey's most storied franchise?
In the event that Quebec does separate itself from Canada, will the Canadiens be re-named? Will the most passionate fan base in hockey actually see Anglophone fans from across Canada and the US jumping ship because of politics?
3. The record books are all messed up-
Having some hockey is better than having no hockey, but the effects of a shortened season linger well past the day the puck is finally dropped again. In 94/95, Jaromir Jagr won the scoring race with 32 goals and 70 points…and not only does that just plain look funny, it also alters our perception of history.
We may never know if Stamkos can post back-to-back 60 goal seasons. We may see a Stanley Cup champion who would have been too old to compete for a full 82 games plus playoffs.
The fact that we will get back to playing hockey eventually does not mean that we will get back to where we should be. In fact, one can guarantee that the selfishness on display in August of 2012 can and will have lasting effects well into June of 2013… and beyond.
What kind of legacy does a lockout really leave behind?
It is impossible to replace the experience of watching hockey when it is played at the highest level, but for sufferers of Hockey Withdrawal Syndrome, hopefully these topics have enough meat on the bone to get through at least a few weeks of meaningful discussion. Whether your gathering place is the water cooler, the locker room, or the local coffee shop, those experiencing HWS should not be forced to suffer in silence.
So stand tall in the face of drawn out and dry CBA talks. Dig deep into whatever tiny nuggets of interesting hockey news come floating your way, and remember HWS sufferers:
You are not alone.