"In case you hadn't heard, I'm 25."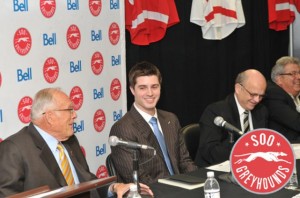 That is the way Kyle Dubas chose to introduce himself at a press conference this past spring as he was introduced as the brand new – and yes, 25-year-old – general manager of the Soo Ste. Marie Greyhounds.
While much has been made about the former player agent's age, both positive and negative, Dubas and his Greyhounds have managed to turn the attention surrounding their team to the standings instead.
Finishing with a poor 25-36-5-3 record at the end of the 2010-11 season, the pre-Kyle Dubas Greyounds found themselves at the bottom of the West Division. More importantly, the Greyhounds missed the Ontario Hockey League playoffs, finishing just 16th in a 20-team league.
After a plethora of offseason changes since then, it seems as though #HoundPower, a favourite Twitter hashtag of Dubas', is in full effect.
The young Greyhounds currently sit tied for fourth place in the entire OHL, third in the Western Conference, and second in the West division with a respectable 9-5-0-0 record to start the 2011-12 season. If you ask Dubas what the secret behind the Grehounds' early success has been so far this season, his answer is simple.
"At the end of 60 minutes we have had more goals than the other team nine out of fourteen times."
After extensive research, The Hockey Writers can confirm that yes, this is indeed a popular, and often successful method used to win a hockey game.
"The guys who were here previously, there was a lot of talent here before," Dubas elaborated. "They've just continued to mature and bought into what the coaching staff has done, and then the guys that have come in (all 12 of them), our coaching staff has done a great job with them. Everything has just kind of worked in sync and it's been good. We had a big weekend last weekend but we're still a long way from where we aspire to be."
To go along with Dubas' new touch to the team, Sault Ste. Marie will get a chance to be in the spotlight on November 14. That night, the Soo will host Game 4 of the 2011 Subway Super Series as Team OHL takes on Team Russia. That team presents yet another opportunity for Dubas' #HoundPower to shine.
"We have three players on the team and a coach, an athletic therapist, and an equipment manager, so there's six members of our team involved and we're very proud of them," Dubas said of the Super Series.
"It's a big event and it's an important event. It's a key piece in deciding who makes the World Junior camp where they're going to pick the team. I'm not sure anyone could necessarily play their way off, but guys can certainly play their way into the camp by how they play in this event."
The three Greyhound players involved will be centre Nick Cousins, a third round pick of  the Philadelphia Flyers, Ryan Sproul, a second round pick of the Detroit Red Wings, and Andrew Fritsch, a sixth round pick of the Phoenix Coyotes.
"All three are NHL draft picks. All three are 18 so they have this year and next year where they could play for the World Junior team," Dubas said of his trio's opportunity.
Joining those players will be new Greyhounds head coach Mike Stapleton, a hire of Dubas' and veteran of 697 NHL games. Stapleton spent 2006-2010 as an associate and assistant coach in the OHL, splitting time between the Erie Otters and Greyhounds before taking another assistant coaching job with the American Hockey League's Syracuse Crunch last season. Accompanying Stapleton will be another former NHLer in new Guelph Storm head coach Scott Walker. Dubas knows both coaches have a tough task in front of them with little time to prepare.
"This will be [Team Russia's] fourth game together, not including the weeks and weeks in advance, and the games they played together in Russia and in Europe, so they're going to be a much more cohesive unit because they've played together so much. The key for Team Ontario is that they come in and they're able and ready to compete and work hard. That's a typical Canadian team and that's what these guys need to do. They won't have very much time at all to build any chemistry so it's going to be a matter of putting guys together who have played together before and find a way."
While Dubas is about one month into his rookie season as an OHL general manager, he seems unfazed by the pressure that comes with hosting an event of this magnitude.
"I don't pick this team; I'm just going to watch this. We've got a great staff here and a great coaching staff here. Without them I think it would be difficult but because of the staff we have in the office and on the hockey side of things that makes it very enjoyable and we have a lot of fun. We don't lose sight of the fact that it's a game and we're all having a lot of fun working in it."
A solid start for the Greyhounds and hosting a big OHL event seem to have #HoundPower looking pretty good after about a month of play in the Soo. Despite the team's success, the Greyhounds' GM says he's always keeping an ear to the ground (or ice), listening to other GM's around the league.
"I think it's my job to listen to what everyone is doing and trying to get a grip on where everything stands with everybody. That just, to me, is common sense," said a straight-forward Dubas. "I don't think I'm doing my job if I'm not trying to figure out what the market value is for guys and whether it can improve our team or not. We're really happy with our guys right now. I always remind myself when I talk to coach Stapleton is we've got 12 new guys coming into our lineup. It's going to take us a while still to gel and we need to have trips like we just had and moments we just had and continue to involve and build ourselves as a club. We're on our way, we just need to continue to work away at it and we'll get there."
With new staff, Dubas included, a young team, and the Subway Super Series in town, it looks as though Sault Ste. Marie has made its way back into the hockey headlines, and this season, it's for good news.
—————————————————————————————————————————————————
Added quotes on the Greyhounds' NHL Draft picks:
Kyle Dubas on Nick Cousions – Drafted by Philadelphia, round three, 68th overall, 2011 NHL Entry Draft
Nick Cousins is a centre man who has been outstanding for us all year. He's a play that can play many different roles. He played for Team Canada at the Under 18 last year in Germany and ended up finishing off the tournament on the top line so Hockey Canada is certainly very familiar with him. Philadelphia drafted him and he's a guy who can play on the first line, he can play on the fourth line, and he can get under guys' skin. He plays hard, he's relentless, and he competes. He's a guy, if not this year then certainly next year, that will definitely be wearing the Canadian logo and the red and white and be representing his country.
Kyle Dubas on Ryan Sproul – Drafted by Detroit, round two, 55th overall, 2011 NHL Entry Draft
Ryan Sproul is a second round pick of Detroit. He joined this team late after training camp last year and has just surpassed one year in the league. He's a 6'4" defenceman with a big shot. He's got almost a point per game and a plus-10 sa far for us this year. Definitely an extremely talented player and still has so much further to go to reach his full potential, which is big. We obviously like Ryan and he's not even scratching the surface of where he can get to if he puts the proper amount of work into it.
Kyle Dubas on Andrew Fritsch – Drafted by Phoenix, round six, 155th overall, 2011 NHL Entry Draft
He was actually a client of mine when I was an agent so I know him very, very well. He's a very smart hockey player, an elite skater, and so defensively responsible and aware of what's going on. I think he's a guy some people or he might be a little underrated, but he's excellent. I'm pretty biased of Andrew because I've known him a long time. We're obviously very happy for him that he has made it to this point, and has been named to the team, and it's a great opportunity for him to finally get himself into that equation of being amongst the best. He certainly has the potential to do it, it's just a matter of him realizing just how good he can be, and this is just the first step towards that.