Did you work late last night? Did your significant other make you run errands while the game was on? Did your dog chew off your TV cable wires?
Have no fear – THW's Monica McAlister has your back, covering everything in the hockey world from From Abdelkader to Zuccarello every morning. Check in daily to quickly get up to speed on all things hockey – recaps, storylines, videos and great links.
While You Were Sleeping
Philadelphia Flyers 1 Montreal Canadiens 5
Off to a slow start this season it was a 5-1 victory over the Flyers that gave Canadiens Carey Price his 100th NHL win.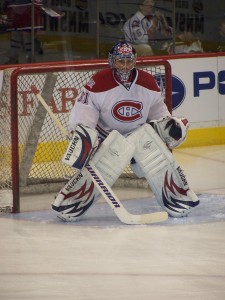 It all started with an early power play for the Canadiens as Flyers Andrej Meszaros took a penalty just 58 seconds into the game; however, the Habs were unable to take advantage of being up a man.
Jaromir Jagr would open up the scoring as he but a wrist shot past Price just over halfway through the opening period.
Flyers would hold the lead until defenseman Andreas Lilja was called for interference late in first that would set up for a power play goal from Yannick Weber to tie the game up with three seconds left in the period.
Montreal would come out and dominate in the second as Andrei Kostitsyn would tip-in a shot from Jaroslav Spacek that was set up from Max Pacioretty to take the lead. Just over two minutes later it would be a goal for Pacioretty himself that would give the Canadiens a 3-1 lead heading into the second intermission.
Pacioretty would not be done as just 3:16 into the third period he's put a wrist shot past Ilya Bryzgalov to put Montreal up by three goals.
At exactly the twelve minute mark Flyers Claude Giroux and Canadiens Tomas Plekanec were called for coincidental minors.
Michael Cammalleri would wrap up the scoring for the night as he put a wrist shot past Bryzgalov.
Three Stars:
1st Max Apriority (MTL) 2 goals, 3 points, plus/minus 3
2nd Carey Price (MTL) save percentage (0.955)
3rd Erik Cole (MTL) 1 point, 6 shots on goal
Colorado Avalanche 2 Calgary Flames 4
It would take Colorado defensemen Kyle Quincey all of 3:46 before he was called for his first penalty last night giving Calgary an early man advantage that they were unable to score on. The first goal of the game would come at 10:50 in the first by none other than Quincey as he scored a power play goal while Rene Bourque was in the penalty box for tripping.
Minutes after Roman Horak would score his first of the season as he went backhand on Jean-Sebastien Giguere to tie the game at one heading into the first intermission.
Calgary would dominate in the second as Lee Stempniak would also score his first of the season with a backhanded shot past Giguere to give the Flames the lead. Quincey would take another penalty and this time the Avalanche would not be able to hold the Flames back as Rene Bourque scored a power play goal to make it 3-1 before the end of the second.
Ryan Wilson would score his first of the season in the third period to cut Calgary's lead down to one only to have Rene Bourque score in the final minute in the empty net.
Three Stars:
1st Roman Horak (CGY) 1 goal, 2 points
2nd Rene Bourque (CGY) 2 goals, 6 shots on goal
3rd Erik Johnson (COL) 1 point, 2 shots on goal
St. Louis Blues 3 Vancouver Canucks 0
Putting thirty-two shots on goal would not be enough for the Canucks as they were stonewalled by Blues goalie Brian Elliott.
After a scoreless first period it would be Alexander Steen nearly halfway through the second period to kick start the Blues offensive side as he put a wrist shot past Canucks Corey Schneider.
St. Louis would take an early penalty in the third as Jason Arnott would be called for holding; however, about thirty seconds into the man advantage Vancouver would also take a penalty as Alexander Edler would get called for hi-sticking.
Just after the penalties both expired Alexander Steen would score his second of the night as he put another wrist shot past Schneider.
It would be Patrik Berglund with a wrist shot of his own to make it 3-0 over the Canucks.
Three Stars:
1st Alexander Steen (STL) 2 goals, 4 shots on goal, plus/minus 2
2nd Kevin Shattenkirk (STL) 2 points, plus/minus 2
3rd Brian Elliott (STL) save percentage (1.000)
Up into the Netting
Jason Brough over at NBC's Pro Hockey Talk takes a look at how Gms have "no desire" to ban fighting.
.
Deputy commissioner Bill Daly confirms the lack of interest among team bosses in taking scraps out of the game.
"I don't think it's on the front-burner with GMs in terms of issues we need to discuss," said Daly. "It's obviously something we look at and are always monitoring and maybe at some point it will be raised in a GM meeting."
They might not have a desire to ban fighting in hockey but has the time come to mandate visors as they did with helmets? THW's own Andrew Sykes takes a look at why mandating visors should be discussed after Pronger injury .
To quote Jeremy Roenick, "NHL wake up."
As backwards as the National Hockey League is by still allowing fighting, the allowance of giving players the option to choose the wearing of a visor might very well be its most absurd flaw.
The Vancouver Canucks have traded away veteran presence to the Florida Panthers in return for David Booth.
This time around, the Canucks have sent 30-something forwards Mikael Samuelsson and Marco Sturm to the Sunshine State in return for left winger David Booth, centre Steve Reinprecht and a third round pick in the 2013 draft. The turnkey in this trade for the Canucks is Booth, who at just 26 years old offers long-term upside. Samuelsson will be a UFA at the end of this season after a streaky stint in Vancouver. Sturm was signed to a one-year deal during the off-season, but had yet to score in 8 games as a Canuck.
Taking a look at what is going on in Texas sports other than that baseball thing.
It was an overtime goal by Vancouver's Sami Salo that edged them over the Minnesota Wild over the weekend but why was Alex Burrows skating to get the puck? Ends up it was veteran defenseman Sami Salo's 700th career game and according to Burrows the team "loves him so much."
Salo's more oft-used nickname is The Fragile Fin. It's fitting. Salo broke into the league only one year after Joe Thornton(notes), who recently celebrated his 1000th game, and if the Finnish defenseman hadn't missed nearly 300 with over 40 separate injuries, he'd be nearing the millennium mark in games played as well.
Montreal fires head coach Jacques Martin's assistance Perry Pearn.
The first question many asked upon hearing the news is: Why Pearn? Why not Jacques Martin? The most likely answer is that Pearn was in charge of Montreal's power play, the same lethargic unit that's scored three times in 32 opportunities — 9.4 percent, second-worst in the NHL.
New York Rangers will be rolling out the blue carpet tonight on 33rd and 7th as they have their home opener at Madison Square Garden against the Toronto Maple Leafs.
Speaking of the Rangers have they offered a contract to Anton Stralman?
Though Michael Sauer is likely to be ready for the home opener against Toronto on Thursday, we've still heard nothing about Marc Staal, which is not encouraging. Luckily, the defense as a whole has picked up their play to help account for that loss, but it's pretty obvious that they lack a reliable sixth defenseman. Devils beat writer Tom Gulitti claims to have heard from a reliable source that the Rangers have offered a contract to former Maple Leafs defenseman Anton Stralman. Stralman had joined the Devils on a tryout basis during training camp but never received an offer.
Pass or Fail: Greg Wyshynski has a look at the new women's hockey jerseys from the NHL Shop and wants your input.
Looking towards the future it has been made known; though not official, that the 2012 NHL Entry Draft will be held in Pittsburgh.
James O'Brien over at NBC's Pro Hockey Talk has a look at former Dallas Stars (and short time Detroit Red Wings) Mike Modano and his possible 'mid-life crisis' Halloween costume .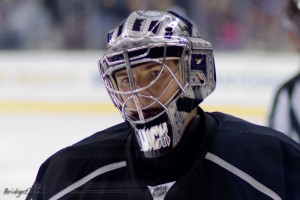 Top Spots:
Points: Phil Kessel – Toronto (15)
Goals: Phil Kessel – Toronto (9)
Assist: Daniel Sedin – Vancouver (8)
Plus-Minus: Matt D'Agostini – St. Louis (9)
GAA: Jonathan Quick – Los Angeles (0.81)
Save Percentage: Jonathan Quick – Los Angeles (0.972)
Wins: Kari Lehtonen – Dallas (7)
Shutouts: Jonathan Quick – Los Angeles (3)
Northwest: Colorado Avalanche
Pacific: Dallas Stars
Central: Chicago Blackhawks
Atlantic: Pittsburgh Penguins
Northeast: Toronto Maple Leafs
Southeast: Washington Capitals
Face-Off
7:00 p.m. EST
Montreal Canadiens at Boston Bruins
Columbus Blue Jackets at Buffalo Sabres
Toronto Maple Leafs at New York Rangers
Winnipeg Jets at Philadelphia Flyers
New York Islanders at Pittsburgh Penguins
7:30 p.m. EST
Florida Panthers at Ottawa Senators
8:00 p.m. EST
Tampa Bay Lightning at Nashville Predators
Anaheim Ducks at Minnesota Wild
8:30 p.m. EST
Los Angeles Kings at Dallas Stars
9:30 p.m. EST
Washington Capitals at Edmonton Oilers
10:00 p.m. EST
New Jersey Devils at Phoenix Coyotes