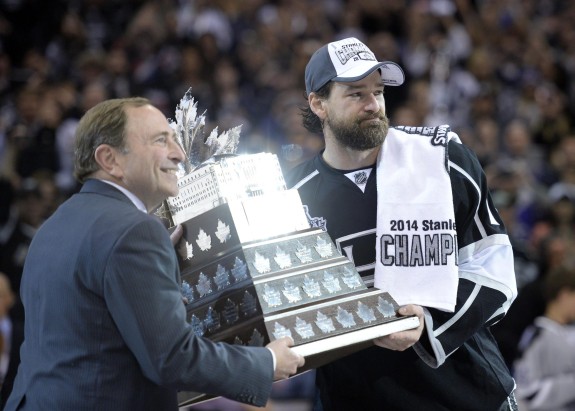 Man, talk about a week's worth of opinions. First, General Manager Brian McClellan was skewered for wasting a first round pick on a goaltender. Now, he has been praised for keeping his word in getting a top six forward and taking action. Boy, did he ever do that and then some.
With over thirteen months on the job, it is pretty clear what type of team McClellan prefers: a veteran group full of leaders while the younger players take as much time as possible to develop. It can't be ignored, however, that Washington has plenty of these youngsters trying to make a name for themselves, all thanks to the drafting that George McPhee and Ross Mahoney did from previous years.
So the obvious question now is how to marry the two generations of talent together now that T.J. Oshie and Justin Williams are coming to Washington.
Even Strength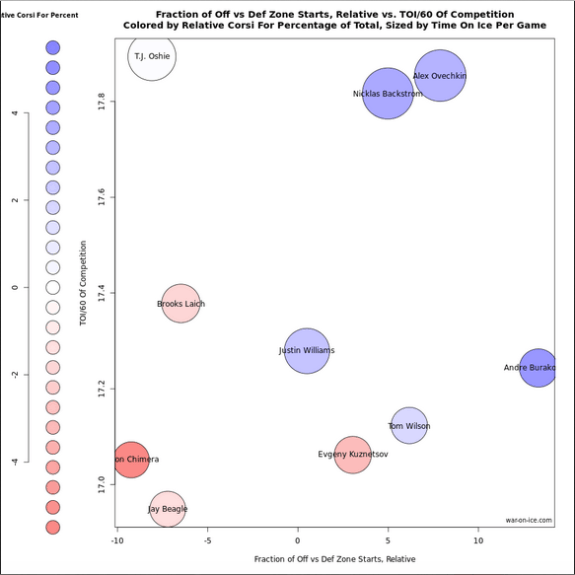 The first thing that McClellan's two new signings were certainly put to join the first or second lines of the team right now. But considering his per 60 minute rates and his propensity to face the toughest opponents for the team every night, T.J. Oshie seems to be the perfect fit to join the top line of Ovechkin and Backstrom. Afterwards, you have Justin Williams joining a sheltered scoring line that will consist of some alchemy of Evgeny Kuznetsov, Marcus Johansson or Andre Burakovsky. Whichever of the three forwards misses out on the action in the top six will either drop to play wing or center on a third line that could end up being the closest thing to a shutdown line.
Now some will argue that Oshie is a two-way force that needs to be with two-way players. For Washington's case, that could be with players such as Brooks Laich and even Andre Burakovsky. Remember, the 20-year old former first round pick played with Troy Brouwer and Jay Beagle and handled tough zone starts very well in last year's playoffs. I don't think it can be stated enough that not only is Burakovsky ready for more ice time, but if it wasn't for the acquisitions this summer, he should have automatically been one of the team's best forwards.
Now one thing to consider about Williams and Oshie is that even though both carried great possession numbers, it is important to remember that both are moving from two great hockey organizations that are great possession teams overall. That is why numbers such as corsi relative (percentage difference in puck possession while on the ice versus off the ice) and delta corsi (a statistic created by Steven Burtch that measures how a player performs relative to team and deployment) are so important to take into account.
For Williams, his +2.63% relative corsi and 2.55 delta corsi per 60 minutes are still quite impressive, but certainly not that of an elite-caliber player. Meanwhile, Oshie's +0.13 relative corsi of 0.68 delta corsi per 60 minutes were both the second lowest percentages of his career. In fact, his four worst seasons in relative or delta possession have occurred in the last four years. All of that could be tied to Oshie's zone starts, the lack of scoring linemates and also the possibility that he could be overrated on the defensive side of the puck. Either way, one cure to all of this is starting him much more on the other end of the rink with one of the most gifted center-wing partnerships in hockey.
But even if Oshie is not a guarantee, it should be noted the overall versatility of the Capitals top nine, assuming Tom Wilson is inserted there all season. Laich, Johansson, Kuznetsov and Burakovsky have all played center and wing during their NHL careers. All four of them have played along the second and third lines in previous years. It was also just two years ago that Williams was on a top line that won the Stanley Cup.
Power Play
With Troy Brouwer, Mike Green and Joel Ward out of the fold, one of the best power plays in hockey for the last three years will look completely different. However, both Williams and Oshie have plenty of experience on the power play and their usage under their former teams will be perfect fits as to where they can be used in the 1-3-1 system. While Los Angeles played more of a split formation under Darryl Sutter, Williams was used more of one of the two forwards to provide a screen for the shot from the point and collect and bury home rebounds if they went off the goaltender. If this sounds familiar to what the former King usually score at even strength, it probably is.
For Oshie, he was either deployed along the half boards or slot position as Ken Hitchcock wanted to give his deceptive wrister enough space to unwind once the puck touches his stick. Like at even strength, there is flexibility to move Oshie to the top unit (his 47% use of St. Louis' time on ice on the power play would be fourth amongst returning/incoming Capitals) or move him to the second unit and move Matt Niskanen over to the point instead of the half wall.
On that side of the depth chart, one would assume that you would have Kuznetsov on the other half wall and Burakovsky receiving more playing time as well. To fill out the remaining spot, will it be Laich returning and playing the net-front presence there or would Wilson join the unit for the first time in his career there? If that doesn't work, could Burakovsky man the net front, have Niskanen return to the half wall with either Oshie or Williams on the slot and then bring in Nate Schmidt or Dmitri Orlov on the point? There are options there, but options that need to be used correctly since there are so few power play attempts that any NHL can be able to convert every season.
Penalty Kill
In this category, Williams is completely ignored due to his lack of playing time in shorthanded situations.
Along with Oshie's reputation as a defensive force might be skewed at even strength, the same could be said for his penalty killing skills. Since he's joined the St. Louis Blues in 2008, the team has become one of the better shorthanded units in the NHL. However, Oshie has given up just over four more shot attempts per 60 minutes while he's on the ice compared to the team average during his career. It is that fact that logically shows why Oshie's average ice time has dropped close to a minute within a six-year span.
On the other hand, he has proven to be solid offensive contributor going the other way and hoping to catch power plays out of defensive alignment when coughing up the puck. Even if Oshie is on the ice for 0.30 more shot attempts per 60 minutes than the team average, he also is on the ice for 0.22 more goals for per 60 minutes than the team average.
While goal scoring and shot generation may not account for much at such a disadvantageous situation, it forces power plays to second guess when making a risky piece of puck movement necessary to create the perfect shot or one-timer. Think of Rick Nash on the Rangers aggressive penalty kill. He maybe there to throw a check to the boards here and there, but the big forward is there to create odd-man rushes when the Rangers have the puck.
It is beyond obvious that Oshie and Williams have made the Capitals top six much better, but the question of how much the overall team will improve will depend on other factors besides the individual talents of these two players. Barry Trotz has to give them the right linemates and create the most advantageous situations for them on special teams.