After a miserable season in Toronto, the Maple Leafs decided they wanted to clear the cupboards and begin a complete rebuild.
To begin that rebuild, they would likely move out their leaders and top producers. Of course, with plenty of speculation on Phil Kessel already swirling throughout the year about his fitness and off-ice attitude, he seemed certain to be gone. Well, on July 1st, Toronto dealt the sharpshooter to the Pittsburgh Penguins and officially announced the beginning of their rebuild.
It was expected that the Leafs may have traded Kessel at the draft, but once that ship had sailed, hockey fans were doubting how serious Toronto was with a rebuild. However, once the right deal was found with Toronto holding $1.2 million of Kessel's cap each year, Brendan Shanahan and co. pulled the trigger.
---
Phil Kessel's Time in Toronto
Kessel spent six seasons as a Maple Leaf and enjoyed tremendous individual success. He set a career high in goals twice, scoring 37 in 2011-12 and again in 2013-14. For the first time ever, he was over a point-per-game player in 2012-13, although it was a lockout shortened season, with 52 points in 48 games. He scored 30 goals each year (2012-13 prorated to 34) except for last season.
Despite constant questions of his conditioning, Kessel has not missed a single games in the last five years, playing in all 376 games possible. He played a significant role in bringing playoff hockey back to Toronto for the first time in eight years in 2012-13. Besides being tied for seventh in points in the league, he also was a strong contributor in the playoffs against his former team, the Boston Bruins.
---
What To Expect in Pittsburgh
Kessel will be provided with ample opportunities to become one of the league's top scorers in Pittsburgh. He'll likely be paired with either Sidney Crosby or Evgeni Malkin, depending on chemistry. Not to mention a first power play unit that will likely consist of Kessel, Crosby, Malkin and Letang, the Penguins will be more dangerous than ever up front this year. Aside from the main three contributors, Pittsburgh will boast some unbelievable scoring depth. Patric Hornqvist and David Perron will likely slot into the top-six. Meanwhile, a third-line may be made up of Chris Kunitz and Pascal Dupuis, centred by Brandon Sutter.
[Related: Crosby Vs. Malkin – Finding a Fit for Kessel]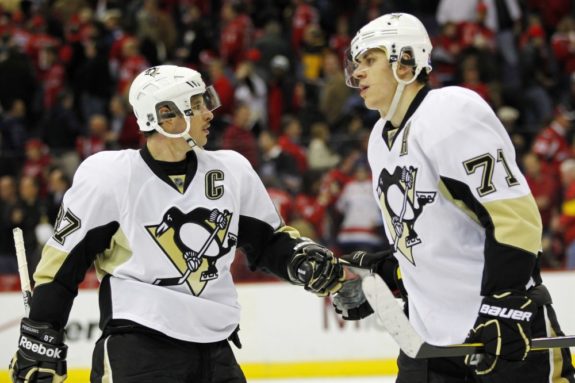 That kind of offensive firepower and depth to boot will make Pittsburgh a scary team to play each night. Not to mention Kessel will see less of the opponents first pairing each night since they will have three solid lines to cover. There are lots of positives that should contribute to Kessel enjoying the best individual seasons of his career in Pittsburgh. The question everyone is asking now is, how much will we see Kessel's production increase?
---
Will Kessel Score 50 Goals Next Year?
Although Kessel only scored 25 goals last year in 82 games, it is obvious it was an off-year for him. He has never scored 40 goals in his career yet, but has hit 30 six times, with 2012-13 prorated. With the Leafs, he was a streaky scorer throughout the season, but usually found himself with nearly the same goal totals each year. What he was missing was a true number one centre. He was often lined up with Tyler Bozak and James van Riemsdyk, guys who would likely be second line forwards on most teams. Without any true playmakers on his side, Kessel was unable to ever take that next step. In Pittsburgh, it will be a much different story.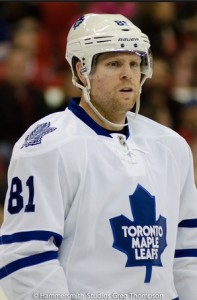 Kessel will probably start the year beside Crosby. If Kessel could score 37 beside Bozak, would Crosby be able to set him up with for an additional 13 goals? I think he can, without doubt. Not only does Crosby have 194 assists in his last 215 games, compared to Bozak's 101 assists in 259 games, but the Penguins also boasted the 10th ranked power play in 2014-15, while the Leafs were 26th. There are plenty of examples as to how Kessel can find 13 more goals next season, not to mention the major drop-off of scrutiny while playing in Pittsburgh that will allow Kessel to play much more relaxed.
Another aspect to consider is Kessel's shooting percentage. From 2011-2014, his S% was 12.5%, 12.4%, ad 12.1%. However, last season it dipped way down to 8.9%, a number that is very unlikely to become constant. If Kessel scored on his usual 12% of his shots, he would've scored 34 in 2014-15, so don't expect him to score under 30 again.
Also, The Pittsburgh Penguins are a much better puck possession team than the Toronto Maple Leafs. Last season, The Pens ranked 7th in SAT (shot attempt differential) at +382, while the Leafs were 27th at -515. A positive possession team will take the focus off of Kessel's defensive play, and solely on his offensive zone play, another catalyst for more goals.
Verdict: Yes, Kessel will score 50 goals in 2015-16.
---
There are simply too many differences that benefit Kessel on the Penguins instead of the Leafs that should allow him to breakthrough to another level of play. Not only will Kessel find himself playing with arguably the best playmaker in the world, but he will also be able to avoid team's top pairings more often due to Pittsburgh's depth. Kessel's shooting percentage is due to shoot back up about three percentage points next year. Lastly, Pittsburgh controls most of the games they play, spending large portions of the game in the offensive zone, where Kessel flourishes. These aspects should allow Kessel to make a jump into the elite goal scorers of the NHL, scoring 50 goals or more.
---
Disagree? Let us know how many goals you think Kessel will score in 2015-16 in the comments below.