Colorado have made some interesting moves since the end of the playoffs. Leaving many to wonder if and how the Colorado Avalanche improved this offseason. Colorado put themselves back on the map as a team that is only on the rise, committed to winning, and pushing for that next Stanley Cup. Free agents are now enticed again with the idea of moving to Denver to play with this team. After the first round exit from the playoffs, the front office decided the Avs needed more depth, toughness, and playoff experience in their team in order to take another step forward. Starting off with the Parenteau for Briere trade. Followed by the Brad Stuart trade. Free agency came and Paul Stastny left the Avs to sign in his hometown of St. Louis. Shortly after that, they announced the signing of future hall of famer Jarome Iginla. They also added a bit of depth to the defense and bottom 6 forwards with the signings of Redmond and Winchester. So what do all these moves mean for the Avs? Here is how the Colorado Avalanche improved their team.
 Adding Depth, Toughness, Leadership & Playoff Experience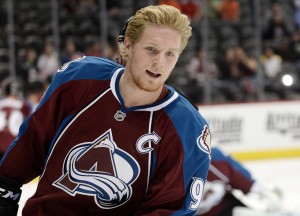 No doubt the Avalanche are a young team, so many wouldn't have expected the success they enjoyed last season. Now that they've had a taste of that success, they want more and are chomping at the bit to win the Stanley Cup. There is still work to be done, mostly in the defensive department. Hopefully they will continue to add a piece here and there until they have a solid unit on the back end. Colorado also needed more grit and determination in the playoff series against the Minnesota Wild. A series which had the whole team in shock after the game 7 overtime loss in Denver. Most of all though, they needed to add players who have been in those situations time and time again in order to help the growing process of the young core the Avalanche possess. Joe Sakic and Patrick Roy were on the hunt for more depth for the fourth and third lines, at least one solid defenseman, and most of all, more toughness, leadership and playoff experience. Let's take a look at the comparisons between last years team and this upcoming years team, with the the additions and subtractions since the end of the playoffs. This list does not include any AHL/prospect signings or departures.
Offense – Additions = Iginla, Briere, Winchester.
Subtractions = Stastny, Parenteau, Malone.
Defense – Additions = Stuart, Redmond.
Subtractions = Sarich, Benoit.
Goaltending – Additions = Berra.
Subtractions = Giguere(retired).
Projected Lineup

Offense
O'Reilly – Duchene – Iginla
Landeskog – MacKinnon – Tanguay
Mcginn – Mitchell – Briere
Mcleod – Talbot – Winchester
Extras – Hishon, Bordaleau
Defense
Stuart – Johnson
Hejda – Barrie
Holden – Redmond
Extras – Wilson, Guenin, Elliott, Bigras, Seimens
Goaltending
Varlamov – Berra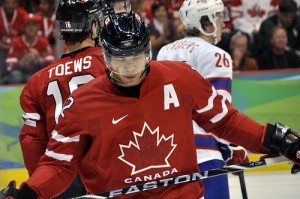 Improved or not?
So have the Avalanche improved or not? Let's start with the Briere for Parenteau trade. PAP showed a little promise, but he is not a better player than any one of the Avs top six forwards and he is no third liner either. There was simply no room for him now that Tanguay is healthy. He also is coming off two major knee operations and is being paid $4 million for the next two years. Danny Briere on the other hand, only has one more year left on his contract which tends to motivate most players, and is a HUGE playoff performer and former captain of the Buffalo Sabres. I'd say this move is a wash until the playoffs come around, and then the Avs fans will see why he was brought in. Briere won't be providing the toughness, however, he does get big check marks in the categories of adding depth, leadership, and playoff experience. Briere could surprise many and have a more than decent year with his new team, or he could regress, we shall see. Colorado also signed Jesse Winchester as a free agent to provide more solid depth for the fourth line and he can play on one of the penalty killing units. They needed to improve their bottom six depth, and they have done so with these two players.
The Avs went after Orpik, Stralman, and other big name free agents to sign on defense but for family reasons, these players chose to stay in the Eastern Conference. Here is a "Hockey Talk" podcast with Joe Sakic talking about this offseason. Since the Avalanche were not able to secure the services of those highly sought after free agents, they went the trade route and picked up Brad Stuart for a second-round pick in 2016 and a sixth-round pick in 2017. Though I do not like the fact that they gave up a second round pick, they did acquire a veteran defenseman who has won a cup and improves their back line. Stuart matches what the Avalanche wanted to add in toughness, leadership, and playoff experience. He along with Nathan Redmond will replace Cory Sarich and Andre Benoit, which is an overall improvement for sure.
Goaltending will be interesting to watch, mostly to see if newly acquired Swiss international, Reto Berra will be able to improve his game under Francois Allaire and Patrick Roy. Allaire and/or Roy must have seen something in him to trade a second-round pick last year to Calgary to grab him. Shortly after acquiring the goalie, the Avalanche signed Berra to a three-year, $4.35 million contract. The idea being of course, that he will back up Semyon Varlamov for the foreseeable future. Berra won't be able to replace Giguere's leadership and veteran presence in the locker room, but he may be able to prove to be a serviceable backup with the coaching he is getting in Denver. Only time will tell if Berra can handle the NHL, but Colorado does have a Vezina caliber goalie in Varlamov to handle most of the load. Goaltending will be just fine.

Now, the big change. Paul Stastny out, Jarome Iginla in. With Matt Duchene, Nathan MacKinnon, and Ryan O'Reilly, all being natural centers, Paul Stastny was sure to be the one on the way out. He became a free agent and decided to take $7 million from St. Louis to play in his home town, and will now be their number one center. Paul was a good two way player, however, the Avs have tremendous talent at the center position and surely the future is bright with Duchene and MacKinnon as the one-two punch down the middle. Shortly after Stastny signed with the Blues, Colorado signed future hall of famer Jarome Iginla to a three-year deal. Iggy is a beast of a player, is in great shape still, and is very hungry for a cup. He is without a doubt the very definition of a power forward in the NHL. He has been one of the best at it for years and years now, still scoring at a high rate too, burying 30 goals last season with the Boston Bruins. Toughness, check. Leadership, check. Playoff experience, check. Imagine Matt Duchene or Nathan MacKinnon feeding Iginla night after night. Don't forget the chemistry he has with Alex Tanguay either. Those two played for quite a bit together in Calgary and were very fun and exciting to watch.
Iginla will help everyone in the locker room and having him mentoring Landeskog specifically sounds mouth watering. Although of course, we have no idea how well he will fit in with this fast Avalanche group, however, Iginla's game was never built on speed and he's done alright for himself. They will miss Stastny's defensive play, that is for sure. Though I'm not so sure there's a huge difference between him and O'Reilly defensively. In fact, I think O'Reilly is and will be the better defensive player. It will be interesting to see what position O'Reilly ends up in, maybe he can remain on left wing where he had success and just take some of the important face offs while MacKinnon learns and continues to progress at center.
So, did the Colorado Avalanche improve overall or not? Yes, they definitely improved all around and their targeting of players to add quality depth, toughness, leadership, and playoff experience was accomplished. Even though they missed out on grabbing a top defender through free agency, there are still opportunities to acquire one either early on in the season via trade or a deadline day deal. Improving on paper and on the ice are two different things, but with coach Roy doing such a great job with the players last year, there's no reason to think he won't keep improving himself along with the Avalanche players this year and in the future.