The Florida Panthers and Carolina Hurricanes meet tonight in Game 1 of the Eastern Conference Finals in Raleigh, North Carolina. Although the two teams are no longer in the same division, there remain a ton of connections between them. 
Specifically, the Hurricanes' captain, Jordan Staal, has two brothers playing for the Panthers, Marc and former Hurricanes standout Eric. Panthers coach Paul Maurice knows Carolina well, having previously coached the Hurricanes. As well, the Panthers' Zac Dalpe is a former Carolina player. It's a bit like a homecoming, but perhaps not as much smiling.
---
Latest News & Highlights
---
In this edition of Hurricanes' News & Rumors, I'll take a look at the news that's emerging from the team as it prepares to play Eastern Conference Final, Game 1.
Item One: What Fans Might Expect from the Series
Tonight's game will be the first postseason meeting between the two teams. Both teams come into the game rested, having had a week-long layoff before the series. The Panthers eliminated the Toronto Maple Leafs in five games, and the Hurricanes did the same with the New Jersey Devils. 
The Hurricanes should expect a challenge from the Panthers. Florida might still be riding a huge wave of momentum. While it isn't that much of a surprise Carolina advanced this far, who would have guessed Florida would have ousted both the Boston Bruins and the Maple Leafs? Surprise, and surprise.
Related: Hurricanes' Storylines to Watch in Conference Finals vs. Panthers
The Panthers have speed and skill and can really grind. However, although the Hurricanes won two of three regular-season meetings between the teams in this postseason, none of that seems to matter. Nor does home-ice advantage. 
It should be tough back-and-forth series. The biggest issue the Hurricanes might face is the outstanding play of Sergei Bobrovsky. He's undoubtedly the current Conn Smythe leader thus far in this postseason.
Item Two: Who Has Been the Hurricanes MVP So Far?
Speaking about Conn Smyth candidates, the Hurricanes might have two of their own. Those two are defensemen, Jaccob Slavin and Brent Burns. Both have been outstanding in their top-pairing assignment for Carolina in these playoffs.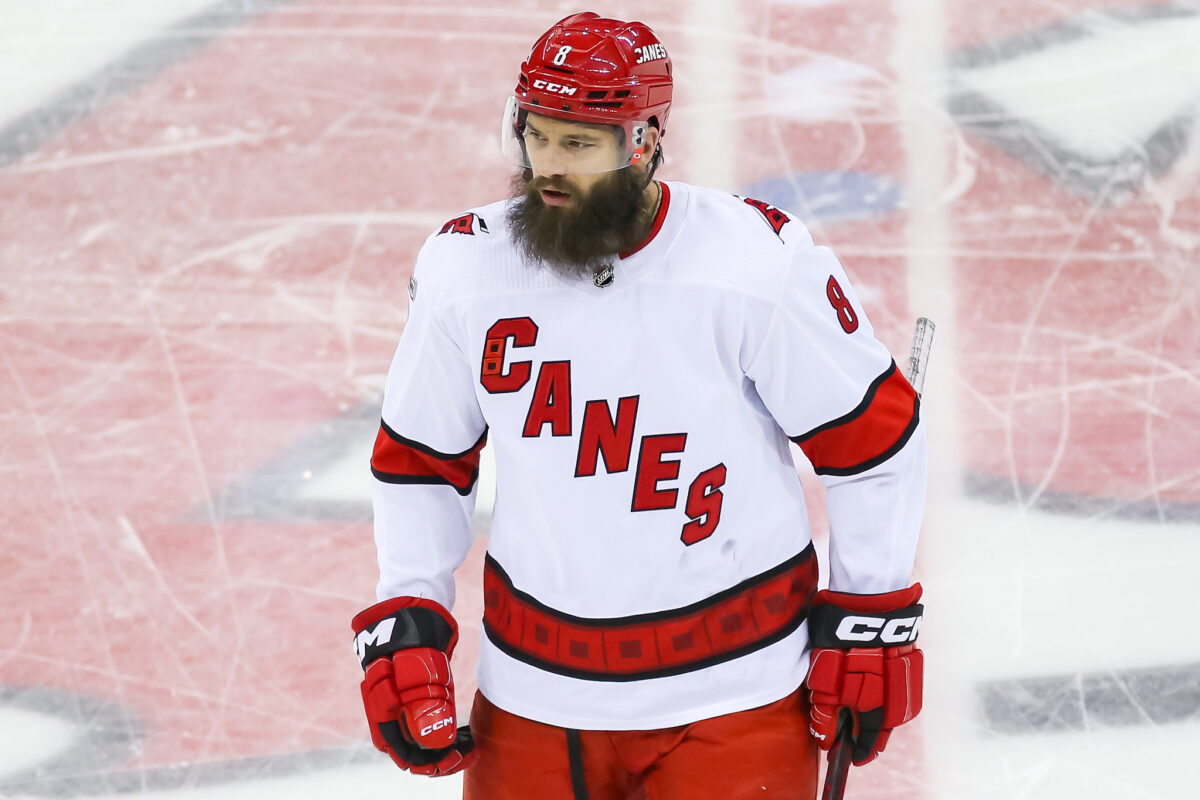 Burns has been exceptional as a play-driving defenseman and has registered eight points in 11 postseason games. Slavin has been strong on the penalty kill, which has put up an impressive 90 percent success rate. When playing 5-on-5, they've been dominant, with the Hurricanes scoring 13 goals and allowing only three. 
In fact, in a recent post, both players were named as considerations for the Conn Smythe Trophy (so far). They've been invaluable assets to the Hurricanes' success.
Item Three: Jordan Martinook Sure Put Up Some Numbers During Round 2
One of the more surprising offensive players for the Hurricanes has been left-winger Jordan Martinook. He's been playing exceptionally well this postseason and has provided an unexpected lift for his team. He was an especially helpful contributor during his team's second-round series against the Devils. 
Related: Done in 5: Takeaways From Hurricanes' Series Clincher vs. Devils
Specifically, here's a look at Martinook's scoring in each game:
In Game 1, Martinook registered two assists in his team's 5-1 win over the Devils. 
In Game 2, he scored a goal and added an assist in a 6-1 victory. 
In Game 3, he scored a goal and added an assist in an 8-4 loss. 
In Game 4, he did even better by scoring a goal and adding two assists as the Hurricanes dominated the Devils in their 6-1 win.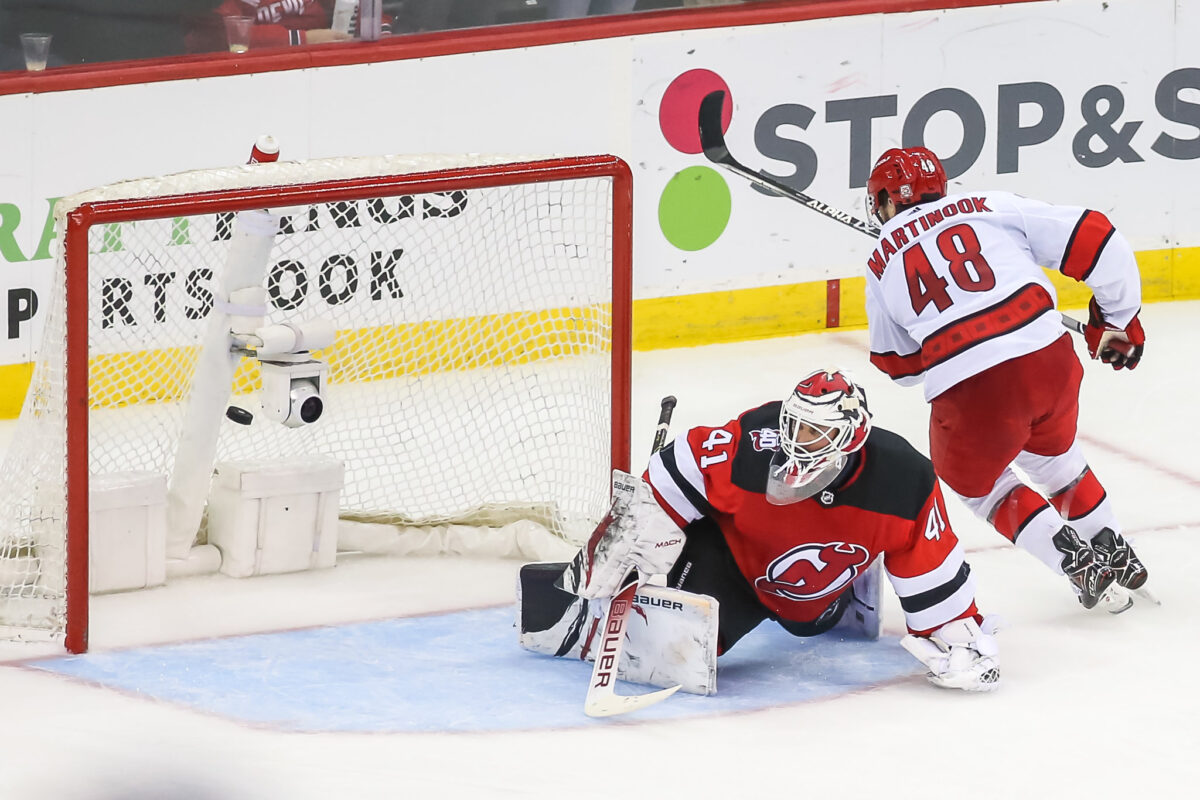 Finally, in Game 5, Martinook assisted on Carolina's first goal of the game as his team won 3-2 in overtime to eliminate the Devils.
Overall, Martinook's torrid scoring streak saw him score three goals and 10 points in five Round 2 games. This surprising production contrasts with his previous seven games in which he was scoreless. Martinook's contributions are the kind that can carry a team far during the postseason. He's responded well to his role as a top-six forward. Can he continue?
What's Next for the Hurricanes?
It was hoped that Teuvo Teravainen would return for tonight's Game 1. And, it was announced as I was writing this paragraph (no lie) that he would suit up tonight. The final decision was made after this morning's skate. The 28-year-old Teravainen last played on April 19. 
Related: Hurricanes & Panthers Highlight The Value of Defensive Forwards
During the regular season, he scored 12 goals and added 25 assists (for 37 points) in 68 regular-season games. It should be good to have him back in the lineup.