With the 115th Pick in the 2020 NHL Entry Draft, the Carolina Hurricanes Have Selected Zion Nybeck From the HV71 J20 of the Super Elit.
About Zion Nybeck
Nybeck brings it all as he's a lethal offensive dynamo. He's got tremendous speed, extremely crafty with the puck, an excellent passer and is relentless when pursuing the puck. At 5-foot-8, his size is his only drawback. Many overlook him because of this, but when the puck is on his stick, he's always making something happen in the offensive zone.
THW Prospect Profile Excerpt
"Every draft has a Zion Nybeck ⁠— a skilled forward with relentless speed and dazzling offensive ability whose only drawback seems to be his size. But even at 5-foot-8, the Swedish winger weighs in at 176 pounds ⁠— pretty good for an undersized 18-year-old kid in his draft year.
Related: Our Free NHL Draft Guide
Nybeck dominated the J20 SuperElit league last season, finishing first in scoring with 27 goals and 39 assists for 66 points in just 42 games. His strong play earned himself a call-up to the SHL, where he scored one goal in 15 games, averaging just 4:41 ice time per game.
A left-handed shooter, Nybeck can play either wing. His biggest strength comes from his lower body, as his speed can burn defensemen with ease while on the attack. On the forecheck, he is a wrecking ball. Using his quick feet and tenacious play style, he's able to compete against the boards, an area most smaller players struggle in. He's also able to funnel that energy into backchecking, where his toolkit helps him to be a responsible defender.
When Nybeck has the puck, his shiftiness opens up lanes of ice to connect passes, execute give-and-gos, or simply stick-handle into shooting areas. He operates with brilliant creativity and isn't afraid to attempt new and risky plays ⁠— most of which work more often than not. He shines particularly off the rush, where his high tempo helps him dictate the play.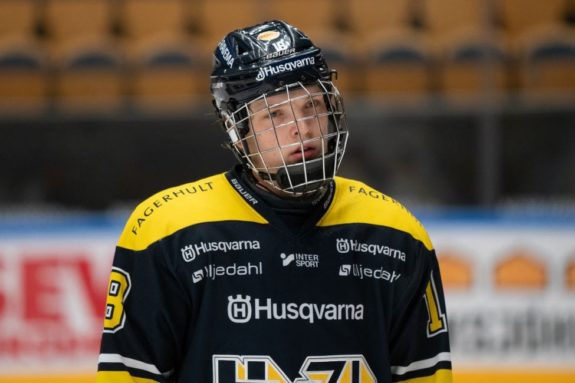 He's an excellent passer and shooter who can play virtually any power play position. He's dangerous to leave alone, as he can fire one-timers off in the blink of an eye. He's also dangerous with the puck, which makes him a looming threat every time he's on the ice.
It's hard to say what caused Nybeck's stock to plummet from 16th in the NHL Central Scouting's mid-term rankings to 29th in its final rankings for European skaters. Unlike most young players entering their draft year, Nybeck is remarkably well-rounded ⁠— there are very few drawbacks to his game.
Occasionally, he will hang on to the puck for a second too long, or lose it trying to stick handle too much. There are also times where he'll be overly eager to exit the zone and join a rush, or aggressively hound the puck in the defensive zone, causing him to lose position. But he also enforces plenty of turnovers with those same moves.
Some attribute his low rank to his size, or perhaps his lack of effectiveness in the SHL caused the nose dive. But with such little ice time to work with, his call-up should be viewed only as a positive. He may have spent a lot of time glued to the bench, but it was an opportunity to gain experience and further his development."
Full player profile can be found here
How This Affects the Hurricanes' Plans?
For a player who was supposed to be a mid-second or third-round pick, this is a great pick up for the Hurricanes. They already selected Seth Jarvis, Noel Gunler and Vasili Ponomaryov. Nybeck rounds out a gifted group of forwards.
While his size and his cheating offensive tendencies may have put a lot of team's off, his offensive production and upside shouldn't go unnoticed. After falling in the draft he'll have a lot to prove to the Hurricanes, but they got a great offensive talent in the fourth round. Their prospect pool keeps getting better and better.
---
---