With the 53rd Pick in the 2020 NHL Entry Draft, the Carolina Hurricanes Have Selected Vasily Ponomaryov From the Shawinigan Cataractes of the QMJHL
About Vasily Ponomaryov
Vasily Ponomaryov gritty two-way game is suited for the NHL and should get him to the highest level sooner rather than later. He has all the offensive tools to be a top-six center and the defensive awareness to be a matchup one as well.
In addition to his proficient game in all three zones, Ponomaryov has tremendous speed and forechecking abilities which should make him a valuable member of both special teams. Long story short, he will be a coach's dream when he makes it to the NHL.
THW Prospect Profile Excerpt
The ninth-overall pick from the 2019 CHL Import Draft, Ponomaryov has been nothing but outstanding in his transition to North American ice. After registering 29 points in 37 games in Russia's junior league (MHL) in 2018-19, he immediately followed that up with a strong rookie campaign in the Quebec Major Junior League. The 18-year-old centre jumped out to an early point-per-game pace, registering 14 goals and 16 assists in 30 games, finishing with 49 points in 57 games.
Related: THW's 2020 Draft Guide
Ponomaryov possesses a very heavy shot and he is incredibly deceptive with and without the puck. He has great speed to push defenders back as well as being elusive in high traffic areas. He uses his quick hands to fool defenders as he handles the puck with ease. Even when fellow top prospect Mavrik Bourque went down with a leg injury, Ponomaryov rose to the occasion in his spot.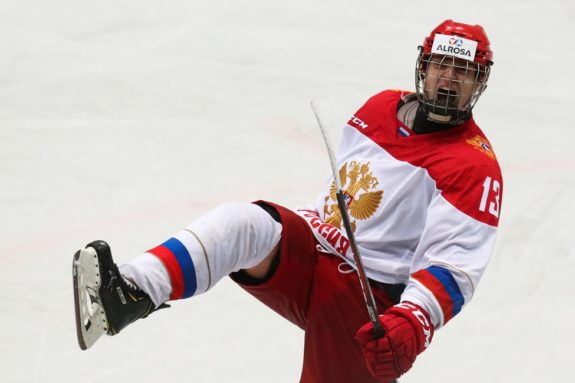 Ponomaryov shows no fear on the ice. He plays with a high level of intensity and is engaged in every shift and puck battle. His drive and attitude are two of his many assets along with his high-end scoring abilities. 
While he does have great offensive instincts, his defensive game will enable him to become a strong and capable two-way centre in the NHL. On the other side of the puck, Ponomaryov is incredibly patient with his vision and awareness, waiting for the right opportunity to attack the opposing player. His speed allows him to close gaps and keep the opposition to the outside and he has a great reach to poke-check the puck. While scouts like players with an offensive game, Ponomaryov displays both which will make him valuable.
Full player profile can be found here
How This Affects the Hurricanes' Plans
Ponomaryov may not be the biggest forward at the 2020 NHL Draft, but the Hurricanes' made this pick because he has a top-six skillset. Between his skating, defensive responsibility, clean shot and overall toolbox, he could easily find his way onto Carolina's third-line in a season or two.
No, he likely won't immediately find a spot on their roster, but the Hurricanes got a great value pick with Ponomaryov. If all goes right, he could be terrorizing opponents in just a few short years, giving an already gifted Carolina franchise a perfect two-way threat.