Jay Harrison was dealt to the Winnipeg Jets on Thursday. Is this the first of possibly many moves by new Carolina Hurricanes GM Ron Francis? Was Ronnie's first trade a good one? Of course, time will tell.
On the surface the move might make 'Canes fans scratch their heads. I admit I was puzzled a bit when I first heard of the deal. It seems that having a long-term view is the only way to make this seem plausible. In the short-run, it seems odd.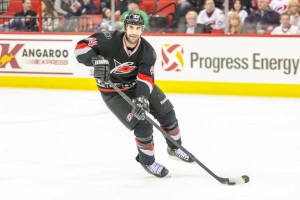 Harrison good for Winnipeg
Jay Harrison was traded to Winnipeg. They benefit immediately by gaining a sound defensive player. They need one desperately, as their four top defensemen are out with injuries. The addition of Harrison will immediately be a positive for the Jets. Judy Owen of the Canadian Press wrote in the National Post on Thursday that coach Paul Maurice announced that in addition to Jacob Trouba, Zach Bogosian and Toby Enstrom, defenseman  Mark Stuart has a lower-body injury that will keep him out of the Jets lineup until February. Maurice noted that the rash of injuries was Winnipeg's "adversity." He stated further,
"I haven't been in a situation where I've seen that number of guys that play at that level of your depth chart (out) for such an extended period of time. You can get into runs where you've got one or two of your top four out, but two or three games. But this is quite a bit more significant."
Jay Harrison is truly needed in Winnipeg, and is reunited with Maurice, a former Carolina Hurricanes and Toronto Maple Leafs head coach. His recent work in Carolina has not been stellar, as he has only totaled four points this season with the 'Canes. He averaged around 14 minutes TOI and was normally in the third defensive pairing with Tim Gleason or John-Michael Liles. He has had injury issues of his own, having only played in 20 of the team's 30 games prior to the trade.  He is not afraid to get scrappy:
So Carolina gives up what everyone characterized as a "really good guy" but not an overwhelming player by any means.
Details
What did Jay Harrison fetch for the Carolina Hurricanes? A sixth round pick in the upcoming draft. The pick belonged to the Ottawa Senators originally, and was picked up by Winnipeg. Wow, a sixth round pick! And the Hurricanes are retaining thirty percent of his salary.
Told that Carolina is retaining 30 percent of Jay Harrison's salary in trade with Winnipeg.

— Craig Custance (@CraigCustance) December 18, 2014
I immediately wondered if Jim Rutherford was back in Raleigh. This is the type of head-scratching move he was known for during the later years of his tenure with the 'Canes. On the surface it did not seem to make any sense. Why is Carolina going to keep nearly half a million of Harrison's salary?
I have to wonder if Francis could not have gotten more out of a team that is desperate for defensive players, and how they talked him into retaining part of Harrison's salary. But in the real world of the NHL in 2014, an average defenseman like Harrison is not going to return much in a trade. That is the business of hockey as it currently stands. Garret Hohl has an outstanding piece for SB Nation breaking down Harrison from Corsi and a variety of other analytic points of view. What was his bottom line? "Harrison will be a hockey player, and probably not a great one, but still a hockey player." And a bit more from Hohl:
"All things considering, Harrison for a sixth round pick is fine in terms of trade value. Whether or not Harrison proves to be a warm body that minimizes the bleeding or further accents the Jets loss of their top defenders remains to be seen. Can't complain much given the price; a 7th round pick was the selling price for Jordan Samuels-Thomas after all."
Rebuild on?
Some have opined that dumping Harrison is the beginning of a rebuild in Raleigh. Luke DeCock of Raleigh's News & Observer wrote that the trading of Harrison is the first of many to come. Andrej Sekera and Jiri Tlusty are both looking at expiring contracts. The rumors of trading Alexander Semin and even Jeff Skinner have swirled around. Even Eric Staal has been the target of trade rumors. But, no trade clauses, high salaries, and sub-par play will make it difficult for Ron Francis to wheel and deal. Getting picks may be the best he can hope for with the cards he has in hand to play.
It is widely held that GM Ron Francis will begin to rebuild the Carolina Hurricanes. Dealing Jay Harrison may have been his first foray into the world of NHL trading. He did okay his first time out. If he can rebuild successfully and turn the 'Canes into a playoff-contender will remain to be seen.
Mark lives in the Raleigh, NC area and covers the Carolina Hurricanes.