Heading into the 2010-11 season, there was one spot on the St. Louis Blues' blue line with two young players vying for it. The Blues' fourth overall pick in 2008, Alex Pietrangelo, and gritty defender Ian Cole, drafted 18th overall in 2007, were the talk of the hockey scene in the Gateway City in September.
Cole made a case for the final spot, posting two points and a plus-3 rating in five preseason games, which outdueled Pietrangelo's one point and minus-1 rating in five games. The final cuts came, and, much to the chagrin of some NHL pundits, Cole was the odd-man out as Pietrangelo's potential just seemed too high to pass up.
In hindsight, it seems the correct decision was made. Pietrangelo has posted two fifty-point seasons and has been the focal point of Norris Trophy buzz since the 2011-12 season.
As for Cole, the AHL was a steady home until the 2013-14 season. He spent parts of four seasons with the Peoria Rivermen, recording 28 assists, 38 points and 117 penalty minutes in 109 games played. He was usually found skating on the top pairing, playing against opposing teams' top lines.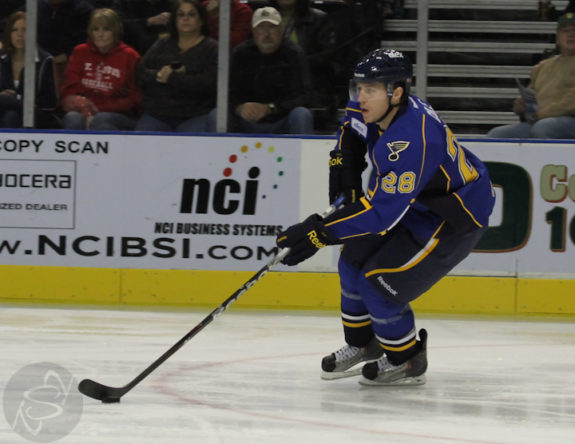 Also appearing in 67 NHL games over three seasons, he finally became a fixture in the Blues' defensive depth chart to open the 2013-14 season. He played in 46 games while notching 11 points and a plus-15 rating. However, he did not play in the 2014 postseason as he was penciled in as one of the team's healthy scratches.
The seventh defenseman is someone who plays sparingly. It's someone who, when he is in the lineup, plays limited minutes and is usually found on the third pairing.
Cole faced an even bigger challenge heading into the 2014-15 season. The Blues stockpiled defensive depth for training camp, adding experienced NHLers Nate Prosser and Chris Butler to the roster. He was up to the challenge, staying with the team through the roster cuts while Prosser was claimed on waivers by his former team, the Minnesota Wild, and Butler was sent to AHL Chicago.
With newest defenseman Carl Gunnarsson out of the lineup, recovering from hip-flexor surgery, Cole was slotted into the lineup every game to open the season. This was where he knew he had to shine in order to remain a constant member of the NHL club.
"For me, it's trying to show the coaches that they can trust me," Cole said after Saturday's 4-1 win against the Washington Capitals. "(I wanted to) show them they can rely on me, regardless of the amount of time left (in a game), what period we are in or what the state of the game is. For me, it's trying to take advantage of the opportunities and trying to continue to make the smart plays throughout the game."
He did take advantage of the situation. He posted an even plus/minus rating and averaged upwards of 16 minutes played per game, including time spent on the top pairing with Pietrangelo.
After Gunnarsson joined the lineup on Oct. 28, Cole was not moved out of a top-six defenseman spot. Saturday night marked the Blues' 17th game of the season – it was also Cole's 17th consecutive contest.
Cole's move into the everyday lineup allowed Blues general manager Doug Armstrong to make a trade before Saturday's matchup with Washington. He sent veteran defenseman Jordan Leopold to the Columbus Blue Jackets in exchange for a fifth-round selection in the 2016 NHL Draft. This move not only frees up cap space (although the Blues will retain $500,000, prorated from the start of the season), but it also allows the club to move Butler back up to the NHL roster.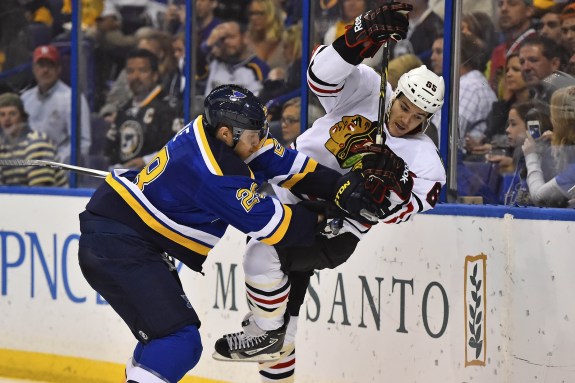 "It shows commitment," Cole said of the trade. "It shows that they know that I can pick up the slack and if they need (me) to step up, I can do it. (Leopold) is a veteran guy with a ton of experience. He's a great hockey player and a very good friend. (It's sad) to see him go. But, on the flipside, it does show confidence in me."
Through the meeting with the Capitals, Cole has posted a plus-7 rating, which ranks second among Blues defensemen. Assistant coach Brad Shaw, who works mostly with the defense, feels Cole can contribute to the team in more ways than one.
"Ian's showed us that he wants the job," he said. "He's done enough good things, (although) there's lots of learning to do for him. Still, he's come a long way in the couple of years he's been with us. He is a real functional piece for us right now. We've tinkered with him on the power play. I know he can kill penalties in a pinch if we need him. We've played him in a lot of different roles already this year and he's been successful at most of them."
The 25-year-old defenseman has played most of the season on a pairing with St. Louis' longest tenured athlete, Barret Jackman. The two have amassed a combined plus-12 rating, along with four points and 30 penalty minutes. All four points belong to Jackman.
"I'm still sitting at all zeros right now," Cole said with a smile, "but the offense will come eventually if I keep pushing myself. If I continue to shut down the (opposing) offense, be tough to play against, it will all work itself out."
The Ann Arbor, Mich. native has averaged 15:30 of ice time per game so far, which places him fifth among Blues defenders. Working his way through Pietrangelo, Jackman, Jay Bouwmeester and Kevin Shattenkirk will be no easy task, but Cole has already thrust himself into a great position. His strive to become a top defenseman on a team that ranks first in goals against (1.88 per game) is far from over.
"You always want to get better, you always want to continue to work," he said. "You always want to continue to earn playing time and get more opportunities."
I just need to continue to work hard, make good plays and be reliable and try to help out and add in offensively when I can."
He's impressed the right people. Shaw said that the left-handed defenseman "has a real good future going forward." Head coach Ken Hitchcock once said that this season is "his time."
The road to success is paved with hardships and tough blows. Only a drive to succeed can keep you on the right path.
Nobody knows that more than Cole.