The farm system for the Minnesota Wild is in good hands with the Iowa Wild, and young forwards Sam Anas and Justin Kloos should inspire confidence from fans and the Minnesota Wild brass.
Both players were signed after spending some time in the NCAA.
Sam Anas
Anas, 25, played for Quinnipiac University from 2013-16. He scored 22 goals and 43 points as a freshman, followed by a 39-point sophomore season.
In his junior year, the 5-foot-8 forward scored a career-high 24 goals and 50 points, leading the Bobcats to the national championship game. While Quinnipiac lost the national title game, Anas's performance over the season motivated Minnesota to sign the forward to a two year, two-way contract in April 2016.
"He's a smart offensive player," said former Wild assistant GM Brent Flahr at the time of the signing.
"He's produced offensively at every level and finished in the top 10 of NCAA scoring this year. While undersized, Sam has a high compete level and knows his way around the offensive zone."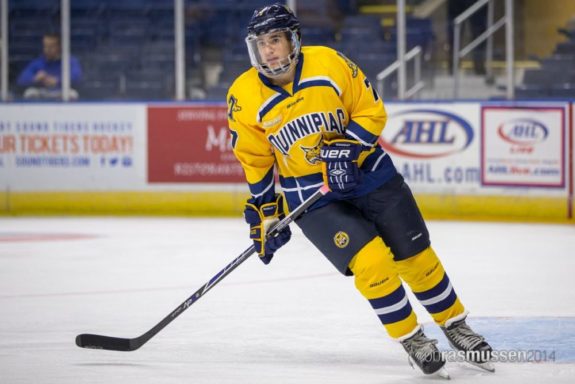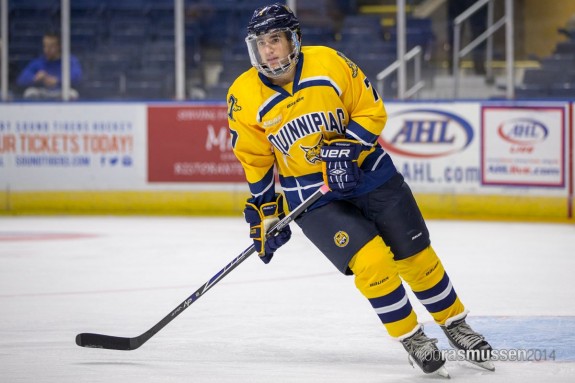 Anas has continued to improve every season as a hockey player. He led the Bobcats in scoring in each of his three seasons, something that wasn't expected of him when he committed to the program.
"If you ask me from when he was 18, no question, he's completely exceeded what we thought he would be," Quinnipiac coach Rand Pecknold told the Hartford Courant in 2015. "We thought he could be pretty good but there was a lot of risk when we took him in terms of his size. Then [after two years at Youngstown] we were like, 'Oh, this is looking really good.' At that point we knew we had a top-six forward, a power play guy."
He's continued to develop with the Iowa Wild.
In his first stint with the team in the 2016-17 season, Anas played in 66 games and scored 12 goals to go with 16 assists. His 28 points put him fifth on the Iowa roster.
GOAL!!! Sam Anas scores off a penalty shot! pic.twitter.com/3q9r0Aa7S5

— Iowa Wild (@IAWild) March 18, 2017
The 25-year-old seemed to learn from his first season, as last year he finished second in team scoring with 61 points in 70 games. His 26 goals put him in the record books for most goals in a regular season by an Iowa Wild player. He also broke records for longest point and goal streaks for the team last year. He finished the year tied for 11th in AHL scoring.
As a result of his strong play, the franchise rewarded him with a fresh two-year deal this offseason. With his continued growth, Anas will be relied on heavily this year to lead Iowa according to coach Derek Lalonde.
"He was a top scorer in the league and he made a big impact in the offensive end, but he was a plus player this year, and his play away from the puck was really good. He's now put himself to the next level, he's put himself as a true prospect. I'd expect him to get a good look at training camp next season and through the preseason," Lalonde said.
Anas was recalled by Minnesota in April but didn't get into a game for the team. This year his goal should be to spend some time with the big club, but the Iowa Wild are going to enjoy and utilize his high skill set when they can.
Justin Kloos
Kloos should also give Wild fans hope, especially since he's a home-grown talent. In short, Kloos has scored a lot.
The 24-year-old played high school hockey at Lakeville South in Minnesota, where he led his team to the state tournament in the 2011-12 season. According to an article from the Wild's team site, He led the state in scoring with 103 points in 31 games during his senior season. He was named the winner of the 2013 Mr. Hockey Award, given annually to the top high school hockey player in the state of Minnesota (Iowa teammate Kyle Rau won the award in 2012).
He also played a few games for the Waterloo Blackhawks of the USHL during his high school years before joining the team full-time in the 2012-13 season.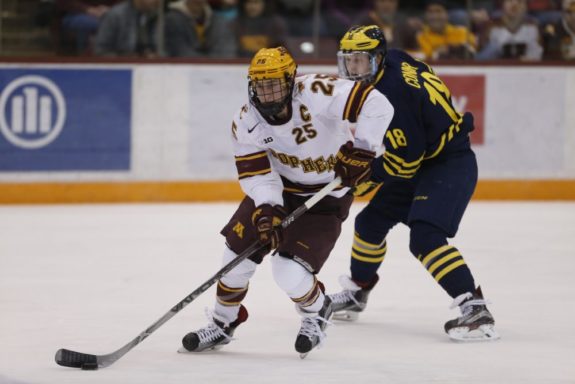 He spent four years at the University of Minnesota, where he posted a strong freshman season in 2013-14. His 16 goals led the team, and the Gophers advanced to the national title game against Union. He finished with 150 points in 155 career games for the Gophers. He served as a captain in his junior and senior seasons with the team.
University of Minnesota head coach Don Lucia was happy to name Kloos captain in 2015.
"Justin has been a program-first player since he arrived on campus. He's a terrific teammate, a hard worker and a great example of how we want our student-athletes to carry themselves on and off the ice," Lucia told USA Today.
Like Anas, he went undrafted and signed a two-year contract with the Wild near the end of the 2016-17 season.
After finishing his senior season as a Gopher, Kloos played in 9 games with Iowa, scoring one goal. His coach has appreciated Kloos' game from the start.
"The hockey sense is there as is the compete level. He is making plays," Lalonde said in April 2017.
Justin Kloos' first professional goal tied the game at 2-2 in the second period! #CHIvsIA pic.twitter.com/i8XRvta8rC

— Iowa Wild (@IAWild) April 15, 2017
In his first full season with Iowa last season, Kloos finished fourth in team scoring with 19 goals and 50 points. It's the most points scored by a rookie in Iowa Wild history.
He got into one game with the Wild last year, playing Oct. 24 against Vancouver.
"It's something you think about when you're young and throughout your whole career this is where you want to be to get this opportunity," Kloos said before the game. "Excitement, obviously a little bit nervous. I think going through all levels of hockey you're a little nervous every next step you take so this is nothing different."
Minnesota head coach Bruce Boudreau was eager to see Kloos play.
"He's a guy with good speed. The reports are, he's playing good down there," said Boudreau. "We're big on the reward system up here; if you're playing good and you deserve it you're going to get a chance."
Kloos got his chance, finishing the game with a penalty in just over eight minutes of ice time. While he didn't register a point, there's a good chance he will have more opportunities this year.
Wild Impact
The development of Anas and Kloos has impacted Iowa's success overall, too.
In the 2016-17 season—Anas's first as a pro and mostly without Kloos—the Wild posted a 36-31-9 record. Last year with both of them full-time members, the team posted a similar 33-27-16 record.
The difference, however, lies in the offense. In 2016-17, Iowa scored 182 goals. That number soared to 232 last season, with the pair contributing 45 of those goals. They spent quite a bit of time last season on the same line in Iowa, and fans can expect to see that again this year.
The youngsters will need to continue to develop and take steps forward this season, but all signs point to that happening based on past numbers and progression. Both players should expect to see some NHL time at some point this year, but it's a guarantee Iowa will be a better team with them on the roster. For a pair of undrafted kids, Anas and Kloos are making their mark on the organization.
Benjamin Pierce is based in Wisconsin and covers the Minnesota Wild for THW. He has covered numerous junior hockey teams in both the NA3HL and NAHL for multiple publications.