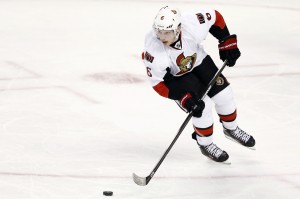 When Bobby Ryan was acquired from the Anaheim Ducks it was believed that he would be a big part of the Ottawa Senators franchise moving forward. Now with Jason Spezza not likely to be in a Senators uniform next season, Bobby Ryan may become the face of the franchise. Is this a path to winning or continued middling competing for a playoff spot?
Elliotte Friedman of the CBC indicated the following recently reported information by the Ottawa Sun's Bruce Garrioch in his 30 Thoughts column:
"The Ottawa Sun's Bruce Garrioch reported this week talks broke off with free-agent-to-be Ales Hemsky. The Senators can't extend Bobby Ryan until July 1, at the earliest, but it wouldn't be a surprise if all decisions were being made with Ryan's future in mind. He's a major priority and they have to make sure their financial house is in order."
This clearly indicates that the Ottawa Senators see Bobby Ryan as a big part of their future success. Prior to coming to Ottawa he scored at 0.8 points per game pace. Since his arrival in Ottawa he posted 23 goals and 25 assists in 70 games, which is 0.7 points per game.
Have his line mates driven his success?
From 2008 to 2012 his most common line mates were Corey Perry and Ryan Getzlaf, playing over 66 percent of his minutes with Perry. Needless to say, those are two elite players in the NHL today and it appears his performance was increased by their presence. When not on the ice with Getzlaf and Perry his goals for percentage dropped by roughly four percent, which is a fair sized drop.
When playing with Corey Perry he had 58.1% goals for and with Getzlaf he was at 57.8% goals for. This past season he played the majority of his minutes in conjunction with Kyle Turris and Clarke MacArthur. Nearly 78% of his minutes played were with Kyle Turris as his center, which can be considered the best center the Senators had this past season.
What really stands out with his "without or without you" (WOWY) statistics is the difference in his game when not playing with Kyle Turris. With Turris he is at 59.4% goals for and 51.3% CORSI for, while without Turris he was 45.5% goals for and 49.1% CORSI for. That is a major difference in his production levels. It is clear that Bobby Ryan needs a productive center to drive possession for him.
Improvement in CORSI can be deceiving
Below is Bobby Ryan's chart and you can see in Anaheim he was consistently below his teammates in puck possession. He saw a jump once moving to the Senators, however based on Anaheim's team CORSI shown below it is clear that jump can be attributed to moving to a team that plays a better puck possession style.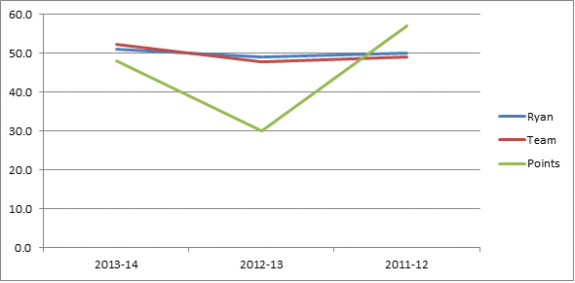 Based on puck possession and scoring Bobby Ryan would be considered and offensive support player. This past season it was clear that head coach Paul MacLean identified this as he placed him on a line with two of the Senators best drivers of points and puck possession in Clarke MacArthur and to a lesser extent Kyle Turris. Although it is clear that Turris is becoming more effective at making those around him better players.
How do Turris and MacArthur's possession numbers compare?
Both charts below show each player's CORSI, the team's CORSI and the player's points that season.
Granted Bobby Ryan is a four time 30 goal scorer however his scoring touch appears to have fallen off the past couple seasons. He was on pace for just 19 goals if the 2012-13 season was not shortened and scored only 23 goals this past year.
He is also just entering the prime of his career at age 27 and should be more comfortable in his surrounding in Ottawa during his second season there. This coming season will be key for the Senators and Bobby Ryan's career. If he can step up and be more of a leader on the ice and drive the play more it will go a long way in bringing Ottawa back to the post season.
What does the future hold?
However based on his career so far it seems more likely that he will settle into a top six role with 20-30 goals per season playing with line mates that drive the play for him. He is a great fit to play with MacArthur and Turris, but do not peg him as a savior of the franchise. He is a solid top six winger, no more and no less.
If Senators fans temper their expectations of Bobby Ryan he will become a valued player in the city. However this could also turn the other way and fans may begin to resent Ryan for not being their next Alfredsson or Spezza. Only time will tell truly which way the future unfolds for Bobby Ryan in the nations capital.