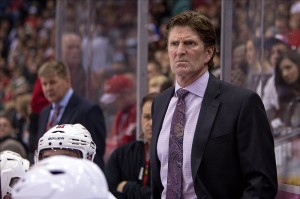 On Thursday Detroit Red Wings' associate coach Bill Peters bolted for the Carolina Hurricanes. Now, the focus will shift to the long-term future of Detroit's head coach.
At the moment things aren't looking all that promising as Mike Babcock has refused to talk contract extension with the Wings. This development has many people around Hockeytown wondering is it the end of the line for the coach in Detroit?
Since joing the Wings in 2005 Babcock has led the team to two Stanely Cup Finals appearances, winning one championship in the process. And, with the recent dismissal of Barry Trotz in Nashville, Babcock is now the longest tenured head coach in the NHL.
One reason why Babcock could be looking for a way out is because the Wings' best players are an aging bunch. Pavel Datsyuk and Henrik Zetterberg will be 36 and 34-years-old respectively when the Wings take to the ice next season. And, unless Ken Holland can pull off some significant moves in the off-season this is not a hockey club that will challenge for the Stanley Cup anytime soon.
Sure, there's a lot of young talent in Detroit, but I'm not sure Babcock's interested in sticking around waiting for them to develop. At this point in his career I doubt Babcock is looking to Dallas Eakins himself.
Another factor that Babcock routinely cites as a reason for staying put is that his children are in high-school in Michigan. Well, come next year he won't have any children left in the nest and therefore papa Mike is now free to do as he pleases.
Ultimately, the real question might be this: is there anything left for Mike Babcock to accomplish in Detroit?
Mike Babcock Rumors Continue To Circulate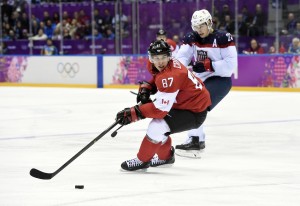 One popular rumor that will not die down is that Babcock will reunite with his Team Canada protege Sidney Crosby in Pittsburgh. Veteran Penguins' beat writer Rob Rossi believes this scenario could become reality:
I think if anybody thinks that the Pittsburgh Penguins are out of the running next year for Mike Babcock, I don't think there's any question in my mind that they are going to try and negotiate some sort of way to get Babcock out of Detroit before next year because everything I've heard about the next coach they want screams Mike Babcock.
There's no question that Babcock and Crosby have developed a strong rapport. Penguins' ownership would be hoping that these two could combine for the same sort of success in Pittsburgh that they have enjoyed in the Olympics.
After the departure of Dan Bylsma the belief is the Penguins are looking for a coach who has experience managing superstar talent like Crosby, Malkin, and company. Babcock certainly fits the bill on that front and his track record of success doesn't hurt either.
Another rumored landing spot for Babcock is Toronto. Dave Feschuk of the Toronto Star believes Babcock would be a great fit behind the Maple Leafs' bench.
What can the Leafs offer Babcock that other NHL teams cannot? Feschuck explains Toronto's smoking gun comes down to one factor: ¨Well, he's making a reported $2 million in Detroit; the Leafs, who have money above all things, could heap far more on his annual pay stub.¨
There's also the Brendan Shanahan connection in Toronto. The Leafs new President has a history with Babcock in Detroit, and their relationship could help ease Babcock's transition into one of the most coveted coaching gigs in the league.
Is Jeff Blashill The Heir Apparent?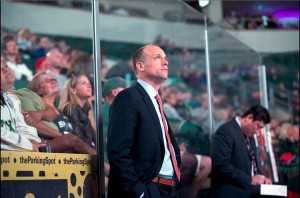 When have you ever seen this much press about the Wings signing their minor league coach to a new contract? This appears to be a pre-emptive strike against other NHL clubs interested in luring Blashill away from the organization… a hands off the merchandise kind of move.
But, Blashill tells Peter J. Wallner of the Grand Rapids Press that he doesn't have any fantasies about taking over behind Detroit's bench any time soon: ¨Right now, I signed this new agreement to continue to be the head coach of the Grand Rapids Griffins and that's my main focus," he said. "As you know, I don't worry about appearances and rumors. What I know are facts. And I know Mike Babcock is coach of the Red Wings and I'm coach of the Grand Rapids Griffins and I'm excited about it.¨
Blashill can spin whatever yarn he likes with the media, but it's not hard to read between the lines on this one. The Wings are positioning Blashill to take over the head coaching duties in Detroit if and when Babcock heads for the exit.
It's a smart move because I'm not sure there's a more qualified man for the job. Blashill has already spent time working as Babcock's underling in Detroit, and two seasons ago he guided the Griffins to a Calder Cup Championship.
One of his greatest coaching strengths is his ability to develop the youngsters within the organization. Gustav Nyquist, Tomas Tatar, Tomas Jurco, and Riley Sheahan all flourished under Blashill's supervision.
Ultimately, the Wings' future depends upon this trend continuing, and Babcock just doesn't seem up to the task. Hell, when you listen to Blashill speak he even sounds like Babcock…now whether he can coach like him is another question entirely.
But, I have a sneaking suspicion we're about to find out.