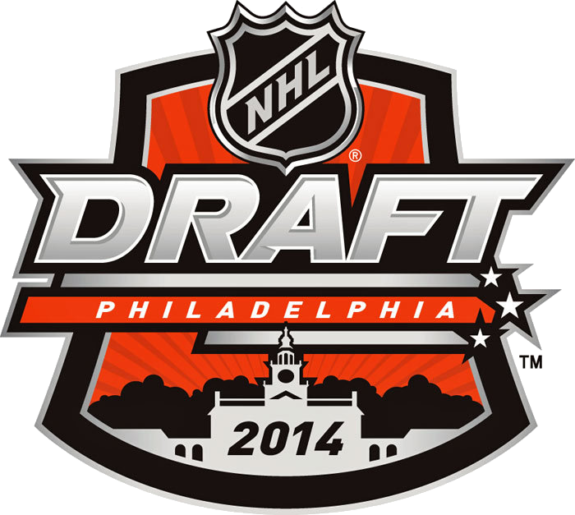 For me, the weeks leading up to (and including) the draft are the best time of year. So many things happen on a day-to-day basis. Teams change their rankings around; potential trade talks heat up; prospects can increase/decrease their draft stock in meetings with execs. Going to the draft is a completely different experience. Fans get to watch the up-and-coming stars of the future get selected, GMs walk around the draft floor talking nonstop about deals, and prospects sit anxiously in the stands waiting to hear their name called.
It's been a yearly tradition to publish a Top 60 NHL Draft rankings and this year is no different. Without further ado:
1. Sam Reinhart – Kootenay Ice (WHL) – C/RW
For my money, Sam Reinhart is hands down the best player in the draft. He thinks the game at an incredibly high level, is physically mature to play in the NHL next season, plays a strong north-south game, and can be an elite level player in the NHL. He has the best hockey sense and IQ in this year's draft class and is equally good at scoring and setting up plays.
2. Aaron Ekblad – Barrie Colts (OHL) – D
Was touted as the likely 1st overall pick in this year's draft after he was granted exceptional status in the OHL. A future #1 defenseman, Ekblad has everything going for him. He has the body and stamina to log big minutes. A physical defenseman who cuts down passing lanes, blocks shots, and positions himself well, Ekblad is also adept at carrying the puck up ice and creating scoring chances. The Panthers have already stated if they keep their pick, they will select Ekblad.
3. Leon Draisaitl – Price Albert Raiders (WHL) – C
Draisaitl will likely be the highest drafted German ever in the NHL. He has great puck control with his tactical stickhandling and great balance. His vision is what sets him apart from many other prospects. A playmaker at heart, Draisaitl has the tools it takes to be one of the best young forwards in the NHL. Many people liken him to Anze Kopitar.
4. Nikolaj Ehlers – Halifax Mooseheads (QMJHL) – LW
I know. I know. Many of you are shocked Sam Bennett isn't in this spot. It's not that I dislike Bennett, it's just that I feel Ehlers is a better player. Ehlers' game is built on speed. He's lightning quick on his feet and with his release. He's one of the fastest players in this draft and arguably the best goal scorer. With his tools, Ehlers is a game-changer and could pot 40-50 goals in the NHL.
5. Sam Bennett – Kingston Frontenacs (OHL) – C/LW
Nimble on his feet, Bennett has rounded out his game this season playing both center and left wing at times. He's eager to drive the net despite his lack of physical strength and is very strong on the puck. A great skater, Bennett creates lanes to find open teammates and has developed into a great passer this season.
Michael Dal Colle is a rangy center with great puck skills and offensive instincts. He has the puck on a string when it's on his blade and is effective in tight spaces. While he doesn't have a ton of speed, he's very strong on his feet and powers his way to the dirty areas. Drawing defensemen to him with his puck possession, Dal Colle doesn't mind dishing off the puck for his wingers to score.
7. Nick Ritchie – Peterborough Petes (OHL) – LW/RW
The next generation of power forward has arrived and it's in the mold of Nick Ritchie. Nick is nothing like his brother, Brett, who was drafted by the Dallas Stars a few years back. Nick has a hulking frame and uses every bit of it to his advantage. Aggressive in every aspect of the game, Ritchie boasts a fast shot and trucks his way to the crease where he's tough to muscle off the puck. He needs to reel back his temper, but when coached effectively, he's a tough player to stop.
On the shorter side, Kapanen is a speedy winger that has had the benefit of learning from his father, Sami Kapanen, a former NHLer. He's played in parts of two seasons in the SM-Liiga against men much older than him so he knows the physical nature of the game. Kapanen is a quick, agile winger that sees plays before they happen and can feed passes through a maze of traffic. I'm one of the few who have enjoyed seeing Kapanen develop overseas.
9. Brendan Perlini – Niagara IceDogs (OHL) – LW
A large winger with blazing speed creates headaches for defenseman. That's precisely what you have with Brendan Perlini. After an abysmal year last season, Perlini came on very strong and showed his quickness and knack for scoring goals. He's a gifted winger with the ability to finish and dance through defenders or break in on the wing. Look for him to be a top-six goal scorer in the NHL.
10. Haydn Fleury – Red Deer Rebels (WHL) – D
Already blessed with NHL size, Haydn Fleury took his game to a new level when he started putting up impressive offensive numbers. He showed poise with the puck, the confidence to skate out of his own zone, and run a powerplay on the point. His size lends a helping hand to his physical play as he likes to throw the body around and clear players from in front of the net. He has the potential to be a first pairing blueliner in the NHL.
On a Sarnia team that was starving for goals, Nikolai Goldobin proved to be an electrifying scorer. He has the typical finesse you'd see out of many Russian players and is a magician when he handles the puck. His wrister allows him to fool goalies because he gets his shot off so quickly. Many are afraid to rank him high because of his "Russian Factor" and his "lack of defense". I found this season he was fine defensively and oftentimes hustled to forecheck and backcheck. He does have to build up some muscle, but from a skills perspective, Goldobin is one of the best in his class.
Much like his father, William Nylander is a skilled forward with high class puck skills and dynamic offensive play. His short stature lets him accelerate quickly and be an explosive player. He is weak along the boards and has inconsistency issues. But it's tough to deny his skill level and talent. He and Kasperi Kapanen had the benefits of playing against much older players.
13. Ivan Barbashev – Moncton Wildcats (QMJHL) – LW
Barbashev was asked to play a more defensive role this season in Moncton, where he flourished as a two-way forward. He still has some of the best offensive skills in the draft and they shouldn't be overlooked. Barbashev has an eye for knowing where players will be and making the smart passes to keep the puck in the offensive zone. He has smooth stickhandling that can get him out of trouble and works hard in every zone. His defensive play has improved his all-around game and he will be able to play in any scenario in the NHL.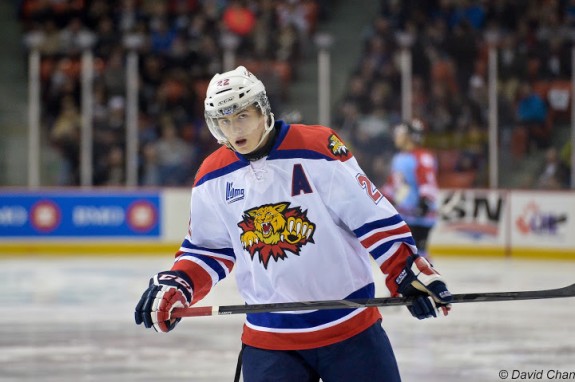 14. Sonny Milano – USNTDP (USHL) – C/LW
Skill wise, Sonny Milano has some of the best hands in the draft. He makes plays with the puck that leave defensemen baffled and he's a wizard in front of the net. He truly showed how vital he can be in the offensive zone scoring 86 points with the U18 team this season. A swift skater who has great edgework, Milano should be a natural scorer at the next level.
15. Jake Virtanen – Calgary Hitmen (WHL) – C/RW
Virtanen blends his size, speed, and skill into one and has become a dominant player this year in the WHL. Virtanen is an effective powerforward with a lethal shot and can take over a game singlehandedly. He uses his strength to shield the puck and throw his weight around. He finished the season a point-per-game player with 45 goals and 100 penalty minutes. He's an attractive option for many NHL teams.
16. Julius Honka – Swift Current Broncos (WHL) – D
Albeit undersized, Honka makes up for it with his offensive game and puck-moving. He exudes confidence and poise with the puck and isn't afraid to get creative on the backend. His skating is effortless and can transition from defense to offense with ease. Even for his size, he doesn't shy away from physical play. Honka uses his positioning to his advantage since he doesn't have the reach to break up plays as often. He finished the year with 56 points in 62 games.
17. Kevin Fiala – HV71 (SHL) – LW/RW
Fiala is a short, explosive winger who has potential to change the outcome of a game in a matter of shifts. He bolts around the ice with ease and is magnificent with the puck. His game is all offense and very little defense, but he's a hazard for defenses with his finesse and potent scoring touch.
18. Dylan Larkin – USNTDP (USHL) – C/LW
Whether it be goal scoring or setting up his teammates, Dylan Larkin can do it all in the offensive zone. He's a creative, dangerous scorer that has great puck pursuit. It's rare to see Larkin coast around the ice and intensely goes to the dirty areas of the ice to create his chances. He's also a great two-way player and engages in some physical play, too.
19. Josh Ho-Sang – Windsor Spitfires (OHL) – C/RW
Ho-Sang was one of the more impressive prospects I watched this season. Although his consistency wasn't always the best game in and game out, there is still a good amount of promise in him as a player. Watching him pass the puck (forehand or backhand) with pinpoint precision was nice to watch. Strong on his skates and willing to fight for pucks behind the net and along the boards really helped Ho-Sang show his offensive potential. He's also well rounded in his defensive game and on faceoffs.
20. David Pastrnak – 
Södertälje (SHL) – RW
The flashy RW out of the Allsvenskan, Pastrnak turned some heads in Sweden's second tier league. He's a shifty skater that eludes defenders with a few quick bursts. He takes a lot of risks with the puck, however he usually finds a way to get by defensemen and put the puck in the net. While he may not play against better competition like Nylander or Kapanen, his offensive potential has been written on the walls all season long.
21. Adrian Kempe – MODO Hockey (SHL) – C/RW
A future power forward with untapped offensive potential, Kempe's gritty play and tenaciousness found him a spot on Modo's Elite League Team. He uses his physicality well to deliver open-ice hits to unsuspecting players. Kempe camps in front of goalies to screen them and pick up dirty rebounds. He will likely get more playing time next year and will have a more offensive impact with his increased minutes.
22. Thatcher Demko – Boston College Eagles (NCAA) – G
The only goalie to make my Top 30 this year is Thatcher Demko. He's been the best goalie in his draft class for years now and helped Boston College make it to the Frozen Four tournament in Philadelphia before falling to the eventual champions, Union College. He's a winner at every level and has the size to be a great starting goaltender in the NHL. He plays a butterfly style, tracks the puck well, and has great lateral movement for a big goalie. He can swallow up pucks and has an impressive glove hand.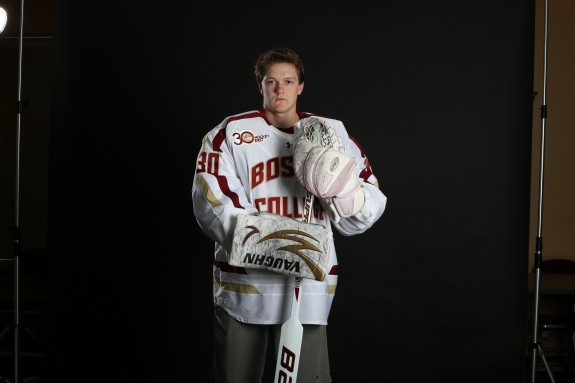 23. Conner Bleakley – Red Deer Rebels (WHL) – C
The 2nd Rebels player to appear in the Top 30 is playmaker, Conner Bleakley. His hands are vastly underrated compared to his draft class, which makes him proficient at creating space for his teammates to position themselves for passes. He never put up huge points this season, but he did have scoring consistency because of the chances he was able to create. He will fit in nicely in a top-six role for any NHL team. Another nice aspect of his game is his leadership abilities on the ice and in the locker room.
24. Alex Tuch – USNTDP (USHL) – C/RW
Tuch as close as you can get to NHL size. He stands 6'3″, 216 lbs. and uses his strength often. He's not a player you want to tussle with and feeds off driving to the front of the net and causing havoc for defenseman/goalies. Tuch has great hand-eye coordination and can be used on the powerplay to redirect point shots. He has some skating issues to work on, but he should be fine in a few years time.
25. Eric Cornel – Peterborough Petes (OHL) – C
Cornel's game all season long was very consistent. He has substantial size, however he doesn't use his physicality as much as many scouts would like. But he did develop into a phenomenal two-way defenseman with the Petes. He's a fluid skater with great speed and playmaking ability. His vision all over the ice in finding streaking players is second to none. I value players who can play on both sides of the puck and Cornel does that to a "T".
26. Roland McKeown – Kingston Frontenacs (OHL) – D
McKeown is poised with the puck on the back end, makes great first passes out of the zone, and isn't afraid to join the rush. What makes him even better is his defensive awareness and responsibility on the blueline. He's a fast skater and cuts off angles and lanes with his quick lateral movement. A defender that can do it all, McKeown is a nice blue-chip prospect to have in your pipeline.
27. Anton Karlsson – Frolunda Indians (SHL) – LW/RW
The "meat-and-potatoes" forward for Frolunda, Anton Karlsson has nice size and skill. He plays a tough brand of hockey and plays a straightforward game. In Sweden they teach the importance of skating and Karlsson is one of the best skaters in the draft. He plays physical and backchecks hard, but also has deceptive puck handling.
28. Nick Schmaltz – Green Bay Gamblers (USHL) – C
Boasting some of the best playmaking abilities in this year's draft, Nick Schmaltz has become an assist machine in the USHL this season. His vision and stickhandling in traffic areas makes him elusive and his speed and quickness is superb. Like his brother, Schmaltz's skill and patience with the puck makes him a talented offensive player worthy of being picked in the 1st round of the draft.
Doughtery has always had a mind from the game. Being a defensemen allows you to see all of the ice and watch the play develop. That has led Dougherty to become an anchor on the NTDP's blueline. He makes simple, effective plays and can move the puck quickly out of the zone. He also has NHL size as it stands that helps him block shots and break up plays with his positioning. His skating is still a bit choppy, but a few years in the NCAA should help.
30. Robby Fabbri – Guelph Storm (OHL) – C
A tireless skater, Robby Fabbri motors around the ice and only seems to have one gear: fast. He's a fearless center with a crazy amount of work ethic which helped propel him into many Top 30 rankings. His acceleration and speed is Top 3, but he does need some work on his defensive responsibility. Still, Fabbri is an energy player that creates many offensive opportunities for himself and his teammates.
31. Ryan Donato – Dexter School (USHSE)- C
32. Josh Jacobs – Indiana Ice (USHL) – D
33. Nikita Scherbak – Saskatoon Blades (WHL) – RW
34. Travis Sanheim – Calgary Hitmen (WHL) – D
35. Brendan Lemieux – Barrie Colts (OHL) – LW
36. Jakub Vrana – Linkoping (SHL) – LW/RW
37. Aaron Haydon – Niagara IceDogs (OHL) – D
38. Michael Bunting – Sault St. Marie Greyhounds (OHL) – LW
39. Jared McCann – Sault St. Marie Greyhounds (OHL) – C
40. Nicolas Aube-Kubel – Val d'Or Foreurs (QMJHL) – C
41. Julius Bergman – Frolunda Indians (SHL) – D
42. Brycen Martin – Swift Current Broncos (WHL) – D
43. John Quenneville – Brandon Wheat Kings (WHL) – C/LW
44. Alex Nedeljkovic – Plymouth Whalers (OHL) – G
45. Vladislav Kamenev – Metallurg Magnitogorsk (KHL) – C
46. Jacob Middleton – Ottawa 67's (OHL) – D
47. Adam Ollas Mattsson – Djurgården (SHL) – D
48. Jayce Hawryluk – Brandon Wheat Kings (WHL) – C
49. Nick Magyar – Kitchener Rangers (OHL) – C/RW
50. Vladimir Tkachyov – Moncton Wildcats (QMJHL) – LW
51. Brandon Fortunato – USNTDP (USHL) – D
52. Shane Eiserman – USNTDP (USHL) – LW
53. Vaclav Karabacek – Gatineau Olympiques (QMJHL) – RW
54. Clark Bishop – Cape Breton Screaming Eagles (QMJHL) – C
55. Ryan MacInnis – Kitchener Rangers (OHL) – C
56. Chase De Leo – Portland Winterhawks (WHL) – C
57. Blake Clarke – Saginaw Spirit (OHL) – LW
58. Jack Glover – USNTDP (USHL) – D
59. Anthony DeAngelo – Sarnia Sting (OHL) – D
60. Ville Husso – HIFK (Sm-Liiga) – G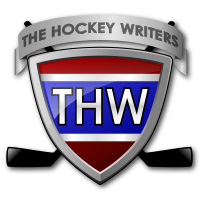 The archives of THW contain over 40,000 posts on all things hockey. We aim to share with you some of the gems we've published over the years.