Canes fans will love Bill Peters.  Carolina Hurricanes General Manger Ron Francis has hired a new head coach.  Former Detroit Red Wings assistant, Bill Peters is the guy.  As promised Ronnie took his time.  As promised, the new coach is in place in time for next week's NHL draft.  As promised, the 'Canes will make the playoffs next season.  Whoops.  That should read, "As hoped for by Hurricanes fans…"
Yes, I wanted a coach with NHL head-coaching experience.  Yes, I wanted Dan Bylsma to come to Raleigh and keep the Canes/Penguins merry-go-round spinning.  Yes I wanted Ron Francis to hire someone who could motivate this team and bring out the very best in not only "the core," but in the "young guns" as well.  But, having seen and heard Coach Peters up close at today's team press conference where he was introduced; I reserve the right to be genuinely excited about this hire.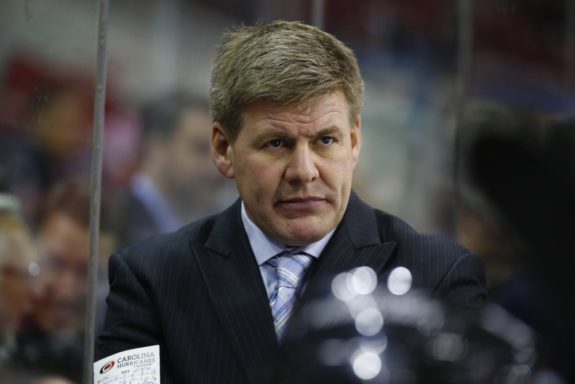 Here are 3 Reasons Canes Fans Will Love Bill Peters
First, he has a tradition of winning.  According to the team's bio, "Prior to joining Detroit's staff, Peters served as head coach of Rockford of the American Hockey League (AHL), guiding the Ice Hogs to consecutive 40-win seasons and Calder Cup playoff appearances in 2008-09 and 2009-10. In his final season with Rockford in 2010-11, Peters directed the second-youngest team in the AHL to a 38-33-4-5 record."  He has excelled as a head coach, guiding teams to winning seasons at every stop on his coaching journey.  I believe He will bring that winning tradition to the Hurricanes.
Also, having been a part of the Blackhawks and Red Wings organizations, he has been a part of a culture of winning. That is the great intangible that Coach Peters will give this team.  A shift in culture.  He said today, "The work ethic is not negotiable."  I love it!
Second, he is known to be a teacher and an excellent defensive coach.  I've been screaming to everyone in Raleigh that will listen that the Hurricanes need defense.  Maybe my rants made it inside of PNC Arena.  Okay, maybe not.  But I am excited that a coach with an understanding of strong defensive hockey is at the helm.  Like the saying goes, "They had to get through the other guys to get to the goal-keeper."  How much better will Anton Khudobin, or Cam Ward be if they are supported by a strong defensive cast?
At today's press conference, Peters said of defense, "If you're not good defensively in the National Hockey League, and you never get out of your own end…we call it being half-iced, you never get to play in the offensive zone."  He said the team will be efficient on defense, get the puck to the neutral zone, and "go have fun in the offensive zone."
I predict that if Coach Peters can improve the play of the Hurricanes' defense, this team will make the playoffs as early as this coming season.
Third, he gets it.  Asked today what he sees as the Canes' greatest needs he responded, "Fix our power play.  We have enough skill to have a good power play.  We're gonna fix our starts to games.  And we gotta improve our home record…be a harder team to play against here in Raleigh."  Coach Peters obviously can see the obvious.  But hearing him talk about it has made me a believer.  He comes off as no-nonsense, confident, and ready to work.
Bonus: Reason #4 To Love Bill Peters
Will there be anything better than Hurricanes' Hall of Fame radio voice, Chuck Kaiton regaling us with stories of Peters' time with the Rockford Icehogs, or better yet as head coach of the University of Lethbridge Pronghorns?  Only Chuck K. will know what a "pronghorn" is and he will surely make the description worth a listen.  I can't wait!  I believe I will love Coach Peters!