Rob Blake certainly isn't shy in attempting to make his Los Angeles Kings team better. He recently added veteran defenseman, Dion Phaneuf, as well as enigmatic winger, Tobias Rieder.  There were also rumblings that the Kings were linked to talented rabble-rouser, Evander Kane. Alas, a new name has surfaced as Blake's next potential target: Max Pacioretty.
Sportnet's Nick Kypreos is reporting that LA are pushing hard to acquire the 29-year-old forward. This is yet another clear sign that Blake is prepared to leave no stone unturned to propel his squad to a lengthy playoff run this spring.  As for the Montreal Canadiens, with today's trade of Tomas Plekanec,  general manager, Marc Bergevin, looks to be in "everything must go" mode.
What's the Return for Pacioretty?
Pacioretty, the 2012 Bill Masterton Trophy winner, certainly would not be coming to LA for cheap. He is a certified top-six forward that has notched 30-plus goals in each of his last four seasons.  As per Kypreos:
"We believe the Montreal Canadiens have asked for guys like Tanner Pearson or Tyler Toffoli. I'm not sure if that gets it done, but at least a first-round pick would be out there involved, and perhaps L.A.'s first pick last season – 11th overall, Gabe Vilardi — is out there as well. Perhaps he might be the piece that gets the deal done."
Based on the current roster make-up of the Kings, one of Pearson or Toffoli would be the logical choice to be shipped to Montreal for Pacioretty's services. One would surmise that Blake would be reluctant to include a player with the mouth-watering potential of Vilardi.  Much like last season, the 18-year-old winger is lighting up the OHL with the Kingston Frontenacs; tallying 43 points in 23 games, with a staggering plus/minus rating of 21.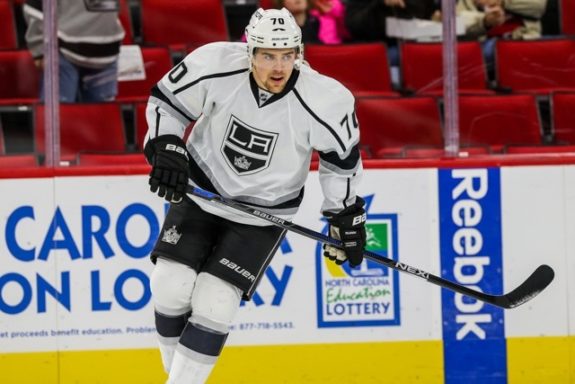 Where Would He Fit?
With the recent addition of Rieder and return of Jeff Carter, there is certainly a surplus of forwards on the Kings' roster. Should Pacioretty be added, he would likely supplant Alex Iafallo as the club's number one left winger, alongside Anze Kopitar and Dustin Brown. The aforementioned Iafallo would naturally have to compete with one of Pearson or Toffoli to secure a spot on the team's second line.  The 24-year-old Iafallo has had an admirable first season with the Kings, notching 20 points in 60 games, with an impressive plus/minus of 6.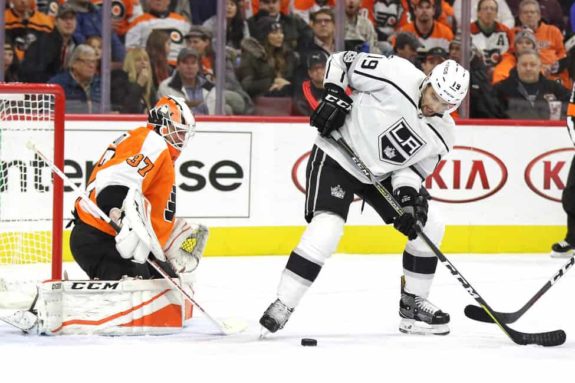 Despite his undeniable skill and productivity, Pacioretty has had a roller-coaster of a ride with his incumbent team. This is mainly due to the fact that a gargantuan weight was placed on his shoulders when he was named the Habs captain in advance of the 2015-16 NHL season. Such a burden would not be placed on him with the Kings given captain Kopitar has seemingly secured the captaincy long-term. Furthermore, Pacioretty would be moving from a hockey obsessed city, where his every move is closely scrutinized, to the laid-back West Coast.
Does the Move Make sense?
In the short-term, the trade definitely makes sense for LA. They are laden with playoff tested veterans who are salivating at the chance to make another run in this spring's tournament. Adding a borderline all-star like Pacioretty would only augment that thirst for a championship even more. As it stands, the Kings have the 23rd ranked power play in the NHL, firing at a mediocre 19.7%. "Patches" carries an impressive six-foot-two, 210 pound frame and possesses a booming shot, which could help the Kings immediately.
In the long-term, the 29-year-old is in the penultimate year of a contract that carries an AAV of $4.5 MM. Based on the consistency he has enjoyed, coupled with his dedication to physical fitness, Pacioretty could very well continue his quality of play into his mid-30s. The wild-card here would be his willingness to re-up with the Kings to a longer term deal.
Suffice it to say, Blake and the Kings have made this a very entertaining month.  We shall see what transpires before Monday's trade deadline.