If big trades are any indicator, then June 27, 2014, marked the day the Anaheim Ducks got serious about bringing a second Stanley Cup to Orange County.
General manager Bob Murray shipped Nick Bonino, Luca Sbisa and the 24th overall pick in the 2014 draft to the Vancouver Canucks in exchange for the coveted two-way center Ryan Kesler.
For Kesler, it also marked a shift in tone, telling ESPN, "I'm going to Anaheim to win a championship, that's going to be my sole goal, and my team's sole goal."
Bold, perhaps brash, words for a player who had yet to set foot in his new team's locker room.
The Kesler deal, like any trade of its magnitude, was met with both skepticism and praise. Anaheim finally had its true second line center, yet had incurred a massive salary on a player coming off his worst offensive season in years.
In Murray's eyes, it was a risk worth taking, believing that Kesler's multi-faceted game could elevate his team to greater heights.
As far as team results go, the Kesler-era Ducks have been fairly successful. They took the eventual Cup champion Chicago Blackhawks to a Game 7 in the Western Conference Final.  They've made up for a tough start to 2015-16 by going on an absolute tear that now has them within three points of the Pacific-leading Los Angeles Kings.
How much of that is Kesler's doing though? After all, he potted a rather unimpressive 20 goals last year and currently has a pedestrian 11 tallies through 56 games.
Don't be fooled by the dip in goal-scoring; Kesler plays a major role on this resurgent Anaheim team, one that he's grown into quite well.
Kesler 2.0(?)
http://gty.im/497305246
The former Olympian has always had a reputation as a premier two-way center. That description was absolutely warranted from roughly 2008 to 2011. Skating on those dominant Vancouver teams, Kesler recorded two 70-point seasons and even lit the lamp 41 times in 2010-11, the year that the Canucks went all the way to the Stanley Cup Final.
Kesler's production has consistently dipped since that magical year, and it's safe to say that he will never recapture that form. Unfortunately, that takes him out of the "elite two-way center" conversation.
That's perfectly fine.
Anaheim has taken on a defensive identity to turn its season around (just ask Mark Giordano), and Kesler has been at the helm of it.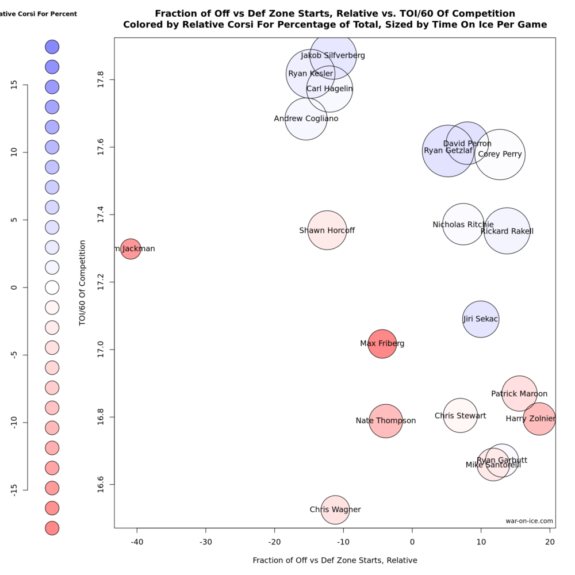 Not only does he face the oppositions' best players on a nightly basis, but he starts an overwhelming majority of his shifts in the defensive zone.
To boot, he's logging one of the best relative possession ratings among Anaheim forwards.
Having a positive impact on possession in spite of some heavy defensive responsibilities is astonishing, especially considering all the miles on Kesler's body, thanks to some deep playoff runs throughout his career.
To say that Kesler is declining would be a bit inaccurate: though he's regressed in areas that are certainly important (scoring freaking goals), he's transformed into an extremely serviceable defensive center.
It's the mark of a player who's accepted what he has to offer at this stage in his career, espousing the "win at all costs" mentality that he preached upon his arrival in Southern California.
Though Kesler may have sounded a bit brash laying out what he intended to do in Anaheim, those words may instead sound prophetic if he can continue this level of play through the postseason.
Felix Sicard is the Anaheim Ducks' Lead Writer for The Hockey Writers. Now in his third season of covering the team, he writes previews and recaps for all Ducks' home games, as well as weekly analysis pieces.
In addition to covering the Ducks at THW, Felix co-hosts SB Nation's Anaheim Calling: The Podcast, as well as hosting The Garage Hockey Podcast.
For consistent Ducks' content, be sure to check out his Twitter @Felix_Sicard.