On Thursday afternoon, Team Russia secured their ticket to the semifinal in the World Cup of Hockey with a convincing defeat over Team Finland. They knocked out Team North America by beating Finland in regulation time with a Vladimir Tarasenko goal and a Sergei Bobrovsky shutout.
After a shaky first game of the tournament against Team Sweden and a slow start against Team North America in the second game, it seemed Russia flipped a switch behind closed doors. Ever since the second period of game two against the kids, they haven't been stopped.
Now, the hockey world gets a treat. Although Team North America has been heavily popular throughout the tournament, a Team Russia vs. Team Canada semifinal game is a nice consolation. Can the Russians finally end their medal drought with a win over international hockey giant Team Canada?
History of Team Canada vs. Team Russia
Of course, everyone remembers or has heard of the 1972 Summit Series between Canada and Russia. That's ultimately how every hockey fan fell in love with this rivalry. Although Team Canada had bested Russia in that series, the Russians put themselves and their hockey program on the map, and the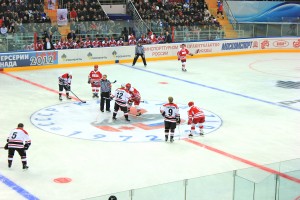 Canadians noticed, "Before the series began, we were advised that their calibre of hockey would not be as high as ours. Boy – were we in for a shock" Vic Hadfield.
Through the years, it's always been a treat when
these two nations collide. You can always expect a tightly contested game that's full of passion for something bigger than hockey. Whether it's on Canadian or Russian soil, you know that these two teams will come to play.
Now things have changed since the 1972 Summit Series but the rivalry has only grown. Now with Sidney Crosby and Alex Ovechkin as the faces of the two nations, two of the best players in the world, they have recruited a whole new generation of international fans to cheer on their respective teams. As hockey fans, we are lucky to experience the next chapter in this great rivalry on Saturday night in Toronto.
Russian Keys to Victory
If Team Russia wants to be the winner of the next round of Team Canada vs. Team Russia they'll have to focus on their game. As perfectly outlined by Team USA, you simply can't focus on Team Canada. The United States built their team to take on Canada and that didn't work out so well as they were eliminated from the tournament without managing a single point.
So by learning from Team USA's, Team Russia knows what they have to do. Unfortunately, it's going to be far from easy to beat this version of Team Canada. Sergei Bobrovsky is going to have to hold his own in the crease. He's done an excellent job so far and he'll have to be even better Saturday night.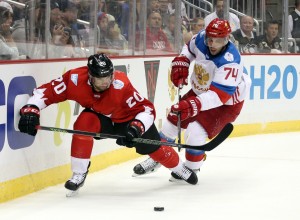 Much to the surprise of many, the Russian defense have been good enough. On Saturday, they'll have to be great. Coming down the ice will be the likes of Sidney Crosby, Steven Stamkos, Jonathan Toews and so many more. It will be by far the toughest challenge this Russian defense has had to face. If they want to come out of this game victorious, they have to shut down Canada's offense.
As for the Russian offense, they will have to rattle former MVP Carey Price which no team in the tournament has been able to do so far. Russia will be the most potent offense that Team Canada has faced so far, and they must make Price feel that. The only way to beat Carey Price is if he doesn't see it. That means getting traffic in-front of him and picking your spots. Many teams have tried and many teams have failed but the Russians have no choice, if they want to advance to the final, they need to throw everything they have at the best goalie in the world.
Game Predictions
It would be good for the rivalry if Team Russia came into Toronto and beat the tournament favourite Team Canada on their home soil, but I just don't see it. Team Canada will prove to be too much for the Russians and will ultimately win this game. That prediction is nothing against Team Russia, I just simply think that there isn't a team good enough to beat Canada in the World Cup.
Russia should be proud of their efforts thus far, making it into the final four is a good accomplishment. Although I predict Team Canada to advance, this rivalry has a long history and I wouldn't be shocked if Team Russia pulled off the biggest upset of the World Cup.
---
The Hockey Writers coverage of the World Cup of Hockey 2016 is being brought to you by PrimeSport, the official Fan Travel & Hospitality Package Partner of the World Cup of Hockey 2016.