One thing the New York Islanders clearly struggled with all season was the lack of scoring. They are a team that has to scratch and claw for every goal. The bottom six forward group had some pieces that contributed, but overall, it wasn't enough. Hudson Fasching was a nice surprise, fitting on the third line, and veteran Zach Parise had a strong year. The fourth line played to their identity when they were healthy, but Cal Clutterbuck missed a good chunk of time again with an injury. It may be time for general manager (GM) Lou Lamoriello to consider breaking up the identity line. 
Related: New York Islanders 2022-23 Player Evaluations: Defensemen
The big issue with this group was the lack of depth. When Jean-Gabriel Pageau went down with an injury, they had a revolving door of players get in the lineup. Simon Holmstrom played in 50 games for the team this season and showed that he is a responsible two-way player who can chip in offensively. As his confidence continues to build, he will only improve and can be a solid bottom-six forward in this league for a long time. Other than that, they don't have much depth. Let's take a deeper dive into this bottom-six forward group.
Zach Parise
The 38-year-old winger is coming off a strong season for the Islanders. He finished with 21 goals, which was third on the team. He is a workhorse, as he never takes a shift off and is always the first one in on the forecheck. He's a very versatile player that is reliable as well. Parise is the only Islanders player that has played all 82 games in the past two seasons. He is extremely dependable, and his veteran presence fits right into the tight-knit Islanders group. Parise is a pending unrestricted free agent (UFA), and it is not a guarantee he returns. 
If he does decide to return for another season, it won't be with a different club. "It's here or nowhere," Parise said when asked about his future. If this is truly it for him, it's been an amazing career for the veteran. He has played 18 years in this league, having 429 goals and 879 points. The unfortunate part is that Parise has never won a Stanley Cup and most likely won't get another chance. For the Islanders' sake, it would be great if he returned. It would be on a team-friendly deal, similar to the one he signed last season for one season at an average annual value (AAV) of $750K. He can provide a ton to the Islanders' bottom six and can still play at a high level.
Jean-Gabriel Pageau
Pageau is known as being a smart and dependable third-line center. He can play in every situation, including the penalty kill and the second power-play unit. He did miss 12 games this season with an upper-body injury which affected the Islanders' center depth. The 30-year-old did not have the offensive production that the team hoped for. He contributed 13 goals and only 40 points. Pageau knows that he can improve his offensive production. "I think as a player I am someone who always tries to get better in some areas in my game. I'm very competitive in everything I do. Personally, when I go back in the summer, I try to get stronger, see where I can be better." (From 'NY Islanders JG Pageau wants to be more explosive next season', Eyes on Isles, 5/7/23)
There is no question the Islanders need Pageau to produce more. He is so important in many areas to this team that his offense often gets passed over. He has not reached the 20-goal mark since his last season with the Ottawa Senators in the 2019-20 season. He then signed a six-year extension with the Islanders. He is what you would call an "Islander type of player". He plays smart, doesn't take too many risks, and is very dependable. If Pageau can get back to the 20-goal mark, it would be a huge boost for a team that has struggled offensively.
Hudson Fasching
Perhaps the best story of the Islanders' entire season is Fasching. He was called up in early December and became a regular in the lineup. Fasching finished the season with 10 goals and 19 points in 49 games. He found a comfortable spot on the third line with Pageau and Parise. The day after the season ended, the Islanders wasted no time in extending him. They signed Fasching to a two-year contract worth $1.55 million. The 27-year-old proved that he belonged to play at the NHL level and took every advantage of his opportunity. It has turned out to be a great fit for both sides.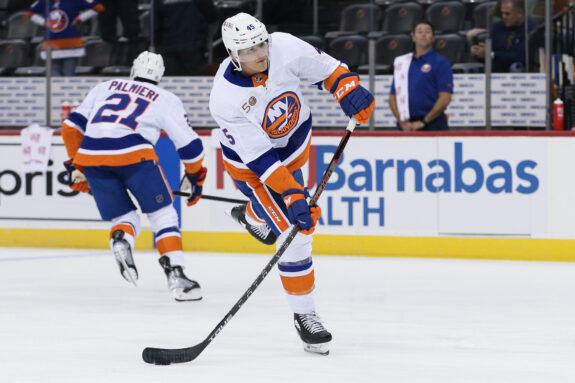 "This organization just feels like a really good fit for me, from the off-ice (being) very family oriented — they're very big on that here and that's big for me, as well — and obviously on-ice, it seems to have meshed well," Fasching said just a couple of hours before the deal was announced (from 'Hudson Fasching returning to Islanders, but Josh Bailey's tenure seems to be over', The Athletic, 5/1/23).
After bouncing around teams like the Buffalo Sabres and Arizona Coyotes; Fasching has finally found a home on the Island. The Islanders hope Fasching's confidence continues to grow, and his game will only improve. He was a pleasant surprise this year for the Islanders, and it was the right move to keep him here beyond this season. 
Cal Clutterbuck
Cal Clutterbuck is a soldier for the Islanders organization. He has been here for the past 10 seasons and has been a huge part of this core. The identity line of him, Casey Cizikas, and Matt Martin have been a staple. He is the all-time NHL hits leader, but it's now coming to a point where we may see the end of the identity line. Clutterbuck signed a two-year extension last season, but the injuries have piled up for him over the past few seasons. The Welland, Ontario native only played in 49 games in the regular season this year and only 59 last year. He struggled to keep up with the speed of today's game. The advanced stats show that he was on the ice more goals against than goals for this season, and had a 39.96 expected goals rate, per Natural Stat Trick. (From 'Islanders will lean on Identity Line for another playoff run: 'Leave our mark', NY Post, 4/16/23)
Related: Islanders' Fasching Exceeding Expectations
---
Latest News & Highlights
---
If a new GM comes in and replaces Lamoriello, they may decide to break up the fourth line. Based on the past few seasons of injuries for Clutterbuck, it's going to be hard for him to keep up with another 82-game season. On the contrary, Clutterbuck believes he still has more to give.
"I'm pretty sure I'll be the first to know when the time for being effective has passed me," said Clutterbuck during his exit interview.. "I'll be well aware of that before you [the media]."
Clutterbuck's season overall was similar to the past few. A major injury keeps him out of the lineup for a good chunk of the year, and he contributes little offensively. Although he has been a loyal and dependable player; it would be beneficial for the Islanders to start considering moving on. 
Matt Martin
Martin has been with the Islanders organization since the 2009-10 season. He has played in over 750 games with the team, including a streak of 79 consecutive playoff games. This season, Martin had his highest goal total since the 2015-16 season with seven goals in 81 games. Again, like Clutterbuck, Martin has shown signs of slowing down and not being able to keep up with the speed of today's game. He has been a staple with the Islanders and is loved in the locker room by his teammates because of his high character.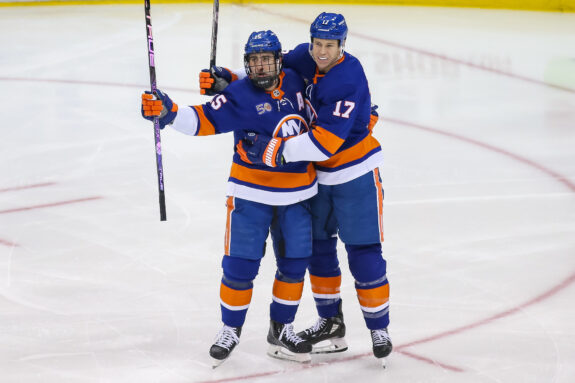 The 33-year-old has one more season on his four-year $6 million deal that he signed in Jan. 2021. This will lead to some questioning if his tenure is ending. Martin contributed one goal in the playoffs in Game 3, but he took some costly penalties that really hurt the Islanders during the series loss to the Carolina Hurricanes. The ideal situation would be for one of Martin/Clutterbuck to be an extra for the Islanders next season, and they could move Fasching to the fourth line. 
Casey Cizikas
One of the most beloved Islanders of the past decade is Cizikas. He is an energizer bunny that doesn't take a shift off. He is one of the hardest-working guys on the team and a great penalty killer. Cizikas didn't contribute much offense this year, with only six goals and 21 points in 81 games. Although he is not known for his offensive production, he did have a 20-goal season back in the 2018-19 season. He plays many roles for this team and is such an important player. His tenacity and energy are so hard to find in players. He signed a six-year deal with the Islanders and doesn't plan to play anywhere else in his career. "Long Island is my home and will always be my home," Cizikas said. "There was nowhere else I wanted to be, and I want to retire an Islander."
There is not much more the Islanders could ask of Cizikas. He plays his regular fourth-line center role very well and even moved up the lineup this year with some of the injuries they had. He is on the top penalty kill unit and plays his role perfectly. Overall, it was a solid year for the 32-year-old center, and we can even expect more offensive production next year. As stated earlier, the fourth line isn't getting any younger. It would be helpful for Cizikas's career if he had two younger wingers next to him on that line who could contribute more. 
Josh Bailey
It's crazy to think that this could truly be the end of Josh Bailey's Islander career. The 33-year-old has spent the last 15 seasons with the club. This year was the first where Bailey couldn't even manage to be a regular in the lineup. Head coach Lane Lambert scratched him multiple times throughout the season, and Bailey didn't play one game in the series against the Hurricanes. It was a tough year for Bailey on the ice and mentally off the ice, dealing with sitting in the press box.
"It's a lot to take in. I've always thought of myself as an Islander and wanted to play my last game as an Islander, and who knows what it holds now," Bailey said. "I think it's a lot to take in for my family and I, but it is part of the business, and I understand that. I'm not playing any poor me cards by any means. It's just a lot."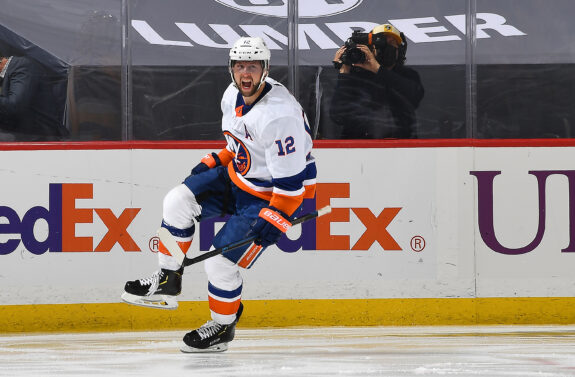 The Islanders will most likely look to trade Bailey, but the best method for the team might be a buyout. If they aren't able to find a taker via trade, then that would allow the Islanders to free up some cap space, and Bailey can look for a new home. According to CapFriendly, a buyout would save them $1.6 million. Bailey made it clear during the exit interviews that he didn't want to sit in the press box, and he has a lot to offer. Unfortunately for Bailey, there just isn't a roster spot for him. It's bittersweet to know that the longest-tenured Islander most likely will be moving elsewhere, but it needs to happen. It is better for both sides that they move in opposite directions. 
The bottom six forward group overall can use improvement. They need to get younger and quicker. It would also be beneficial if they picked up the offensive production to take the pressure off the top six forwards. There are many questions surrounding them this offseason. It could be a very different group next year if the Islanders decide to part ways with some long-term veterans like Bailey and Clutterbuck. It will also be great to see Fasching play a full season with the team next year. Hopefully, Lamoriello or a new GM will see that it is time to move on from some of these current players.
---
---