It has been a strange start to the season for the New York Islanders. At times, they've looked like the team that was two games from making the Stanley Cup Final, while on other days, they've resembled the Islanders from a decade ago, who couldn't score and allowed late goals. They have wins over the New York Rangers, Boston Bruins, and New Jersey Devils, but have not swept any of their two-game series, and they are on a five-game losing streak.
Here's a look at their top three players from the first month of the 2020-21 season.
Third star: Mat Barzal
Mat Barzal may have missed most of training camp looking for a new contract, but the young superstar has been the Islanders' most consistent forward. Even when he is not scoring, Barzal is skating with tremendous speed and has done a great job of drawing penalties. He is on a four-game point streak and had a goal and an assist against the Devils. He has scored four goals and has six assists in nine games and continued to be productive on the first line with Jordan Eberle and Anders Lee before the shake-up against the Philadelphia Flyers.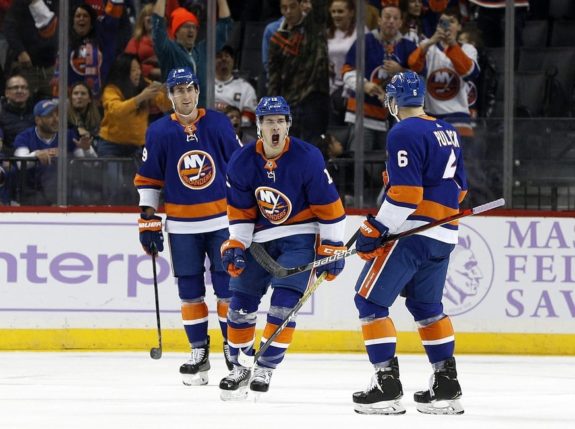 Barzal has also excelled at shooting the puck this season. While he is one of the best playmakers in the league, he has been shooting the puck more than ever. In two games he's registered at least five shots, and he was the best Islander on the ice Saturday night against the Flyers.
He has been terrific in the face-off circle, winning more than 50 percent, and he's been lethal in overtime. Despite the possibility of Josh Bailey playing on his wing instead of Eberle, Barzal's early success should continue. He's played well with Bailey in the past and set him up for an overtime goal back in the 2019 Playoffs.
Second Star: Noah Dobson
After the Islanders traded Devon Toews in the offseason and watched Johnny Boychuk retire, Noah Dobson has earned his first real chance to play in the NHL, and he has shined. After mostly being in and out of the lineup last season, Dobson has played in all nine games, has eclipsed 20 minutes of ice time in three of those contests, and even saw the ice in overtime.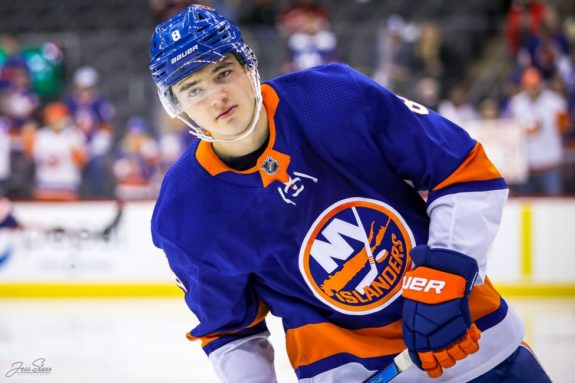 Although the power play is not off to a great start, Dobson has established himself as a power-play quarterback alongside Ryan Pulock. He added an assist on an Eberle goal with the man advantage and registered three other assists. He also scored his second career NHL goal against the Washington Capitals, which was the first goal by an Islander defenseman this season.
Dobson has also seen occasional time on the penalty kill. While he is not a regular, head coach Barry Trotz has turned to him when the team has been down a defenseman. Dobson's size allows him to clear Semyon Varlamov's crease, and he is also physical along the boards. A big reason for his success is his defensive partner Andy Greene. The two played together a bit last season, and Greene has become a mentor to the young defender who is willing to take chances on the rush while Greene is more of a stay-at-home defender.
First Star: Semyon Varlamov
Varlamov is off to a tremendous start this season. He has two shutouts and has allowed only 12 goals. A large part of his success is the six defenders in front of him, but Varlamov has done an excellent job of controlling his rebounds. That has been a major problem for rookie goalie Ilya Sorokin this season, as all three of the Islanders' wins have been with Varlamov in net.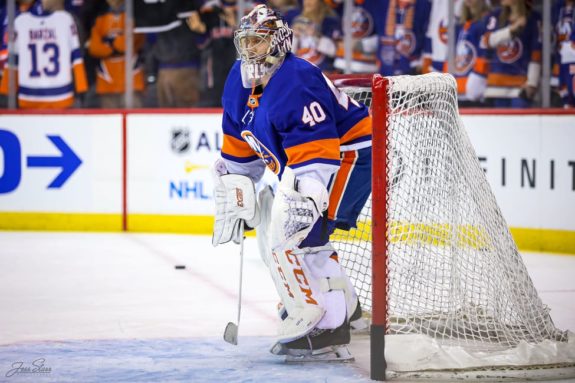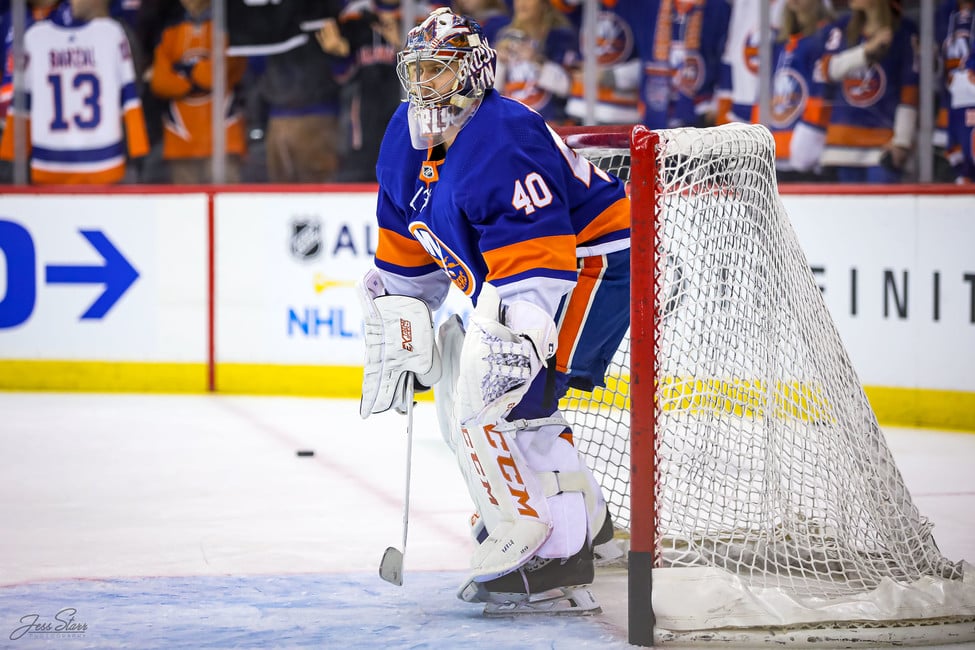 Varlamov has started six games and has a 3-2-1 record along with a .924 save percentage and 2.00 goals-against average. He started the season with a pair of shutouts before allowing a goal against the Devils in his third game. At 32 years old and with a young netminder behind him, Varlamov should continue to get starts as the No. 1 goaltender. However, with seven more back-to-backs, after Sunday's game against the Flyers, Sorokin is going to see plenty of playing time as the team tries to him going in the NHL.
The Islanders are going to need to play better if they want to make the playoffs for a third straight season. They have many good players in Bailey, Cal Clutterbuck, Matt Martin, Brock Nelson and Anthony Beauvillier all struggling and will need all four lines contributing in order to make a run for a Stanley Cup.
---
---
Matt Rothman is a 2018 graduate from Florida Gulf Coast University receiving his bachelor degree in journalism. Originally from Long Island, he moved to Parkland shortly after high school. Matt worked as the assistant sports editor for his school paper, eaglenews.com in college becoming just one of nine students in his graduation class to serve over 1,000 community service hours. His goal is to travel to every Major League Baseball stadium, and has been to multiple US Open finals.