Aaron Huglen is a player that most won't know, but he is an interesting one. He was a fourth-round pick (#102) of the Buffalo Sabres back in the 2019 NHL Draft and has battled many injuries since. Most fans will recognize this play when he used the lacrosse move to score against Canada at the 2018 Hlinka Gretzky tournament. The kid has skill.
Huglen suffered a back injury, and it took him out for almost two full years to recover. To have complications like that at 18 and 19 years old is heartbreaking, and there were serious questions if he could return to his previous form. On Jan. 4th of this year, he returned to play for the Fargo Force of the USHL and has scored five goals and 10 points in 11 games since. This is a story of a person that never gave up.
I will dive into Huglen's journey since being drafted, explain his recovery process and why he has NHL potential in the future. Everybody is rooting for this kid to succeed. Let's talk about why.
His Recovery From The Back Injury
In an article with Ryan Kennedy of The Hockey News, Hughlen opened up about how the injury occurred.
"I was doing a lift, and I felt my back slip as I was doing it," Huglen said. "Right away, I didn't realize the severity of it — I thought it was just a pulled muscle in my back." (from "Buffalo Pick Returns After 20-Month Odyssey" – The Hockey News – 01/21/21)
After continued discomfort, he eventually went for an MRI and was diagnosed with a bulging disc. To explain in simple terms, it is a condition where the inner portion (nucleus) of the spinal disc remains contained within the annulus fibrosus (outer portion). Dr. Harvey E. Smith, an Associate Professor of neurosurgery, explained how it is like letting air out of a car tire.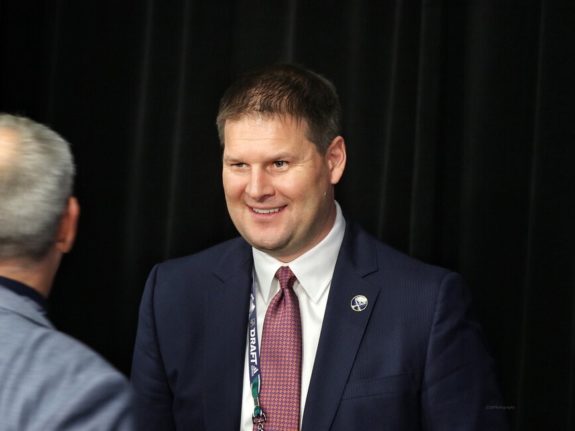 The next year's timeline would result in a lot of changes as the injury got worse. He wasn't able to train in the summer, and it became clear that he wasn't going to be ready to start the 2019-20 season. Eventually, after careful consideration with the doctors from the Force, University of Minnesota, and the Sabres, Huglen decided that back surgery would give him the best chance at recovery.
His surgery was delayed due to the pandemic, but he finally had his operation in May 2020. Since then, he has been rehabbing and getting back into game shape.
Related: Buffalo Sabres' History With Canada
After a long battle, he overcame it and can get back into excelling on the ice. Let's describe his on-ice play and what make's him an intriguing player to watch.
Huglen Has Shown NHL Potential
When he was drafted, his game positives were his high levels of skill and Hockey IQ. Corey Pronman of The Athletic stated, "he is one of the most purely skilled players that will get picked outside of the first round." (from "Grading the Buffalo Sabres' 2019 draft class" – The Athletic – 06/22/19) On multiple draft boards that include TSN's and NHL Central Scouting, he was projected to go 91 and 90, respectively, but he slid into the fourth round to the 102nd position.
This is a player that the Sabres wanted to select, as they traded their 122nd and 175th picks for the 102nd pick to move up and select him. They had to make sure he was on their team.
There are concerns with the physical elements in his game, which is common in most prospects. He tends to lose puck battles along the boards, but he does display a willingness to go to those areas. At this moment, he is 6-foot and weighs 168 pounds, so there is room to fill out there. He has looked noticeably better since the start of the season and is making highly skilled plays on the ice.
He has a point per game rate of 0.83, which ranks 57th out of all United States Hockey League skaters, and there is a likelihood of that number increasing as he gets more games under his belt. It should also be noted that he is committed to playing for the University of Minnesota for the 2021-22 NCAA season. He will develop in a terrific program that has produced the names of Phil Kessel and Erik Johnson.
Huglen's journey has been so inspirational, and it has barely just begun. He has battled through every challenge, which has led him back onto a path of NHL trajectory. If he can live up to his raw talent, he could be a key contributor to the Sabres and can play both the centre and wing position. He will be fascinating to watch as his career progresses.
---
---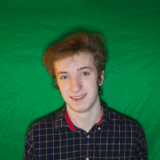 Jordan Jacklin is a freelance writer who covers the Buffalo Sabres here at The Hockey Writers. Jordan is a student at Ryerson's Sport Media program and uses analytics and video scouting to evaluate your favourite players in the game.