It's safe to say it's not your typical year when it comes to scouting prospects. Well, it's not your typical year when it comes to watching hockey in general. But specifically, paying attention to prospects has been a challenge simply because there haven't been any Canadian Hockey League (CHL) games with the exception of a couple of Quebec Major Junior Hockey League (QMJHL) games to start the season.
This means that many prospects, both drafted and undrafted, haven't been able to play this year. This makes scouting their game and development very challenging. Even though they've been working out and staying fit during their time off, it's hard to really analyze their development when they aren't seeing any in-game action.
Having said that, prospects playing in Europe and the NCAA haven't missed a beat. The Colorado Avalanche have an influx of draft picks over the past few years who are playing college hockey, and most of them are thriving in the midst of a strange 2020-21 season. Let's take a look at some of the Avalanche's NCAA prospects who have impressed through the first chunk of the season.
Colby Ambrosio (F, Boston College, 2020 4th round, 118th overall)
It's not too often you see a Canadian prospect opt to go the NCAA route rather than playing major junior, but that was the case with Ambrosio. The Welland, Ontario-native spent his draft year playing for the Tri-City Storm of the United States Hockey League (USHL) and put up 26 goals and 50 points in 48 games. Good enough for the Avalanche to use their fourth-round pick on him.
Ambrosio's gotten off to a blazing start in his freshman season at Boston College with nine points in 12 games so far. He kicked off the season playing at a point-per-game pace through the first nine games, but he's been held pointless in his last three.
Boston College as a whole has been a dangerous offensive team this year, with Ambrosio sitting at fifth in team scoring behind Minnesota Wild prospects Matthew Boldy and Nikita Nesterenko along with Florida Panthers prospect Logan Hutsko. Regardless, his performance so far has been impressive for an 18-year-old and you'd have to imagine the Avalanche give him a look sooner rather than later if he keeps developing at this pace.
Drew Helleson (D, Boston College, 2019 2nd round, 47th overall)
Originally drafted as more of a stay-at-home type of defenseman, Helleson is starting to develop a two-way game that could make him that much more effective at the pro level. Originally having 34 points in 92 games between the U.S. National Team Development Program (USNTDP) Juniors and U.S. National U18 team in his draft year, he never really had much of an offensive game. This continued into his freshman season with Boston College where he finished with six points in 28 games.
This year, however, the Minnesota-native has started to find his offensive touch. He already has five points in 10 games for Boston College and he was also the third highest-scoring defenseman on Team USA at the World Juniors, with four points in seven games. Helleson has good size at 6-foot-3 and 190 pounds, so if you combine that with his newly developed two-way game, the Avalanche could have a potentially lethal one-two punch on the right side of the D-corps with Cale Makar in front of him.
Sampo Ranta (F, University of Minnesota, 2018 3rd round, 78th overall)
Ranta has quietly developed into one of the Avalanche's better forward prospects. Putting up 37 points in 53 games for the Sioux City Musketeers in his draft year, the Finland-native has played in North America since the 2016-17 season and is currently in his third season with the University of Minnesota.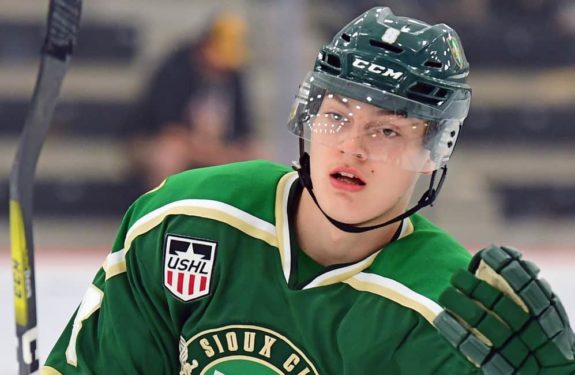 He's steadily improved every year, posting 16 points in 36 games in his rookie season, 20 points in 35 games in his sophomore season, and 19 points through 18 games so far this season, good for second on the team in scoring. Ranta has always been a shoot-first type of player, and he has good size to go with it at 6-foot-2 and 205 pounds. He remains unsigned as of now, but the Avs don't exactly have a traffic jam of left-wing prospects. If he finishes his season strong you can imagine Colorado will give him a look in the AHL at some point.
Tyler Weiss (F, University of Nebraska-Omaha, 2018 4th round, 109th overall)
Weiss is more or less in the same boat as Ranta. He's a left-wing prospect drafted in 2018 playing college hockey, and much like Ranta, steadily improving each year. The Raleigh, North Carolina-native has gone from 11 points in his freshman season to 22 points in his sophmore season to 14 points through 16 games this season.
There isn't much else I could say about Weiss that I haven't already said about Ranta. He's a different style of player, possessing more of a playmaking style to his game rather than a shoot-first mentality, and he's also smaller at 5-foot-10 and 154 pounds. He will need to put on some muscle if he wants to be an effective player at the NHL level, but like I said, the Avalanche have space to work with on the left side. He remains unsigned, but there's no reason he couldn't be worth a look in the AHL if the Avs do decide to sign him.
For people like myself who enjoy monitoring prospects and keeping tabs on tomorrow's NHLers, we should be thanking our lucky stars that there's any sort of amateur hockey going on right now, even if it's not at the level of normalcy we're used to. The Avalanche have some serious talent in the NCAA, and it will be interesting to watch their college careers play out and see which ones take it to the next level.
---
---
Alex Hobson is a writer and a radio producer for 610 CKTB. He has been writing about sports since 2015 and has been with The Hockey Writers since October of 2020. He covers the Toronto Maple Leafs, World Juniors, and the NHL Entry Draft, and is also part of the Sticks in the 6ix Podcast, presented by THW. He also makes weekly appearances on THW's Maple Leafs Lounge Roundtable. For interview requests or any other inquiries, you can follow Alex's social media pages listed at the bottom of his articles like this one.