We're officially through Phase 1 of the holiday season. When I say Phase 1, I mean the preliminary round. And when I say holiday season, I mean the World Junior Championship (WJC). Because to any hockey fan, the tournament IS the holiday season. The excitement of the tournament has been delivered as advertised. We've seen our share of blowouts (see Canada vs. Germany, USA vs. Austria, etc.), and we've also seen some upsets (see Czech Republic vs. Russia).
The Colorado Avalanche came into this tournament with four prospects representing the burgundy and blue. Defenseman Bowen Byram (Team Canada), forward Alex Newhook (Team Canada), defenseman Justin Barron (Team Canada), and defenseman Drew Helleson (Team USA). Now that we're through the round robin games and moving into the elimination round, let's take a look at each Avalanche prospect and how they've fared through the first few games.
Bowen Byram (D) – Team Canada
The Avalanche have a thing with taking great players at fourth overall in recent years. Selecting Calder Trophy winner Cale Makar in 2017, they added Bowen Byram at the same slot in 2019 with hopes that he'll be a key member of their defensive core for years to come. And it's safe to say that Team Canada has been delivered as advertised. Despite losing captain Kirby Dach to injury in an exhibition game against Russia, they have been the clear-cut best team at the tournament this year.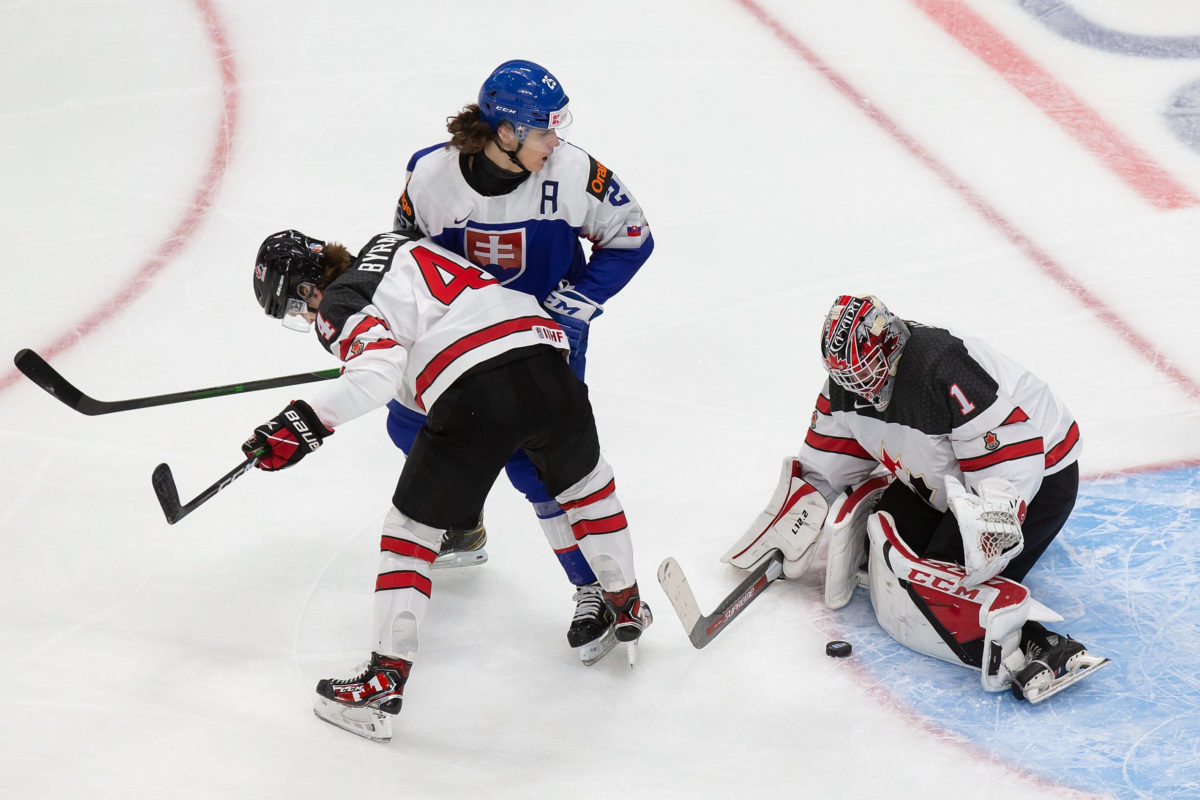 With Byram's skill and role for the Canadians and their sheer dominance at the WJC so far, you'd think they'd be a match made in heaven. Surprisingly enough, Byram has been relatively quiet so far. He has three assists through four games, and while nobody is complaining about that, you'd think he would have more to show considering Canada has scored a whopping 33 goals through their first four games. Granted, Canada's gotten virtually no offensive help from the back end, which helps Byram's case.
Alex Newhook (F) – Team Canada
Of all the Avalanche prospects at the tournament, Newhook has performed the best. Drafted 16th overall in 2019, he finished his freshman season leading Boston College in scoring with 42 points in 34 games. He's played mostly second-line minutes for Canada and he's been producing at a respectable rate with two goals and five points through four games.
His best offensive performance came in Canada's 16-2 rout over Germany where he tallied two goals and one assist. Unfortunately for him and Team Canada, he suffered a shoulder injury following a collision with Finnish defenseman Emil Viro. He missed practice on Friday, but as it stands he's a game-time decision to play against the Czech Republic in quarterfinal action. We saw Barrett Hayton come back from a gruesome looking shoulder injury and make an impact for Team Canada in the gold medal game last year, so anything is possible.
Justin Barron (D) – Team Canada
The Avalanche drafted Barron at 26th overall in 2020 and though it's far too early to consider any players drafted so recently a steal, he might be one of those rare cases. His draft stock plummeted after he was diagnosed with a blood clot in 2019, and ended up slipping to 26th after originally being projected to go mid-first round.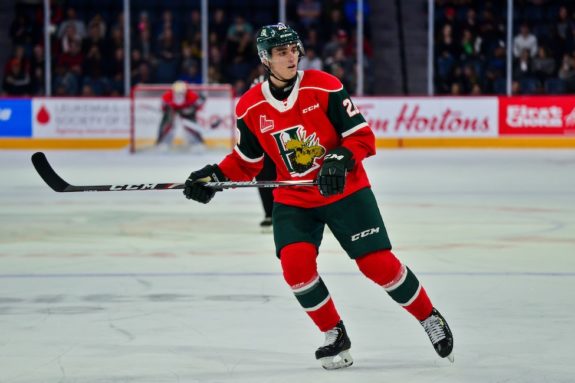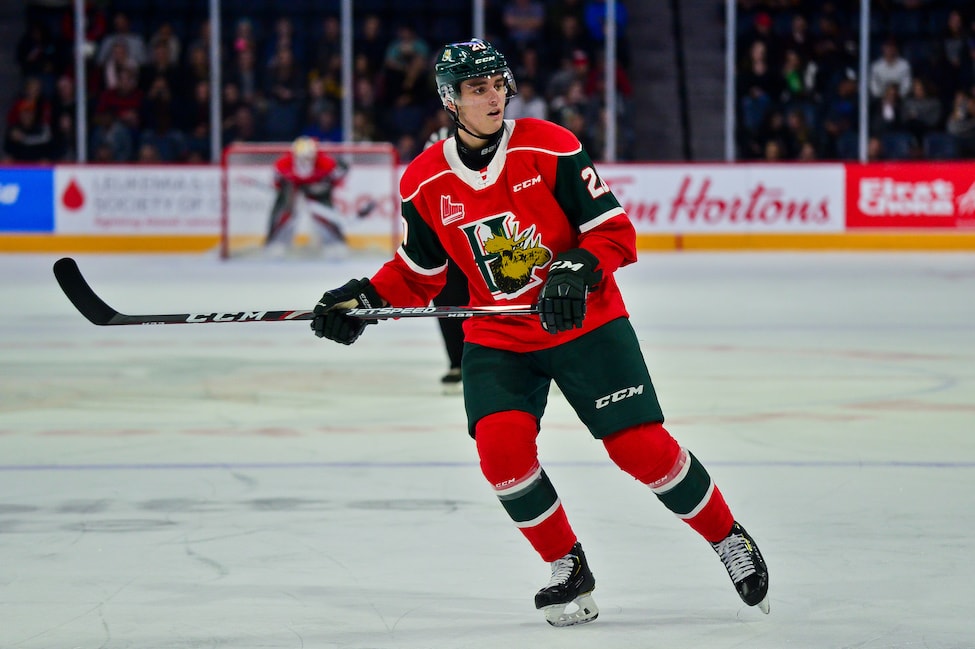 There really isn't much to say about Barron that I didn't already say about Byram. Canada's offensive production from the back end has been relatively quiet through the round robin games, and Barron has been right in the middle of it with two points in four games so far. It will be interesting to keep an eye on Canada's defensemen into the elimination games to see if they provide a little more of a spark offensively.
Drew Helleson (D) – Team USA
Helleson is the player I've arguably been most impressed with at this tournament. He has never been considered an offensive defenseman and it showed on paper following his post-draft season, where he finished his freshman season with Boston College with six points in 28 games. However, this year he has three points in four games for BC (obviously a small sample size, but it's something).
The States have one of the smaller teams in the tournament, and it looked to me like they opted to go with a more heavy, stay-at-home-esque defensive core to make up for the lack of size up front. And it seemed as though Helleson was a key part of that. Alas, he's third in scoring from the back end behind Philadelphia Flyers prospect Cam York and Los Angeles Kings second-round pick Brock Faber, so to see Helleson stepping up offensively for the States is a pleasant surprise.
The Avs have lots of young talent to look forward to for years to come, and it'll be exciting for any fan to keep tabs on how the future of Colorado produces when push comes to shove in the elimination games.
All the 2021 World Junior Championship Team Information:
Austria — Team Preview — Roster
Canada — Team Preview — Roster
Czech Republic — Team Preview — Roster
Finland — Team Preview — Roster
Germany — Team Preview — Roster
Russia — Team Preview — Roster
Slovakia — Team Preview — Roster
Sweden — Team Preview — Roster
Switzerland — Team Preview — Roster
USA — Team Preview — Roster
Selection Camp Invites by NHL Team
Draft Eligible Players to Watch
One Player to Watch for Each World Junior Team
7 Predictions for the 2021 World Junior Championship
---
---
Alex Hobson is a writer and a radio producer for 610 CKTB. He has been writing about sports since 2015 and has been with The Hockey Writers since October of 2020. He covers the Toronto Maple Leafs, World Juniors, and the NHL Entry Draft, and is also part of the Sticks in the 6ix Podcast, presented by THW. He also makes weekly appearances on THW's Maple Leafs Lounge Roundtable. For interview requests or any other inquiries, you can follow Alex's social media pages listed at the bottom of his articles like this one.