With the NHL Expansion Draft looming, the New York Islanders could lose two defensemen. The core of any hockey team needs top-flight d-men and the Isles have a talented group. With Ryan Pulock and Devon Toews in the AHL as well, the Islanders have organizational depth.
Islanders Forced to Make Decisions on Defence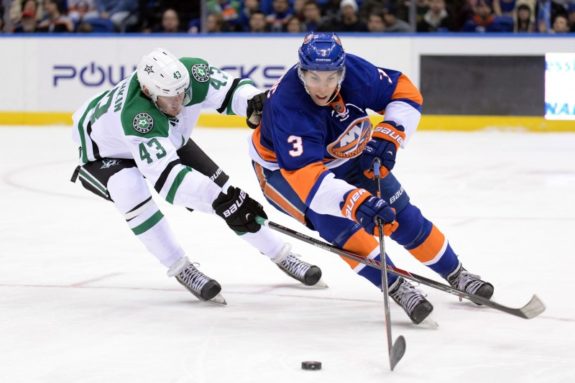 With the need to acquire a legitimate number two center and winger for John Tavares, the Isles may subtract from their defense. With Nick Leddy and Johnny Boychuk locked up, Thomas Hickey, Calvin de Haan and Travis Hamonic are all in danger of finding a new zip code for next season. The Vegas Golden Knights are all but guaranteed to take Hickey, de Haan or Hamonic. As a result, the Islanders may attempt to move one so they can get a return.
Luckily for the Islanders, Adam Pelech and Scott Mayfield have proven they can be solid NHL defensemen too. Although they don't have the skating or offensive abilities of Hickey or de Haan and lack the grit of Hamonic they bring their own set of skills to the table that could help the Islanders get back to the playoffs.
Pelech: Stay-at-Home Specialist in Training
There's nothing sexy about what Pelech does. Like former Islanders captain Kenny Jonsson, Pelech opts to make the smart play. Although a minus-5 this season, his play got progressively better. While he possesses a solid shot from the point, don't expect to see him on the power play much either.
Regardless, Pelech is one of those players that is dependable in his own end. With just six penalty minutes in 44 games this season, he's not going to take dumb penalties. Considering how many goals the Islanders gave up last season, Pelech's presence in a bottom defense pairing may be a blessing. With 10 points in 44 games as well, he might have more offensive potential than anyone thinks.
Scott Mayfield – Snarl Personified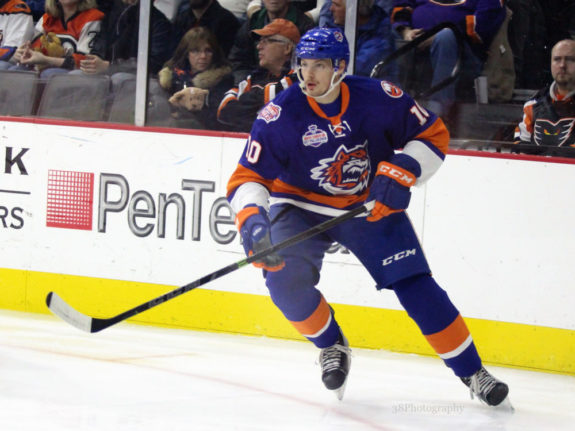 Mayfield is tailor-suited for the team that plays in Brooklyn. He's rough, he's rash, but he plays with heart. With Hamonic out for parts of this season, someone had to support the finesse players on the team. Mayfield was that guy.
At the same time, Mayfield's nine points in 25 games and tough play make him a guy that can do a lot of the things Hamonic does but he lacks the poise and skating ability. If he's paired with someone like Dennis Seidenberg however, Mayfield will develop into an excellent bottom-pairing defenseman in the NHL.
Islanders Have Options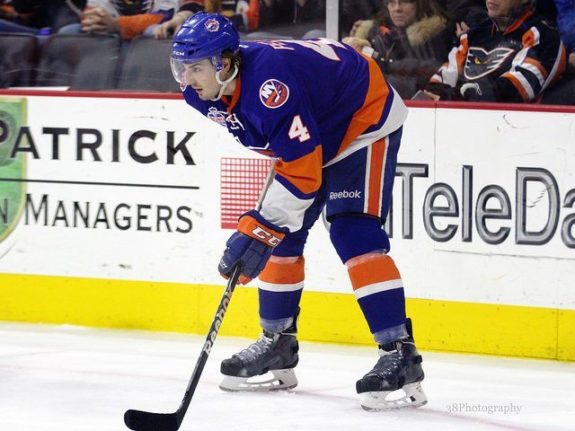 The Islanders are going to lose players this off-season. While the offense needs more of an overhaul than the defense, the Isles will have to subtract from their strengths to develop new ones. With Pelech and Mayfield ready, the Isles can afford to move or lose prized possessions like de Haan and Hamonic.