The longest-tenured New York Islander, Josh Bailey, will be looking for a new home this summer, according to general manager (GM) Lou Lamoriello. Bailey has been with the organization for 15 seasons and was drafted by the team ninth- overall in 2008. He has always been a smart two-way player that coaches can rely on. He has great vision, is an excellent passer, and is a great teammate. If he ends up moving on, he will finish third all-time in games played (GP) for the organization with 1,057.
Related: Islanders Would Be Wise to Re-Sign Semyon Varlamov
I argued earlier this season that it was time for the Islanders to move on from him, and it seems Lamariello agrees.
"In Josh's case, it looks like maybe it's near the end for (him) here," Lamoriello said. "In our situation, Josh and I have, I think, a man-to-man relationship as far as honesty, and we will work with him to help him. But my priority is doing what's best for the team" (from 'Islanders' Josh Bailey 'near the end,' Bo Horvat 'overused': Takeaways from Lou Lamoriello's presser,' The Athletic, 6/6/23). Lamoriello and Bailey seem to have had an end-of-season discussion, and the two agreed to part ways. It is bittersweet, but his play has declined, and the Islanders need the cap space and roster spot.
Bailey's Time With the Islanders
Bailey has been the "whipping boy" for fans for the past 15 seasons because of his inconsistent play. When he was drafted, the Islanders declined to send him back to his junior team, the Windsor Spitfires of the Ontario Hockey League (OHL), and instead, they kept him with the club his entire rookie season and, in hindsight, this hurt his development. He finished the campaign with 25 points, and the team thought he would take off from there, but he failed to put up more than 38 points for the next five seasons. Granted, the team overall was not very good, and when the Islanders started developing into contenders in 2014-15, Bailey's production increased.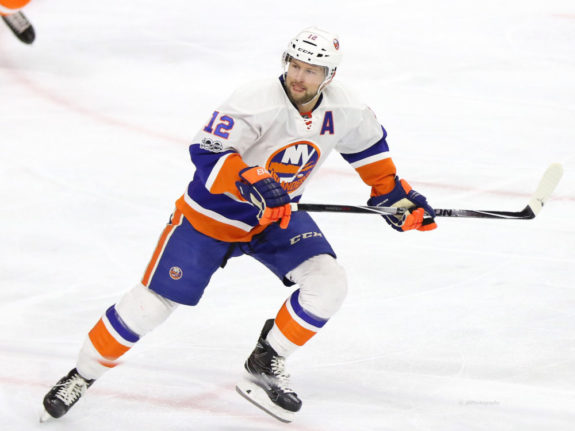 Bailey didn't find his stride until the 2016-17 season when he finished with 56 points. The next season, his production significantly increased to 71 points, and he made his first and only All-Star appearance. He found a lot of success playing on the top line with John Tavares, and the Islanders rewarded him for his career year with a six-year extension worth $5 million in average annual value (AAV).
In 2018-19, the team hired head coach Barry Trotz, and Bailey had another solid offensive campaign, finishing with 56 points. "With Bails, it's all IQ," Trotz said in 2019. "He's a cerebral player. He makes really intelligent reads, and they'll be some things, they're more subtle. You've got to watch him closely. If you're just looking for the wow factor, you probably don't see that in Josh. What you do see is all the subtleties and sort of the thinking man's player" (from 'Barry Trotz on Josh Bailey: Lacks 'wow' factor but gets the job done', Newsday, 4/12/19).
Related: Islanders 'Identity Line': How Much Mileage Is Left in the Tank?
---
Latest News & Highlights
---
Bailey found playoff success as well. His first memorable moment was during the 2019 Eastern Conference Quarterfinals against the Pittsburgh Penguins when he famously scored the overtime winner in Game 1. The Islanders went on to sweep that series, and he had the Nassau Coliseum crowd singing "HEY JOSH BAILEY". He was part of the "Killer B's" line with Brock Nelson and Anthony Beauvillier, and the trio had a ton of success leading the Islanders to back-to-back Eastern Conference Final runs in 2020 and 2021.
What's Next for Josh Bailey?
Bailey's time with the organization was also frustrating for fans. He showed spurts of offensive production throughout his career but was just too inconsistent. This season was easily his worst, and head coach Lane Lambert had him sit in the press box a few times, including the entire first-round playoff series against the Carolina Hurricanes – the biggest hint that his time on Long Island was over.
Bailey will be remembered for his loyalty, his high hockey IQ, and for being responsible defensively. There is no doubt he belongs in the Islanders' Hall of Fame, but it's still a smart move to part ways with the longtime veteran.
I expect Lamoriello to work with Bailey to facilitate a trade. However, his high cap hit, lack of production and offensive decline the past few seasons might make this difficult, and it's possible the team will buy out his contract. According to CapFriendly, this would save the team $1.6 million, enough cap flexibility to improve the forward group and their defense. Bailey might also enjoy the opportunity to find a place he can play and not be a healthy scratch every night. "As far as what my role is, obviously, if I'm gonna be sitting in the stands a lot, that's not something I want to do," Bailey said in May (from 'Josh Bailey facing Islanders uncertainty after late-season scratches', NY Post, 5/1/23).

There will be interest in the open market. A contending team might see Bailey as a great locker room addition who can help a veteran group. Maybe even Trotz, now GM of the Nashville Predators, would be interested in signing him if he becomes a free agent.
Bailey will be missed by many, despite the criticism, but if they do part ways, Lamoriello got this one right. It is time for a fresh start for both the team and longtime Islander.