The longest-tenured New York Islander Josh Bailey has been a mainstay on Long Island for the past 15 seasons. He has often been a topic of fans' frustration because of the lack of offense he produces as well as his high average annual value (AAV). He has struggled this year to produce much of anything offensively and head coach Lane Lambert has even had to healthy scratch him multiple times this season. Bailey has always been a smart and reliable two-way hockey player that coaches can rely on. He has great vision, is an excellent passer, and is a great teammate. He has stuck around the organization through some dark times. He has remained loyal in that aspect but it's come to a point where a divorce may be the best for both sides. He has one year left on his deal after this season with a cap hit of $5 million.
Related: Islanders Must Prove They Are Playoff Worthy on West Coast Trip
---
Latest News & Highlights
---
Over the years I'm not sure there is another Islander that I can think of that has had a love/hate relationship with the fans as Bailey has. The frustration has grown even more because of his lack of offensive production. For the past four seasons, he has yet to produce a season over 43 points. His best was with former Islanders captain John Tavares back in 2017-18 when he had a career-high of 71 points.
High Character and Quality Person
Throughout the majority of Bailey's career, he has garnered a lot of support from the coaching staff as well as his teammates. "You can't say enough about him," Lambert said. "And it's just his character. It's his personality and it's his character. He's a quality character individual who comes to work, no matter what (from 'Islanders' Josh Bailey comes up big despite diminished role, NY Post, 3/8/23).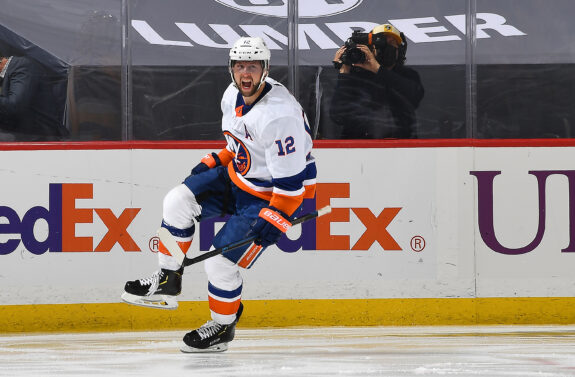 The same tone came from former head coach Barry Trotz who also favored Bailey and often spoke out in his defense. "With Bails, it's all IQ," Trotz said back in 2019. "He's a cerebral player. He makes really intelligent reads and they'll be some things, they're more subtle. You've got to watch him closely. If you're just looking for the wow factor, you probably don't see that in Josh. What you do see is all the subtleties and sort of the thinking man's player"(from 'Barry Trotz on Josh Bailey: Lacks 'wow' factor but gets the job done', Newsday, 4/12/19). There is no doubt Bailey has been a quality player for the majority of his career and an even better person.
---
---
There will not be one Islanders fan that will debate you on the importance Bailey has had on this franchise for the past 15 seasons. He was a key part of the core group that went to back-to-back Eastern Conference Finals. The famous "HEY JOSH BAILEY!" song has been jammed to a packed Coliseum during their playoff runs and fans will never forget it. He has also been a key contributor to the community off the ice. With all that said, there is displeasure with his performance throughout the entire fanbase and organization. The staff can't seem to find a permanent role for him as he's shifted up and down the lineup all year. He just hasn't been able to find a consistent rhythm in his game.
Time to Part Ways
Islanders general manager (GM) Lou Lamoriello has done his best to try and keep the core of this Islanders group together. Unfortunately for Bailey at this point there are better options on this team. When Mathew Barzal returns from injury, someone is going to have to come out of the lineup. It's certainly not going to be Hudson Fasching who has been quite the surprise for the Islanders over the past few months, and I don't think Lambert would consider benching any of the fourth-line trio of Matt Martin, Casey Cizikas, or Cal Clutterbuck. It's going to be hard for Bailey to find a place in the lineup if he doesn't improve his play especially if the Islanders can hang on to their playoff spot.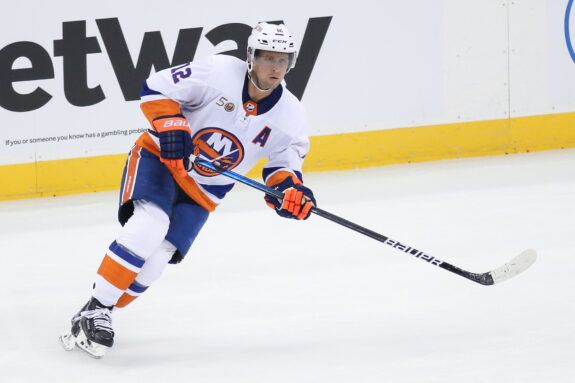 It's no secret that Lamoriello left Bailey exposed in the expansion draft back in 2021. The Seattle Kraken went on to take Jordan Eberle which in hindsight really hurt the Islanders. If the Kraken would've selected Bailey, they would have another 20-goal scorer in their lineup who already had chemistry with Barzal. Nonetheless, Lamoriello leaving him exposed shows he would consider moving him. The problem is at this point, who would really be interested? The 33-year-old has never had a season scoring above 18 goals. It's going to be hard to convince another team to take on his contract for one season unless Lamoriello retains some salary.
Related: 4 Takeaways From Islanders' 6-3 Win vs Ducks
The best method for the team might be a buyout. If they aren't able to find a taker via trade, then that would allow the Islanders to free up some cap space and Bailey can look for a new home. According to CapFriendly, a buyout would save them $1.6 million. The most important factor is that it opens up a roster spot for a young player such as Simon Holmstrom, Fasching, or even Oliver Wahlstrom when he returns from injury.
One thing that is clear is that it is in the best interest of the team and the player to move on. Bailey has been a phenomenal Islander, a great leader, and served the franchise well but all good things must come to an end. He may even have his number retired by the team one day. But for now, the Islanders need to bite the bullet and get ready to file for divorce.
---
---