After being acquired from the Pittsburgh Penguins last summer in the Jeff Petry trade, Mike Matheson's tenure with the Montreal Canadiens didn't start the way he wanted it to, but since returning from a string of injuries in January, the defenceman has been full value for his hometown team.
He's quickly established himself as a leader and a key piece for the Habs going forward not only because of the way he plays but also because of the way he carries himself and the example he sets for his teammates.
Still Getting Better
Matheson hasn't just been good for the Canadiens, he's managed to take his game to a whole new level in a short time. Despite playing on a young, decimated roster, the 29-year-old is thriving and exceeding the expectations of many.  He played well for the Penguins, especially last season and he's been even better during his first 36 games with Montreal. During that span, he's put up seven goals and 23 points. That's a scoring pace of more than 50 points over a full 82-game schedule which would impressively surpass his previous career-high of 31 points with Pittsburgh in 2021-22.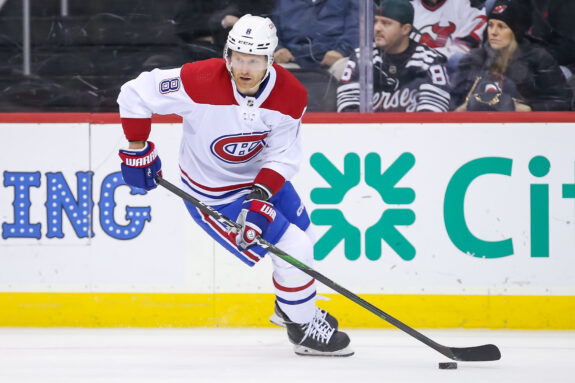 Matheson is the definition of a modern-day defenceman and epitomizes the way that head coach Martin St. Louis wants the Canadiens to play. He's one of the best skaters in the league and is naturally aggressive in all three zones and in today's NHL, speed kills. The result is that he can dictate the pace of the game and drive Montreal's highly effective transition game. His skating ability creates scoring opportunities and allows him to correct mistakes in the defensive end.
He's also helped stabilize the power play, providing the man advantage with a viable threat from the point since he can get his shot through to the net efficiently and because he can find his teammates in the right areas with his passing. Matheson has also been playing a ton of minutes in all situations lately to compensate for all the injuries on the Habs' backend.
He's a Keeper
Much has been made of the Kirby Dach trade that Kent Hughes pulled off during last summer's NHL draft and with good reason, but his acquisition of Matheson in exchange for an older Petry who wanted out of Montreal anyway was another stroke of genius by the Canadiens' general manager.
Related: Canadiens' Dvorak Injury Exposes his Trade Value 
He's the kind of young veteran the franchise needs at this stage of their rebuild. Not to mention that he was born in Pointe-Claire, Quebec on the West Island of Montreal and hasn't been shy about sharing the pride he feels when he puts the Habs jersey on. He's a great spokesperson to promote how special it is to play in hockey's most historic market.
---
Latest News & Highlights
---
Rumours surfaced ahead of the trade deadline that Matheson, who has three more years remaining on his contract after this one, might be moved as a means for Hughes to get the third 2023 first-round pick that he covets. That speculation proved to be unfounded, and it appears he'll be a Hab for the foreseeable future which is good news for him, the Canadiens, and the fans. Right now, his presence in the lineup is far more valuable than the kind of return he could potentially garner in a trade even though it would be rather significant.
It's no secret that playing for the Habs presents players with a unique set of challenges and that's especially true for Quebec-born players who often face unprecedented scrutiny. Matheson has not only handled the extra attention and pressure with class, he's also playing the best hockey of his career with the Montreal spotlight shining bright in his direction which shows how much this once-in-a-lifetime opportunity means to him.