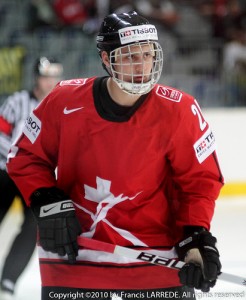 The New York Islanders hosted a prospect scrimmage and skills competition at the Nassau Coliseum yesterday, an event that attracted 4,940 fans to watch hockey in the middle of July. The game featured such prospects as recent draft picks Nino Niederreiter, Brock Nelson, and Kirill Kabanov. Others included Mikko Koskinen, Matt Martin, David Ullstrom, Aaron Ness and more. To fill out the rosters, many Long Island natives were invited to participate in the game as well. In fact, the first two goals of the game were scored by Long Islanders Danny Markowitz from Jericho and Joey Diamond from Long Beach.
Matt Martin wasn't shy with throwing his body around – after all, it's what he does best. And fans were treated to several flashy moves by Nino and Kabanov. Hamonic looked like a rock on the blue-line, ringing shots off the cross-bar and pinching in on the rush. It was weird for me sitting in the stands watching these guys play knowing that some of them could be my younger brother considering their ages. But that also means that they have plenty of maturing ahead of them.
"Some of these guys that are 17 years old are going to be a lot different when they're 19 or 20 when they turn pro," said Head Coach Scott Gordon after the game and skills competition.
"This whole week isn't about anybody coming to make the Islanders. It's about building team unity, camaraderie, so when they come to camp they know the coaches, they know the training staff, they know the players. It's an opportunity for them to learn how to be a pro."
When Scott was informed there were almost 5,000 fans at the game, he showed his support for those who follow his hockey team.
"It was great to see that many people have such an interest in hockey in the middle of July. The enthusiasm is good and it was a good ending the way the shootout was done and I think everyone went home happy."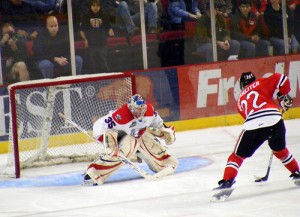 Although the game was fun to watch, it did go by fast. To make room for the skills competition, the game consisted of two 25-minute periods with running time, but that wasn't the only accommodation made to spice up the game. Each time a player was penalized, the obstructed player would get to take a penalty shot instead of his team gaining a two-minute power play. There were a few taken, but the most thrilling came from the 5th overall selection, Nino Niederreiter. He skated in with a few toe drags, lifted his leg to fake a shot, deked some more, and then slide the puck past the goalie's right leg-pad. It was a move that had the crowd roaring.
"It was great. Actually I was surprised that so many fans came into it to watch this game," said Nino when it was all over. He talked a little about his visit to Long Island but also told us about the players he wishes to emulate when he makes his transition to the NHL.
"I kind of try to be like Lecavalier actually and even I try to be like Kovalchuk. He's just a fantastic skater." It was no surprise that these two players were used in his answer after seeing the moves he was pulling.
But El Nino wasn't the only one displaying a fast set of hands with a sense of creativity. The famous Kirill Kabanov was making moves all over the ice. During the game, Kabanov came in and tapped the puck to himself in mid-air twice, spun around, and then smacked it out of mid-air but hit the side of the net. You could tell he's someone who feeds off the energy from the fans too. After every time he potted a point for his team in the skills competition, he put his arms up and looked at the crowd.
"I'm really excited about Long Island, New York is now my favorite city after Moscow (laughs)," he said after the game. "You always got to have fun when you're playing hockey. It's not only a job but just a fun game. It's like part of a show."
When one blogger asked him about the audience for the "show," he had nothing but great things to say about Long Island and its fans.
"It was pretty cool. I really like Islanders fans, they're like crazy (laughs). It's really cool. I like Long Island a lot. But they like I got a lot of tattoos and I can promise in less than one year I'll have one here, (points to his chest), like a big one, a map of Long Island. Really, I promise!"
Dee Karl from HockeyBuzz reminded him that he has to wait to turn 18 before he can get another tattoo in New York. All he had to say was, "But I'm Russian, you forget!" He only has to wait until next Friday for his birthday.
Like Nino Niederreiter, Kabanov idolizes Russian superstar Ilya Kovalchuk.
"I got the same coach like Ilya Kovalchuk. I got the same number, 17. I got, I don't know, the first letter in the last name, K," he said.
After sharing a few laughs I asked him what it meant to be drafted in the 3rd round despite being considered a top-10 talent in this year's class, if it was a source of motivation for him to prove that he can be a star in the NHL.
"I will try to work hard and do my best and I'll try to make the team as soon as I can," he said.
Over the past week, the prospects were treated to a Mets game at Citi Field. They got to meet season-ticket holders and get a taste of the American past-time.
"It was pretty fun actually. I was going into the crowd and shaking everybody's hands. I always like to see season (ticket) holders. It was pretty fun but it was just a little bit boring because the game is so slow and I was sitting there for like three hours and I'm just like, 'what are they doing?' I was just like, 'Oh my God Mets come on! Do something!' but there was like two home-runs in a row so I was like, 'Okay, here we go!'" said Kabonov. I'm sure some Mets fans were thinking the same.
Brock Nelson, the Isles 30th overall selection in this year's draft, was the first to score a goal for the Blue team. Nelson is fresh out of high-school and on his way to his freshman year at the University of North Dakota.
"It was fun. It was good to be out there to play the game with the guys and the skills competition. Just kind of laid back a little bit. It was good to be out there," said Nelson.
Although he's a recent draft pick, he still found it exciting to leap from a high school rink into an NHL arena.
"It was pretty awesome. I know it's a big jump but it was fun to be out here at the Coliseum and play with the guys out here and meet a few of them. It was a great experience."
As far as the way he played, Nelson felt that he needs to add more size but isn't too far behind.
"I felt I did pretty good. I know it's a little bit quicker, bigger guys that are stronger. But I felt right there. So, just to develop a little bit more and hopefully contribute a bit more."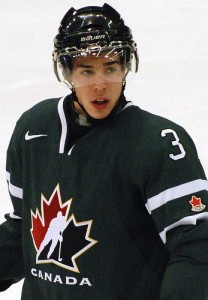 Travis Hamonic was the last one to come out of the locker room but had the most to say. After interviewing Travis back in October, I knew that he would be making a strong push to join the Islanders this year. After watching him play last night, I'd say he is pretty close and will give the coaching staff something to think about.
"I think I felt good. Obviously it's the first game of the summer and there's no systems really in place and guys are trying to get familiar with each other but a short game like this, the running time goes by pretty fast. But I think I felt really good out there and got my feet under me and kind of just played to my advantage which is being a stay-at-home steady guy," he said.
But Hamonic wasn't really playing a stay-at-home game. I reminded him that he did hit a shot off the cross bar and was seen down low by the crease a few times looking for a few opportunities.
"I think obviously the offensive side of my game has definitely grown in the last year and a half especially and I think I'm turning myself into a two-way defenseman. I'm not going to be that guy that's going to jump end to end and be the flashy defenseman but I'm going to pick and choose my spots when I have the chance and I'm going to make sure that I make the best of it. It's too bad I couldn't put that one bar down instead of bar out but those things happen and I think I'm very happy with the way I played tonight and I'm definitely progressing in the right direction."
The Islanders recently signed Mark Eaton and Milan Jurcina to play with five other defenseman that are under contract for next season, meaning if he wants a spot out of training camp, he's going to have to fight for it.
"Obviously the next couple of weeks and couple of months are going to be huge for me. Obviously I'm going to continue to put on a couple more pounds of muscle mass and grow and get stronger and get fitter in the weight room. It's going to come with skating. I got a good group of guys to skate with, a lot of pro guys back in Winnipeg. For me it's going to be all mindset and physical set."
"I definitely feel ready."
I had  the opportunity to meet Travis at one point in the season last year when he was visiting the Coliseum after being injured in the World Junior Championships. Back then the weather was still bitter cold. Now, it's been nothing but hot summer days. I asked him what it was like to see Long Island at different parts of the year.
"I love it. Obviously every time I've come down to New York I really enjoy it. It's a long way from the farm, that's for sure. A town of 450 people growing up, you take things a little bit differently when you come to Long Island. But the people have been great and I can't say enough about the fan base here. I've yet to play a game with the Islanders and there are obviously a lot fans that have taken to me and I'm very appreciative of that," he said.
Many of us were hoping to see Kirill Petrov play as well. However, Scott Gordon informed us after the game that Petrov sat out after getting a little banged up in the morning skate and felt it was unnecessary to play him in the middle of the summer before training camp starts. After all, better safe than sorry.
Although the prospects are the reason everyone gathered at the Coliseum in the middle of the summer, it was great to see my friends from the Blog Box and get to sit in the Old Barn to watch a game with them. I even had the pleasure of getting a game used puck after Robin Figren rang a nasty slapper off the cross-bar that flew over the netting and two rows behind our section in 215.
Isles fans should also check out YES! Islanders (www.yesislanders.com) as Johnny Z., a recent Blog Box audition, did a video shoot with fans before the game and some of the bloggers, including Dee Karl, Michael Schurlein, Ken Dick and myself. The video can be found here: http://youtu.be/WKCoXCWisSs
Isles fans that were in attendance got to see that they have plenty to be excited about over the next few years. It won't be long before these guys start shining for the Islanders all year round.