by Jas Faulkner, Nashville Correspondent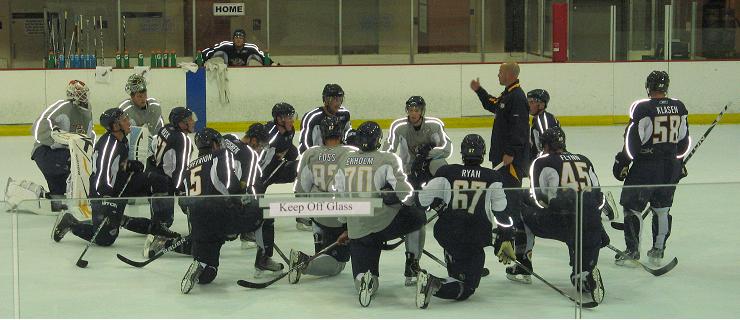 This report starts with Day Two because the first day, which is reported to consist of orientation, getting-to-know-you type stuff and team building activities (yay.) is closed to the public. So what happens at development camp? I entered Centennial Sportsplex hearing the low roar of sixteen pairs of skates speeding around the rink. In the off-season, its easy to forget how big most hockey players are. Seeing those guys whip around the ice at anywhere from twenty-five to thirty-five miles per hour was a reminder of how dangerous this sport can be.
While the director of player development and former Predator left wing Martin Gelinas yelled commands, the players surged around the ice. Drill after drill with the almost nonstop rasp of the blades was punctuated with shouted commands to "Keep going! Keep pushing!" and the sharp snap of the blade of Gelinas' stick hitting the ice as he signaled to the next group that it was time to go through their paces. The players skated around Gelinas, who drilled them on what would hopefully become their own personal intuitive grammar of gesture and response. Intricate, weaving skating patterns and running starts that required that everyone step over a line of hockey sticks at a run that would culminate into skating at top speed were executed repeatedly.
At the end of the rink, Colin Wilson worked with the apprentice goalies and their coach, passing the time by flipping the pucks up on the blade of his stick and sometimes returning a volley from a passing rookie as the goaltending coach stopped the exercises to give instructions.
There were some familiar names on the backs of the jerseys: Blum, Josi, Pickard, Budish, Roussel and there were some new faces with names that indicated a legacy attachment to the sport: Geoffrion, Bourque, Rask, Santorelli. There were no real standouts today, but there was no reason to find any. It was all about mastering and internalizing the basics. One thing that was abundantly clear was that everyone left their egos at the door and focused on the commands and the rhythmic snap of the stick followed by the swoosh of the skates as the players flew by, every thought turned into the short, sharp shock of reflexive muscle memory as it all came down to skating, skating, and skating some more. The stray pucks that would sometimes glide aimlessly around the players -and were often too hard to resist the random slap at- will be the point. Eventually. But for today it was all about speed and strength and turning over will and ego in a way that was the closest thing hockey can become to a religious surrender.
Jas Faulkner is a minimally socialised writer and artist who lives and works in Nashville, Tennessee. She hearts her attitude problem.