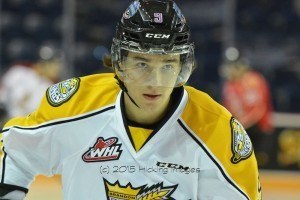 The Philadelphia Flyers used their first first-round draft pick on the Russian defenseman Ivan Provorov. He was considered one of the best defenders in the 2015 NHL entry draft, and the Flyers had their sights set on him for weeks prior to the draft.
Ron Hextall worked some magic at the draft and not only selected Provorov, but also was able to acquire a skilled wing, in Sam Gagner, at virtually no cost to the franchise. Sources reported that the Flyers were actually trying to move up a few picks to ensure they could select Provorov because they valued him that much. He's a very skilled defender, but that does not mean he can't contribute offensively. In his first season for the Wheat Kings he put up 15 goals, 46 assists for 61 points and was a +36 skater.
Is Ivan Provorov Ready For NHL Play?
At only 18-years old Provorov might actually be one of the Flyers best defensemen this season, assuming he makes the NHL roster out of training camp. Many have said that he is only 18, but has the skills of a much older player and it seems that the Flyers scouts believe the same thing. Here's what Flyers scout Todd Hearty had to say about Provorov.
I don't like to make bold statements, but I think he (Provorov) could come in and just be one of the better defensemen on the team in training camp. They are going to see this guy and go 'whoa'
It's quite high praise for a defender who has yet to play an NHL game and he's a very hungry young man. Provorov doesn't want to play another year or two of junior hockey and he actually believes that he is ready to jump to the NHL. If he proves to be as good as advertised, Provorov could actually be one of the Flyers top defensemen this season. Philadelphia has been held back by their poor defensive play in recent years and he wants to be part of the solution, not the problem. In fact, Provorov actually had been wanting the Flyers to select him since he was a very young kid.
I was hoping the Flyers would pick me. It happened and I'm really happy that they picked me. It's been a dream of mine to get drafted since I was five years old and it finally came true
The Flyers have had the forwards to compete in the playoffs, but they had been held back by mediocre goaltending and poor defensive play. Well, they have solved the goaltending problem and it now looks that their defense will improve over coming seasons.
Provorov will have a tough time making the NHL roster, but if he works hard enough, anything is possible. Look at the Pittsburgh Penguins' Olli Maatta, he was not even projected to make the roster, but he made the team and has been one of their best defensemen ever since. Provorov has the chance to do the same thing with the Flyers and it's going to be quite exciting following his development over upcoming months.