There is no denying that one of the most exciting times of the year for hockey fans is the beginning of free agency on July 1st. With so many guys on the move, the make-up of the following NHL season is constantly evolving. In the current salary cap era, July 1st doesn't just bring about the movement of free agents, it also carries the potential for major names to be dealt in an attempt to better utilize a team's cap situation – perhaps to sign said free agents. Thus far, the 2015 free agency period has not disappointed. Let's look at a few player signings, by position, that will be sure to impact the 2015-16 season.
Goaltender – Michal Neuvirth (Signed by Philadelphia)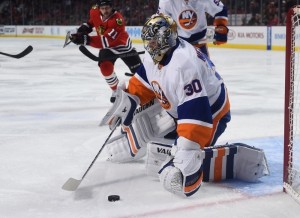 It's no surprise that the Flyers have spent years searching for a stable tandem of goaltenders to help lead them deep into the playoffs. Number one netminder Steve Mason has helped to solidify the position although injuries have derailed his progress the last few seasons. He missed the first handful of games against the New York Rangers in the opening round of the 2013-14 Stanley Cup Playoffs with a concussion and was shelved multiple times this past season with lower body injuries. In each case, the Flyers turned to backup goalie Ray Emery who admirably filled in with mixed results. Emery doesn't have the quickness and lateral movement that once made him a top goaltender and thus, the Flyers struggled in front of him. Flyers General Manager Ron Hextall made it a priority to target a new backup in free agency and did quite well by locking up Michal Neurvirth for two years with a reasonable cap hit of $1.625 million. The 27-year-old Neuvirth split last season between the New York Islanders and Buffalo Sabres, the latter of which especially contributed to his less than desirable numbers. Overall, he has produced a solid seven-year career in which he is 66-63-17 with a 2.73 goals against average and 0.912 save percentage.
Hextall is content and had the following to say about his newly acquired goalie:
"We think we brought in a real good goalie that's going to give us a real solid backup, and I'm sure he's probably going to play more than the typical backup. We're excited about it."

"He's a proven goalie. He's a good goalie, and one of the attractive things for us with a backup goalie is God forbid something happens to Mase (Steve Mason) he can carry the load. He's done that in the past."
Neuvirth will be wise to get down to business sooner than later in his preparation for the season as the Metropolitan Division has gotten exponentially stronger. If he can produce a solid season along with Mason, the Flyers will have a chance of nabbing one of the Eastern Conference's last few playoff spots.
Defense – Mike Green (Signed by Detroit)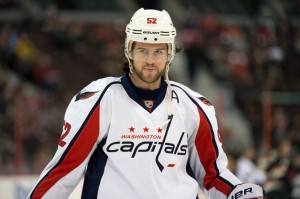 Although Green was one of the better defensemen on the market, he likely had a smaller list of suitors due to the salary he would be sure to command. After Washington made it known that they would not be resigning the 10-year veteran, Detroit became a front-runner as they were willing to pay his request of $6 million annually and did so for three years. Green instantly makes the Red Wings a better team and first year coach Jeff Blashill has already started to formulate where he fits in the lineup.
Early indication from #RedWings coach Jeff Blashill is he'll pair Mike Green with Danny DeKeyser, keep Kronwall & Ericsson. 3rd pair TBD

— Helene St. James (@HeleneStJames) July 1, 2015
Green is a workhorse who has averaged just over 22 minutes per game in his career and can be a key player on special teams. He has scored 10+ goals in a season five times and is a threat from the point that opponents cannot take lightly. He'll provide an additional veteran presence to a group who is getting younger with the intent of competing for years to come.
Defense – Paul Martin (Signed by San Jose)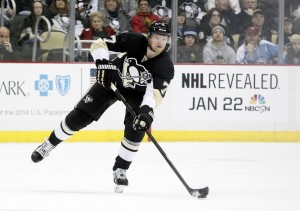 Perhaps the biggest news of July 1st was the trade that sent Phil Kessel from Toronto to Pittsburgh. Penguins fans were likely salivating over the though of a top line pairing with Sidney Crosby or the idea that Pittsburgh just became that much harder to beat in the new 3v3 OT period. While Pens fans have every right to be excited for what may become, they shouldn't look past the fact that the already anemic defense is in worse shape with Paul Martin signing in San Jose. It was no secret that his days in Pittsburgh were numbered, however, he was one of the team's more solid defenders behind Kris Letang.
Martin signed a four-year pact with the Sharks for $19.4 million and immediately becomes a key player on a blue line headlined by Brent Burns, Marc-Edouard Vlasic, Justin Braun and Brenden Dillon, the latter of whom just signed his own new deal to remain with the club. New coach Peter DeBoer will be able to count on Martin to play heavy minutes as he averaged over 20 per game during the regular season and almost 25 per game in the playoffs. He won't light up the scoreboard from the blue line like Burns will, but won't need to on a team that is focused on moving forward after a very active beginning to the offseason in which they have acquired goaltender Martin Jones and also signed free agent forward Joel Ward.
Right Wing – Justin Williams (Signed by Washington)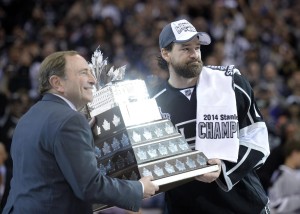 The Washington Capitals made a splash by sending Troy Brouwer and change to the St. Louis Blues for T.J. Oshie, a dangerous right winger who will likely see time with some of Washington's big guns. While that 'blockbuster' is huge in and of itself, the Caps made another move forward by signing Justin Williams to a two-year, $6.5 million deal. Washington is a team on the cusp and for whatever reason, they seem to find themselves going deep in each playoff series they are a part of. That should serve the 16-year veteran just fine as he has been tabbed 'Mr. Game 7' for his heroics when it's mattered most.
#Capitals sign Justin Williams:

Game 7 victories

Justin Williams: 7
Capitals franchise history: 4

— Sportsnet Stats (@SNstats) July 2, 2015
The 33-year-old is still good for 40-60 points per season and brings a level of leadership that coach Barry Trotz will welcome with open arms. It's no surprise that success follows Williams wherever he goes; he is a three-time Stanley Cup Champion and won the Conn Smythe in 2013-14. With Pittsburgh acquiring Phil Kessel and the Columbus Blue Jackets dealing for Brandon Saad, the Capitals are making it known that they are stocking up their arsenal as well in the Metropolitan Division.
Left Wing – Matt Beleskey (Signed by Boston)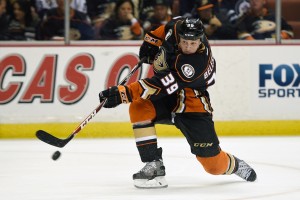 One of the most anticipated free agents on the market was Matt Beleskey, a player who has not scored more than 32 points in an NHL season. The 27-year-old left wing made a name for himself this past year by netting 22 goals and added an additional eight tallies in the playoffs while mainly playing with Ryan Kesler. Most pundits figured that Beleskey would be courted and signed for $5 million plus per season, however, he chose term (five years) and a chance to win by signing with the Boston Bruins for less than $4 million annually.
Boston General Manager Don Sweeney has been under the microscope since trading Dougie Hamilton to Calgary and Milan Lucic to Los Angeles while acquiring assets he feels will move the team forward. His first round, back-to-back-to-back selections were potentially against the grain, yet thought out (as Cat Silverman from Today's Slapshot writes). He made B's fans scratch their heads by dealing a third round pick for Philadelphia's Zac Rinaldo, but then acquired a first rounder for Martin Jones and brought in Jimmy Hayes from Florida while getting out from Marc Savard's contract.
With all of that said, Beleskey was the main attraction. He's the left wing that can now gel with a healthy David Krejci and bring stability to the lineup in the absence of Lucic. After a successful run with Belleville of the OHL with 221 points in 257 games, Beleskey has gotten progressively better in each NHL season and figures to continue to do so in Boston, where Cam Neely, Sweeney and company want to see more of the following:
Center – Antoine Vermette (Signed by Arizona)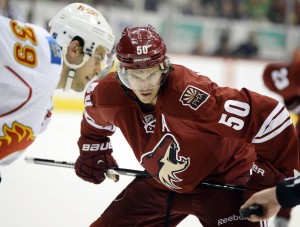 This signing in Arizona is essentially hockey's version of a fairy tale ending. Arizona received a first round pick from the Chicago Blackhawks last season (which they used to draft Nick Merkley) in return for Antoine Vermette, who won the Stanley Cup as the 'Hawks defeated the Tampa Bay Lightning in six games. Having never wanted to leave the desert, Vermette brings his Cup victory back as he signed a two-year deal worth $3.75 million annually.
The Coyotes got Klas Dahlbeck, Nick Merkley and Antoine Vermette out of the Antoine Vermette trade. Maloney! https://t.co/uzgxblpcFN

— Chris Peters (@chrismpeters) July 2, 2015
At 32 years of age, Vermette is still a productive player who will be looked upon to play between 17-19 minutes per game and provide veteran leadership to younger players including enigmatic forward Max Domi. While Vermette's Cup-winning team is undergoing changes this offseason to reduce salary, his new-yet-former club is taking measures to add salary and talent in the hopes of climbing out of the basement and back into contention in the near future. Mixed with a growing nucleus of young prospects, Vermette seems poised to help this movement along.
What would your All Free Agent Team look like? Drop me a note in the comments and/or on twitter @healedbyhockey