Happy Independence Day American readers!
It has been an interesting couple of weeks in the NHL to say the least. With the NHL Awards, the 2015 Entry Draft, and a rather chaotic start to free agency, there has been plenty to keep up with. The Blues have surely had their part in the festivities, but they might have more moves up their sleeve.
A handful of elite free agents remain unsigned and available for teams like the Blues that are looking to fill a spot or two. While St. Louis has 20 players under contract not including a group of 21 elite prospects, signing a player with NHL experience and skill for a relatively small contract wouldn't hurt. Below are the top three players St. Louis should consider signing if the price is right.
Alexander Semin, Right Wing
The 28-year-old Russian forward signed with the Carolina Hurricanes during the off-season prior to the 2012-2013 season and then got a five-year extension in the Spring of 2013. Semin was subsequently bought out by the Canes on June 30th of this year and hasn't signed with an NHL team or one overseas.
Why would the Blues want Semin? He's a proven goal scorer in the right circumstances and if he can get back to playing like he did in 2009-2010 when he had 84 points (40G, 44A) the Blues could definitely use him. The only problem is the uncertainty of whether or not that will happen.
Contract-wise Semin would certainly take a pay cut if he wishes to remain in the league considering the $7 million he was making under his five-year contract with Carolina. The Blues should only make the deal if they can get him to sign a one-year deal for no more than $2 or $3 million.
Chris Stewart, Right Wing
As a part of the 2011 trade that brought Kevin Shattenkirk to the Blues, Stewart remained in St. Louis until being traded to the Buffalo Sabres in 2014, which brought Steve Ott and Ryan Miller to the Gateway City. From there he was traded on the trade deadline last spring to the Minnesota Wild in exchange for a second-round pick in 2017. Now he finds himself without an NHL contract.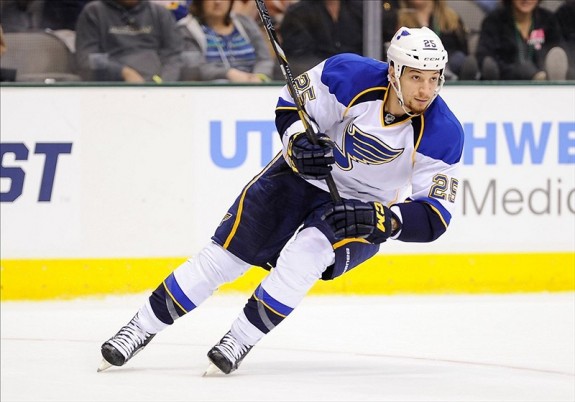 Stewart's style of play is aggressive and not very offensively effective. He's the type of player that is dying out in today's NHL just purely because of the skill level incoming players have achieved, but that in no way means he couldn't help St. Louis out. Physicality is a mainstay in Western Conference teams and in order to compete teams have to stay competitive in that regard as well.
Stewart fills that fourth line role perfectly with his 6' 2", 228lb. frame; but the question really is whether or not he's a necessary addition.
Johnny Oduya, Defenseman
As a member of the Blues' biggest rival Chicago Blackhawks Oduya won two Stanley Cups and averaged just under 25 minutes a game. He's a stay at home defenseman with good hands and the ability to get the puck out of the defensive zone efficiently.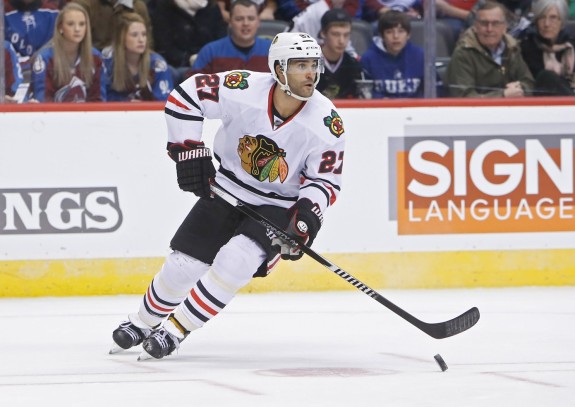 With his previous cap hit of less than $4 million, Oduya could be a great steal for the Blues. His overall style of play would make him a versatile defender on nearly any pairing, despite his lack of power play skills. Not to mention the added bonus of taking a Blackhawks defender and putting him in a blue note jersey.
The issue is that Oduya has had conversations with Chicago about a new deal and would likely want a lot of minutes so he could take on a new role, which may not be of interest to the Blues.
St. Louis in no way has to sign the aforementioned players to find success. They might not purely because there are other pieces that need attention in the organization, with the most important of those being RFA Vladimir Tarasenko who still remains without a new contract for next season. However, if they can sign a guy like Semin and he performs the way he can, St. Louis would have made one of the best signings of free agency this year.
Is there another free agent you think the Blues should consider? Leave your thoughts in the comments and, as always, thanks for reading!