Depth of Canucks Blue Line Still Lacking
One of the question marks for the Canucks' roster heading into this summer was how their defense would shape up, and despite a flurry of recent transactions, there's work that still needs to be done on Vancouver's blue line.
It became clear heading into the offseason that trading longtime Canuck Kevin Bieksa was probable, as the 34-year old carried a $4.6 million cap hit with one year left on his contract. A deal was finally made on June 30th after much speculation, sending Bieksa to the Anaheim Ducks for a 2016 second round draft pick. Moving Bieksa cleared a good deal of cap space for Vancouver and opens the door for young players such as Adam Clendening, Frank Corrado and newly signed Matt Bartkowski to step in and play a role next season. But granting any variables in the lineup during the regular season, the Canucks don't appear to have the depth of players on their back end that will help Vancouver be competitive in 2015-16.
My concern with #Canucks is that defence that struggled mightily vs Flames still remains for most part: Elder-Tanev Hamhuis-Weber Sbisa-???

— Jeff Paterson (@patersonjeff) July 2, 2015
While Clendening, Corrado and Bartkowski all deserve cracks at the lineup, the Canucks can't expect much for next season if they don't have six NHL ready defenseman, and unrestricted free agent Cody Franson would be the perfect addition to their plans.
Great Timing for Canucks to Land Franson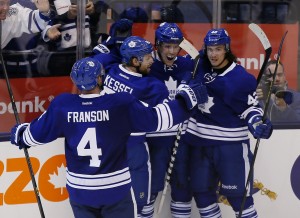 The Sicamous, BC native Franson will turn 28 this summer and is coming off a lackluster finish to the 2014-15 season. He was traded by the Toronto Maple Leafs in February to the Nashville Predators, the team that drafted him 79th overall in 2005. In a multi player deal that sent Franson and center Mike Santorelli to the Predators, many believed they had the finishing touches to make a Stanley Cup run. However, neither player lived up to expectations en route to Nashville's first round playoff loss to the eventual cup champion Chicago Blackhawks. Franson tallied a goal and three assists in 23 regular season games for the Preds, as well as two assists in five playoff games. Franson should, however, bounce back and play a large role on the team he signs with.
In the back half of 2014-15 with the Predators, he averaged just 15:25 in ice time per game, and certainly is capable of playing a top-four role. With the departure of Bieksa, the Canucks could use an extra right handed shot on their blue line. Franson would most likely be paired with Dan Hamhuis in Vancouver, who he played alongside with in Nashville earlier in his career.
Bieksa brought a great deal of toughness to the Canucks' back end, but the 6-foot-5, 213 pound Franson holds his own, and physicality has become a large part of his game. While he has been criticized defensively at times in his career, analytic stats show Franson ranks among the NHL's best in a number of important categories. He also is very potent offensively, and would fit as a cog in the Canucks unit quarterbacking their powerplay. Franson's best offensive campaign came in the lockout-shortened 2012-13 season, when he posted 29 points in 45 games for the Leafs – good for a .64 PPG average, which would translate to 53 points in a full season. Vancouver hasn't had a 50-point defenseman since Christian Ehrhoff (50 – 2010-11).
What's Holding Vancouver Back?
The Leafs handed Franson one-year contracts for three straight years, topping out at $3.3 million during the 2013-14 season. Based on Franson's skillset and UFA defensemen such as Andrej Sekera, Paul Martin, Mike Green and Francois Beauchemin being handed large contracts with new teams already this summer, it's fair to predict Franson is due for a big payout.
What may hurt Franson's value is the lack of production he had with Nashville at the end of last season, despite being stuck in a lesser role than what he's capable of. Jim Benning and the Canucks only have about $4.2 million in cap space remaining, and are all but guaranteed to resign RFA's Sven Baertschi and Adam Clendening. However, with the possibility of still trading some long time Canucks, there could be additional cap space which would make signing Franson much easier.
ICYMI. Free agent Cody Franson hopes Toronto calls and would love to see Vancouver in the mix: http://t.co/hZExzvDAT5 pic.twitter.com/kVoh9zQr5u

— Hockey Central (@SNHockeyCentral) May 26, 2015
The Pacific division should shape up to be a tough place to play for Vancouver, and when considering the blue line depth of fellow division rivals and major acquisitions this offseason by several of them, the Canucks will get burned if they continue to stand and watch. The likes of their young defensemen may pan out, but hoping on that could make for a long year in Vancouver. And barring any injuries, these potential defensive holes could be craters during the season.
What Franson brings to the table is an experienced defenseman who can match up with the best players on any team. The BC native Franson, who played three full seasons with the Vancouver Giants in the WHL, would be open to a homecoming with the Canucks this summer. He previously stated his interest in potentially playing in Vancouver:
"It would be a very intriguing spot, three years with the Giants, Vancouver is a very interesting place to play… I want to play in roles that make me earn the money [Franson and his agent, Gerry Johannson] are going to be asking for, the power-play role is huge for me".
One thing that's clear is the Canucks still are missing a key piece in their defensive unit, and adding Franson would likely be the easiest and most sensible player to fit into this spot. If the price is right for both the Canucks and Franson, then he very well could end up in Canucks jersey come next season.