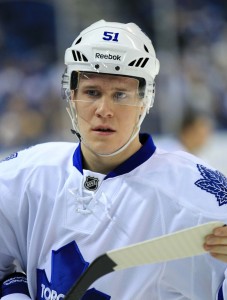 The Toronto Maple Leafs were looking to make an organizational change and produce a young, skilled player. They were able to swing a deal with the Anaheim Ducks that saw the Maple Leafs acquire Joffrey Lupul, Jake Gardiner and a conditional fourth-rounder in exchange for Francois Beauchmin.
The centrepiece of the deal was undoubtedly Gardiner. The young defenseman possesses many skills that with the proper training, could potentially make him one of the best players on the Blue and White. Having now had a few seasons under his belt as a Maple Leaf, Gardiner remains a sort of mystery to the organization and its fan base.
What I mean by that is that Gardiner has a lot of talent. He's a dynamic and fluid skater that has the ability to leave the opposition's head spinning as he races by. He possesses a good shot and is able to get it towards the net through traffic. Gardiner also has good offensive instincts and relatively strong possession numbers. On the flip side of that, the former Ducks first rounder often has brain cramps that lead to defensive lapses and bad giveaways that often end up in either a goal or solid scoring chance. He is also criticized for not being physical or tough in his own zone.
Patience is Key
Gardiner is a polarizing figure for those exact reasons. You get glimpses of the immense talent, but also see the numerous defensive miscues. He is an enigma that no one has been able to solve. I believe that the key to solving Gardiner's game is simple. Patience.
Gardiner is young and at only 24 years old, still has a lot of growing and maturing ahead of him. NHL players typically hit their prime around the ages of 28 and 29. It's also typical of today's NHL defensemen to develop slower than forwards based on their position and the thinking and skill that goes into it.
He has Youth on His Side
He has only played in 246 games which equates to about three full NHL seasons. That isn't a ton of games. Gardiner is still very much in the development stage of his NHL career despite turning 25 in the near future. He has also put up 89 points in the games he has played. That's solid production and it can be argued that he will produce more as he matures and the overall Maple Leafs team improves.
The Maple Leafs are finally going to attempt a proper rebuild and as such, are poised to overhaul their roster. If they do begin trading veteran assets, it will be up to the younger players to assume leadership based roles. Jake Gardiner fits incredibly well into a rebuild scenario. He would be looked to as one of the young leaders on the team and would help with the adjustment of the new up and coming players.
He's on a Cap Friendly Deal
Gardiner is also signed to a cap friendly deal. The native of Minnetonka, Minnesota, signed a five year deal that will pay him $4.05 million until the 2018-19 season. If Gardiner ends up becoming a dominate defenseman in the early years of the contract, then the Maple Leafs could have a steal on their hands in the latter years of the deal.
Give Gardiner 300 NHL games. It's not possible to get a true picture of the player you have until they have played that many games. Patience is the key for Gardiner's development. He needs to cut down on the defensive lapses and play a simple game.
Maybe a fresh coach will help. Gardiner often found himself in the doghouse with both Randy Carlyle and Peter Horachek. With a new coach inbound, maybe Gardiner will be able to play a style that more effectively suits him on the ice.
The young defenseman has many incredible gifts that are readily apparent to all who watch him. He needs time and confidence to help speed his development along. Gardiner plays a very high-risk, high-reward style. It would be a complete shame if the Maple Leafs gave up on him without seeing his full potential realized.
My name is Anthony Fusco. Through school, I completed a joint degree involving an Honours B.A. in Journalism from Wilfrid Laurier University and a Videography and Broadcasting degree through Conestoga College.
I currently work for the University of Toronto as a Varsity Sports Announcer and for the Toronto Maple Leafs as part of their game presentation squad.
I'm also the play by play voice of the Kelowna Falcons, a baseball team located in British Columbia.
My goal is to one day be a hockey broadcaster.