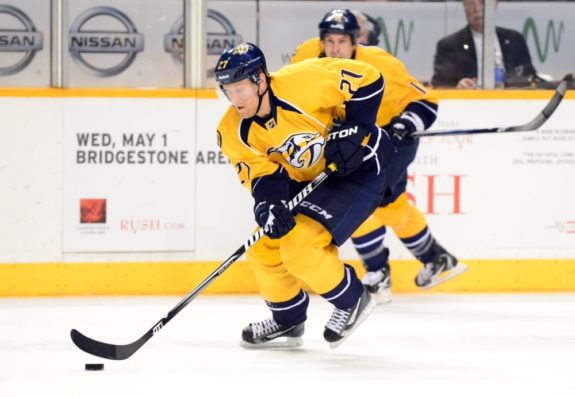 PHILADELPHIA — Former Pittsburgh Penguins GM Ray Shero used to preach that the team who received the best player in a hockey trade often ended up winning the deal.
When Shero acquired James Neal and Matt Niskanen from the Dallas Stars in exchange for Alex Goligoski back in 2011, he probably received the best two players in the deal.
New Penguins GM Jim Rutherford doesn't care.
Jason Farris profiled Rutherford in his GM book 'Behind the Moves' a few years ago and this comment from Rutherford was telling:
"I've made deals where I know the other team is getting the better player, but I knew what I needed. Sometimes you've got to trade a better player to get what fits what you ultimately need."
Rutherford's trade of Neal on Friday at the NHL Draft in Philadelphia was the GM equivalent of throwing Shero's belongings out of the house and onto the front lawn.
The Ray Shero era is officially over.
Rutherford didn't get the best player — the combined per-game goal scoring of Patric Hornqvist and Nick Spaling (0.47/game) doesn't match Neal's (0.49/game) over the past three seasons.
Rutherford didn't even maximize his return — another of Shero's mantras.  He claimed that he spoke with 15 teams on Neal before settling on a deal that feels like a lateral move at best.
If Neal's supposed character issues on and off the ice were a major factor, why did half the league show interest in the first place? I'm convinced a hefty return was out there to be had and Shero would have found it.  I'm not sure Rutherford cares.
He wants the right fit (and obviously felt Hornqvist and Spaling were the right fit).  In Farris' book, Rutherford openly discussed how he's even willing to overpay to get the guy that he wants.
"When I'm in one of those years where I think we've got a good run in us, I don't care what the price is for a player — I'll overpay for the player.  Doug Weight is the best example…I made that deal five or six weeks prior to the deadline and jumped in ahead of the wild trading…That need for a player like Weight was identified all the way through the first half of the 2005-06 season. We were not strong enough down the middle…I called Blues GM Larry Pleau several times, several conversations. It became a matter of me asking, 'So Larry, when are you going to do this? If you do it now, I'll give you extra,' and then things started rolling along."
So where does this leave the Penguins heading into July 1?
Rutherford acknowledged that Evgeni Malkin is probably going to head into the season with two new wingers, but said the Penguins have taken advantage of the free agency interview period to talk with a number of players.
"We think we'll get somebody that will fit on his line," he said.
The logical fit is Nikolai Kulemin, who played on Malkin's line with Magnitogorsk of the KHL during the lockout.  Some local outlets have even reported that Kulemin and Malkin are 'best friends', perhaps influencing Kulemin's decision or price tag.
No one at the draft this weekend was able to confirm that, but you can still expect the Penguins to stay in touch with Kulemin and his agent Gary Greenstin.
I think the better free agent fit on Malkin's line is Milan Michalek.
Michalek, 29, has speed to burn and has shown the ability to produce with high-end players in the past. He's tough to knock off the puck and can contribute on both the powerplay and penalty kill.
Based on his confident comment, maybe Rutherford already has a deal in place with a winger for Malkin's line, prompting him to move Neal out efficiently as opposed to effectively.
That can be a dangerous gameplan though.  Until the pen is on paper on July 1, anything can happen.
Just ask Ray Shero about Marian Hossa…
---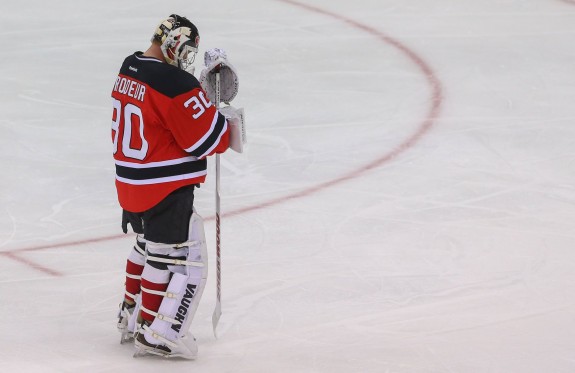 Reshaping the Roster
Louis Jean at TVA Sports spoke with Pat Brisson, the agent for Martin Brodeur, on Saturday.  Brisson confirmed that Brodeur will not be back with the New Jersey Devils next season and the Penguins are one of six teams interested in a one-year deal for his services.
If Pittsburgh sticks with Marc-Andre Fleury in net, they can't afford to give Brodeur much more than the league minimum of $550,000.
Backup goaltender Jeff Zatkoff signed a two-year extension with the Penguins ($600k AAV) and would require waivers to be demoted to Wilkes-Barre (AHL).
Are the Penguins willing to lose Zatkoff for nothing to get Brodeur for one year?
Probably not.  But there's no guarantee Marc-Andre Fleury will be with the Penguins next season either.
If Rutherford can't (or won't) sign sign Fleury and defenseman Paul Martin to contract extensions as they head into the final year of their contracts, he needs to consider trading both.
Like Fleury, Martin's reputation has bounced back a bit since his struggles in 2012.  A number of Cup contenders would be interested in adding a defenseman like him who can play 25 minutes a night against top competition and contribute on both special teams units.
The sense I got this spring was that the Penguins — under former GM Ray Shero — planned to entertain trades of both Neal and Martin at this weekend's draft.  Perhaps Rutherford has a different take?
Shoulder injuries to Olli Maatta and Derrick Pouliot also challenge the Penguins' defensive depth for the first half of the season meaning that any trade of Martin might have to bring back an top-four defenseman.
The other option would be to pursue a solution via free agency.  Shero attempted to do this last season when he brought in Rob Scuderi, knowing that it'd be difficult to retain Brooks Orpik at a reasonable price this summer.
One player that makes sense for Pittsburgh is Stephane Robidas.
Robidas brings elements of Martin (strong on the breakout), Orpik (physicality), and Matt Niskanen (right handed shot for the second powerplay unit).
He's looking to head to the Eastern Conference after spending time with Dallas and Anaheim last season. At 37, coming off two broken leg injuries, he'll probably be looking for a multi-year deal in the $3-4 million range.
---
Musical Chairs
The Penguins draft table this weekend had a different seating chart than prior years.
Ray Shero preferred to be flanked on one side by assistant GM Jason Botterill (literally his right hand man) and on the left by co-Directors of Amateur Scouting Jay Heinbuck and Randy Sexton.
It was interesting to watch the new group interact as the James Neal trade came to fruition on Friday night.
Sexton sat to the left of Rutherford followed by Heinbuck.  Sexton and Heinbuck were engaged in conversations the entire evening as the first round unfolded.
Co-owner Ron Burkle sat directly to Rutherford's right followed by President David Morehouse, Botterill, assistant GM Tom Fitzgerald, and VP of Hockey Operations Jason Karmanos.
The #Pens table at the 2014 #NHLDraft! So much anticipation. pic.twitter.com/CAe0jJEhEM

— Pittsburgh Penguins (@penguins) June 28, 2014
I can't recall Burkle being at any recent drafts and Morehouse often sat opposite Shero at the other end of the table.
Prior to the first selection at 7pm, Rutherford engaged in chats with Nashville GM David Poile and Colorado Coach/VP of Hockey Operations Patrick Roy.  The St. Louis table was next to Pittsburgh and representatives from the Blues front office also seemed to be in on trade discussions.
As the draft got underway, Rutherford left the table to take a phone call and returned with what was likely the details of a James Neal offer(s).  Rutherford, Morehouse, Botterill and Fitzgerald debated for a few minutes before Botterill stood up to head in the direction of Central Registry (where trades have to be reported for approval), stopping briefly at the Nashville table on the way.
Even after the Neal trade worked its way through the approval process and was eventually announced by Gary Bettman, Rutherford continued to work the phones and the room.  He pulled Montreal GM Marc Bergevin aside for a one-on-one chat (Bergevin was reportedly shopping defenseman Josh Gorges) and tried to catch the attention of Kings GM Dean Lombardi late in the first round.
Nothing came to fruition, but it's always interesting to watch GMs negotiate on the same floor.
Bergevin comes off as smooth and incredibly calculated.  Lombardi gets emotional, even angry at times.  He almost plowed over New York Rangers GM Glen Sather with a hit that would've made Drew Doughty proud as the two crossed the room with their heads down.
Does Rutherford still have what it takes to go head-to-head with these younger managers?
---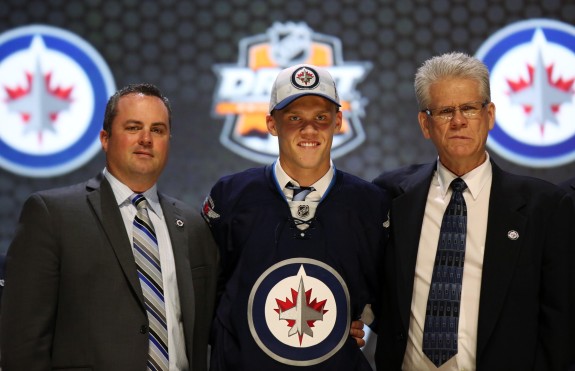 Rapid Fire Thoughts From Draft Weekend:
When is the honeymoon period going to come to an end in Winnipeg?  Jets GM 

Kevin Cheveldayoff was willing to listen to offers for every player on his roster but once again failed to make a splash.  His team has no identity and no obvious path to Cup contention.  Forget trading Evander Kane.  Move Dustin Byfuglien for a hefty return (before he walks away in free agency two summers from now) and get this team headed in the right direction…or any direction.

Comment from the draft floor: "Has anyone ever publicly campaigned for an NHL job and actually gotten hired like Rick Tocchet just did?"  (Here and here and here and here, etc)  Tocchet seems to relish the opportunity to be coach Mike Johnston's 'bad cop'.  Keep an eye on this.  He could be the wakeup call the Penguins need or the catalyst for a franchise meltdown.  The preferences of stars with lifetime contracts (like Crosby and Malkin) will always prevail over those of coaches on a short leash.
Had the Penguins not drafted Kasperi Kapanen in the 22 slot, Columbus was ready to trade up to take him at 23.  Blue Jackets GM 

Jarmo Kekalainen was the agent for Sami Kapanen, Kasperi's father, and assistant GM Bill Zito has a long history with Finnish players from his days as a player agent as well.

Rutherford mentioned on a few occasions this weekend that he drafted both Sami (Hartford, 1995) and Kasperi, possibly becoming the first manager to draft a father-son combo.  I can't imagine it's happened too often, but New Jersey's Lou Lamoriello drafted both Martin Brodeur (1990) and his son Anthony (2013).
Worst trade of Rutherford's Carolina tenure: Sami Kapanen to Philadelphia in exchange for Pavel Brendl and Bruno St. Jacques in 2003.  (The jury is still out on the Jordan Staal deal…)
The Penguins had Kapanen at 7 in their draft rankings.  Rutherford liked the fact that Kapanen had already played against men in the Finnish Elite League, indicating that this could mean Kapanen sees the NHL sooner than most prospects his age.  Co-Director of Amateur Scouting Randy Sexton said Kapanen "is maybe a year away from playing in Pittsburgh."  Kapanen said he's coming to camp with the goal of making the team this fall.  "That's the wrong mentality if you think that you can't do it," he said.
The Penguins didn't draft again until the fourth round when they grabbed Sam Lafferty, a 6-0 forward from Hollidaysburg, PA.  Lafferty is headed to Tri-City of the USHL next year before attending Brown University in 2015.  One of his coaches in Tri-City is JB Bittner (a Pittsburgh native).  Bittner said Tri-City loved Lafferty's versatility, great shot, and tenacious play at both ends of the ice.  Fun fact: Lafferty is also a scratch golfer.
---